PREMIER LEAGUE
Sterling return to Anfield on Guardiola's mind
Manchester City forward Raheem Sterling has not scored at Anfield since leaving Liverpool in 2015.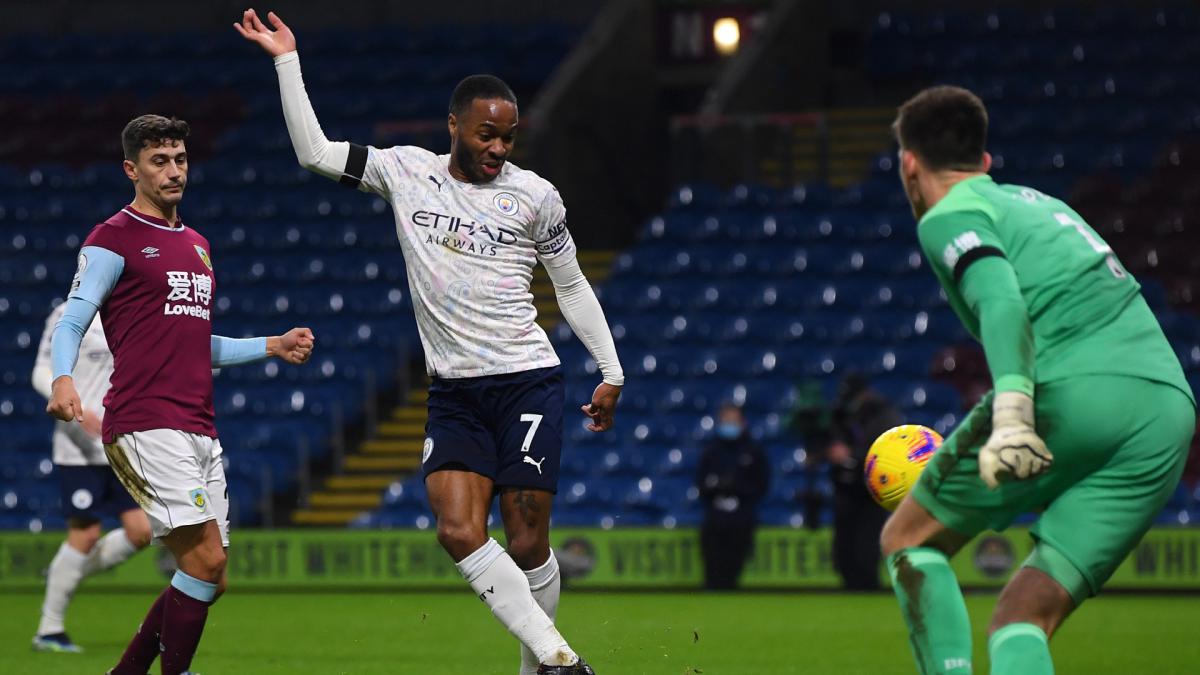 Raheem Sterling's lack of goals at Anfield is of no concern to Pep Guardiola ahead of Manchester City's crunch trip to face Liverpool on Sunday.
Premier League big two face off at Anfield
The England forward has scored three times in his past four Premier League appearances, helping to prolong a nine-match winning run that has put Guardiola's men on top of the table.
Sterling is his club's top scorer in all competitions this season with 10, although his record against the team he left to join City in 2015 is paltry.
In 14 matches for City against Liverpool, the 26-year-old has scored twice - the opener in the 2019 Community Shield at Wembley and the second in a 4-0 win over Jurgen Klopp's freshly crowned champions at the Etihad Stadium last July.
Six return visits to Anfield have drawn a blank, but Guardiola believes Sterling's performances overall have been up to the mark - highlighting his contribution as City went down 3-1 last season on Merseyside.
"I remember last time, when we lost 3-1 there, he made an incredible, exceptional game," Guardiola said of an all-action display culminating in a flashpoint with Liverpool defender Joe Gomez, an incident that infamously spilled over into England duty the following week.
"With this, I am more than satisfied. Of course, I want my strikers and attacking midfielders to score - everyone, two goals a game.
"That's what I want and he wants more than me. He likes to play on the biggest stages. I don't have doubts about this. But what I want is us to do it all together."
Indeed, the goals that have fired City back to the summit following a poor start to the campaign - they can go 10 points clear of fourth-placed Liverpool with a game in hand if they prevail this weekend - have necessarily been a collective endeavour.
Sergio Aguero, the club's all-time leading scorer, remains on the mend following a bout of coronavirus, his season having already been decimated by knee and hamstring problems.
City's leading creator Kevin De Bruyne (hamstring) will also miss out this weekend, although the likes of Phil Foden (nine goals in all competitions) and Ilkay Gundogan (nine in all competitions, seven in the Premier League) have come to the fore.
Of City players to have scored six or more goals this season - Ferran Torres (eight), Gabriel Jesus (seven) and Riyad Mahrez (six) complete the group along - Sterling has the best shooting accuracy (excluding blocks) at 72.7 per cent.
Gundogan, whose first Premier League goal of the campaign only came in the 1-1 draw against West Brom on December 15, has the best conversion rate of 24.3 per cent, with Foden and Sterling together on 16.7 behind Jesus (18).
Sterling has registered the most shots on target with 32 but has missed 14 of what Opta classes as "big chances", scoring seven.
Foden, Gundogan and Torres have only missed 10 big chances between them. On that metric, Gundogan has the best conversion rate of 62.5 per cent (scored five, missed three).
Spain international Torres, whose campaign was interrupted around the turn of the year by a positive COVID-19 test, has the best minutes-per-goal rate of 169.6, ahead of Gundogan (188.4).
One goal every 220.6 minutes places Sterling fifth out of the six, ahead of only Mahrez on 303.2. This is down on 2019-20, when he averaged a goal every 128.7 minutes en route to 31 in total - the most prolific season of his career.
"Our top scorer in the Premier League is seven goals, maybe in 14th or 15th position [in the league overall]," Guardiola said.
"If we don't understand what we have done so far, all together, we are going to drop.
"Everyone is going to solve for us, everyone is going to save us. It's going to be the team, the group.
"When that happens, we can compete. When we believe, for myself, I am going to do it or this guy alongside me is going to solve the game, we are going to lose."
He added: "Our success all the time when we are together was the quality we had as a players in a team.
"In the individual statistics we are far away from the best clubs. But our statistics as a team are really good. That is why we are first."