Happy Valentine's Day: messages, wishes and images of celebration
Valentine's Day is a celebration of love and although in 2021 the world is rather strange, people are finding comfort and humour in expressing affection.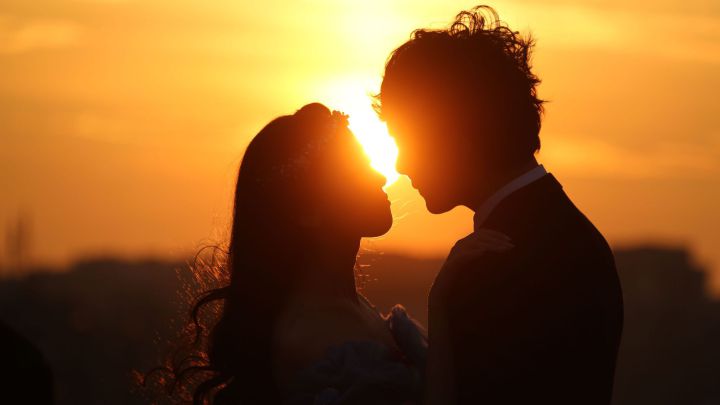 This British TV reporter Amelia Dimoldenberg made a tongue-in-cheek dance video to celebrate being single…
Poet Lang Leav wrote;
"Love looks pretty on you. Makes you soft, tender, proud. Makes you sit up and take notice. Gives you a home to set down your things.
What a blessing it is, to have music and dancing and poetry. What a gift it is, to look at someone and say,
I'm so happy to have found you – at last, at last, at long last – you're here."
The Royal College of Surgeons archive in Edinburgh have taken the love hearts theme far too literally…
In this photo taken in Paris Saturday 13 February, a heart padlock hangs near the Eiffel Tower, Paris. Love padlocks are a popular phenomenon in many European cities, where couples attach a lock to symbolize their love. Paris is the capital of love, which is why lovers make a pilgrimage to the French capital every year on Valentine's Day.
This Twitter user posted a wild wintry beach snap from the Shetland Islands in the UK.
This Twitter user from a small rural town in the US found his valentine in an unexpected spot!
Unsurprisingly there have been more than a few covid-19 valentines references…
"Roses are red,
Violets are blue,
Keep social distance,
Or you'll get sick too!"
A parody Pfizer vaccine valentine's advertisement has even been made with the romanic valentine's message; "inoculate yourselves."
This poem leaves alot to be desired...perhaps the most appropriate for 2021.
"Roses are red
You hungry?
Yeah...Me too
Let's order a pizza"
Laura Eliza Haynes has composed a reminder that it's just as important the rest of the year to show love and commitment:
"I distrust Valentines Day.
How can one condense their love, In such a way?
Rather that you think of me.
Be there for my ups and downs,
On any day..."
And rapper-turned TV producer 50 Cent made a controversial dig at "Power" actress Naturi Naughton. He coupled a video of Naughton as her character Tasha St. Patrick removing her wig and shedding a tear with the caption "When it's Valentine's Day, but he says he's working late and he'll take you out tomorrow."
Luckily there were no hard feelings. Naughton commented, "Now THIS is funny! Can't front."
And finally, on the day that Donald Trump was acquitted a second time by the Senate for impeachment:
What is Valentine's Day?
Celebrated on 14 February every year, Valentine's Day, or St Valentine's Day, is a day on which people express their affection for another person by sending them a card with a message of love, and often gifts such as chocolates or flowers.
The oldest known Valentine's Day message dates back to 1415, when the Duke of Orléans sent a poem to his wife from the Tower of London, where he was being held prisoner.
Today, Valentine's Day has become a multi-billion-dollar industry. According to research carried out by the National Retail Federation and Prosper Insights & Analytics, people in the US are expected to spend a total of $21.8bn in the process of celebrating the occasion in 2021.