$600 Golden State stimulus check in California dates: When is it coming?
Californian lawmakers have announced a new covid-19 economic relief bill which provides $600 direct payments to residents, along with billions of dollars for small businesses.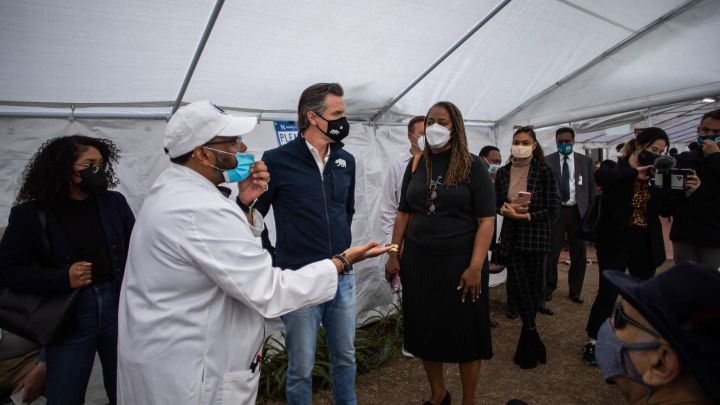 Gov. Gavin Newsom has announced details of a new round of stimulus check payments for California residents, as part of a state-wide relief package. The direct payments will be worth up to $600 per person and have drawn bipartisan support from the state's lawmakers.
They form just one part of the new stimulus bill, which appears to be based on the Golden State Stimulus plan proposed by Newsom last month. The $9.6 billion package is designed to provide immediate relief for residents and businesses struggling with the economic consequences of the pandemic.
NEW: 5.7 million Californians will be receiving $600 stimulus checks from the State of California.

— Gavin Newsom (@GavinNewsom) February 18, 2021
State Assembly Speaker Anthony Rendon wrote on Twitter: "Our response tackles the human and the economic impacts of COVID in a way that echoes President Biden's American Rescue Plan and will help those who are hurting most."
When will the California stimulus check payments be sent out?
The agreement comes after weeks of bipartisan talks and both parties now hope to move forward with the package swiftly. Budget committee hearings are expected to begin on Thursday 18 February, with the proposal potentially being put to a vote as early as next Monday.
Lawmakers are clear about the need for speed when it comes to getting this vital support out to those who need it. Courtney McKinney, a spokeswoman for the Western Center on Law and Poverty, said: "Any money to help people stay afloat is needed right now.
$600 checks for low-income Californians are at the heart of a $9.6 billion stimulus deal between Gov. Newsom and lawmakers. The Legislature could vote on the package as soon as next week.https://t.co/KCbNOx7LBz

— San Francisco Chronicle (@sfchronicle) February 17, 2021
However once signed into law the distribution progress will vary between different eligible groups. The first to receive their stimulus check payments will likely be those who qualify as low earners; taking home less than $30,000 per year or those who qualify for the Earned Income Tax Credit.
This new agreement would also see households in the CalWORKS public assistance programme eligible for the $600 direct payment. However they would likely experience a delay and may not get theirs before mid-April.
Other groups to be included in this proposal are recipients of the Supplemental Security Income; the State Supplementary Payment for those who are 65 or older, blind or disabled; and anyone in the Cash Assistance Program for Immigrants. As a more recent addition to the plan, the timing of their stimulus check payments is still being discussed by state and federal officials.
Small businesses to be given greater support in new stimulus package
The $9.6 billion proposal is not simply aimed at provided support for individuals and families, but also hopes to address the burden felt by small businesses. Thanks to this stimulus bill around 750,000 small businesses will be able to deduct up to $150,000 in Payment Protection Plan funding or Economic Injury Disaster Loans from their state taxes.
Thank you Gov Newsom for making more money available for small biz. We were promised assistance & jumped through lots of hoops @lendistry but in the end very few applicants received grants. My biz is on the verge of going under🚨and could really use the small $ we qualified for! https://t.co/2xMMl1JM1N

— Deborah Luhrman (@deborahluhrman) February 18, 2021
There is also $116 million in fee waivers for the heavily-hit hospitality industry, who make up a significant portion of the state's economy. Qualifying bars and restaurants will not be required to purchase licenses for the next two years.
Denise Davis, spokeswoman for the California Chamber of Commerce, said of the plan: "California's small businesses are reeling from the economic fallout of COVID-19 shutdowns and need the financial bridge that grants, tax breaks and fee waivers offer so that they can stay afloat until our economy recovers."