NBA
LeBron James says Lakers need him to adjust while Davis out
With Anthony Davis set to miss the next four weeks due to a calf injury, LeBron James feels it is time for him to make adjustments.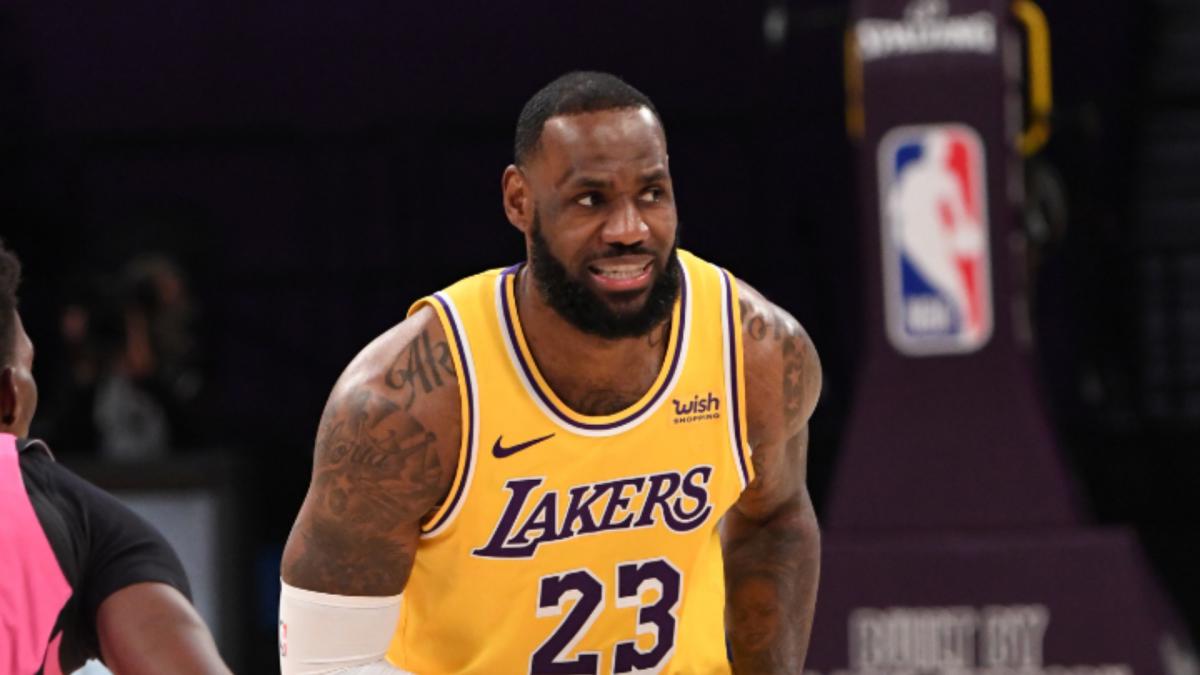 LeBron James believes he needs to adjust in the absence of Anthony Davis because his Los Angeles Lakers team-mates are already doing "their part and more".
Changing man LeBron
The Lakers have gone 2-1 since Davis sustained a calf injury in the defeat to the Denver Nuggets last weekend, going down 96-94 to the Miami Heat on Saturday after a loss to the Brooklyn Nets.
The reigning NBA champions sit third in the Western Conference but will be without Davis for the next four weeks.
James had 19 points, nine rebounds and nine assists against the Heat, while a steal on an inbounds pass for Jimmy Butler gave Alex Caruso a chance to tie the game at the buzzer but the Lakers guard missed.
By scoring at least 15 points with a minimum of five rebounds and five assists for a 31st straight game, James broke the previous NBA record of 30 in succession that he set in 2018.
However, he insisted it is on him to adapt and help get the Lakers back on track ahead of a tough stretch without Davis, who leads the Lakers in rebounds, steals and blocks.
"I think that's what it all boils down to and right now is another challenge for me, to be able to adjust," James said.
"Not having AD for a long period of time is something that we haven't had over the last year and a half, and now it's time for me to adjust again and see ways I can be even more effective to help this team win ballgames, because that is the sport that we're in.
"We're in the winning business and I've always been a winner. So, it's time to click into that."
On his team-mates, he added: "They are doing their part. They're doing their part and more. Every time we're on the floor we're trying to protect each other and bring each other up on the floor every single night.
"It doesn't matter if you're making shots or not, we're gonna hold each other accountable. Everybody's picking up in AD's absence and obviously it hasn't been in wins the last two games but we're gonna continue working our habits and continue to be great for one another."
Kentavious Caldwell-Pope contributed 11 points on 3-of-5 shooting from beyond the arc and called on his fellow role players at the Lakers to provide James with greater support.
"I feel like the last couple games that's been happening, putting a lot on Bron. We already know what we're going to get out of him. So, all the rest of us, we've got to continue to just play hard and just play basketball and not worry about anything else," said Caldwell-Pope.
"We try to help him out as much as possible and we want to do it as perfect as possible, as we can.
"We try to help him out, we try not to make too much mistakes when we're on the floor with him or even running a play with him, just to give him some help. We do ask Bron for a lot, he gives us a lot each and every game.
"It's up to us as far as like role players and 'next man up' mentality, we've got to be ready and locked in."