Third stimulus check passing: do all Democrats support the $1.9 trillion covid-19 relief bill?
As Democrats push forward with the $1.9 trillion covid-19 relief bill, the hardest opposition they may face are Democratic Senators on minimum wage hike.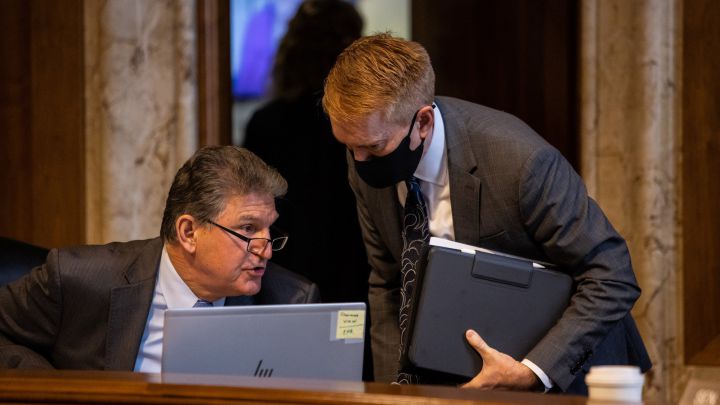 The House is expected to pass its first major piece of legislation since President Biden took office in January by the end of the week. The American Rescue Plan is a sweeping bill that would extend unemployment benefits and ramp up the vaccination effort to get the nation back to work. It also includes the popular $1,400 stimulus checks that were promised in the run-up to the Georgia runoff elections to top up the $600 checks that went out with the passing of the December covid-19 relief bill.
However the legislation also includes a provision to gradually raise the minimum wage to $15 per hour by 2025. This was a key part of Democrats' 2020 platform but also one that is sowing division among Democrats. There are currently three Senators that have come out against the measure.
Which Senators are against the $15 minimum wage hike?
Republicans are generally opposed to a $15 minimum wage, but there is also resistance from within the Democratic party. So far three Democratic Senators have expressed reservations about including the provision in the covid-19 relief bill that will most likely pass through the House by the end of the week. They include Jon Tester, Kyrsten Sinema and Joe Manchin, who feel that it should not be part of a budget reconciliation bill and that it would do more harm than good.
Joe Manchin plans to present an amendment to the legislation which would raise the minimum wage to $11 per hour. However that could face strong opposition from more progressive members of the Democratic caucus, primarily Senator Bernie Sanders. In the past weeks Sanders has been very vocal in his support for raising the minimum wage to $15 to saying "It is time we finally do what is right, and raise the federal minimum wage to a living wage of $15 an hour."
With only a razor-thin majority in the Senate, all 50 Democratic senators need to be onboard for the bill to pass.
Raising the minimum wage is not just about economic justice – it is about racial justice. Nearly half of Black and Latino workers in America make under $15 an hour. We must end starvation wages, and give 32 million Americans a raise by increasing the minimum wage to $15 an hour.

— Bernie Sanders (@BernieSanders) February 17, 2021
Republican Senators present their own minimum wage hike
Republican Senators Mitt Romney and Tom Cotton announced on Tuesday plans to introduce their own proposal for raising the minimum wage. The Higher Wages for American Workers Act would gradually raise the federal minimum wage to $10 over the next five years from the current $7.25 per hour. After that future minimum wage increases would be indexed to inflation every two years.
Will Biden sign a bill with a lower minimum wage hike?
President Biden, for his part, has not said if he would sign a coronavirus stimulus bill including a minimum wage increased to $11 an hour rather than the $15 an hour he is seeking. When asked by CNN's Kaitlan Collins the White House press secretary Jen Psaki said "The President proposed $15 because that's what he feels is right for the American worker, American workers I should say, and the men and women who are working hard, just trying to make ends meet and that's why that number was in his package.
No one should be asking if a $15 per hour minimum wage is "too high."

If it kept up with productivity, the minimum wage would be more than $24 today.

We should be discussing how to ensure even better wages for workers once we achieve $15 per hour.

— Jamaal Bowman (@JamaalBowmanNY) February 23, 2021