Raptors roll on as Spain coach Scariolo fills in for absent Nurse
Having only just returned from coaching the Spanish national team, Sergio Scariolo was thrust into the top job for the Toronto Raptors against Houston Rockets.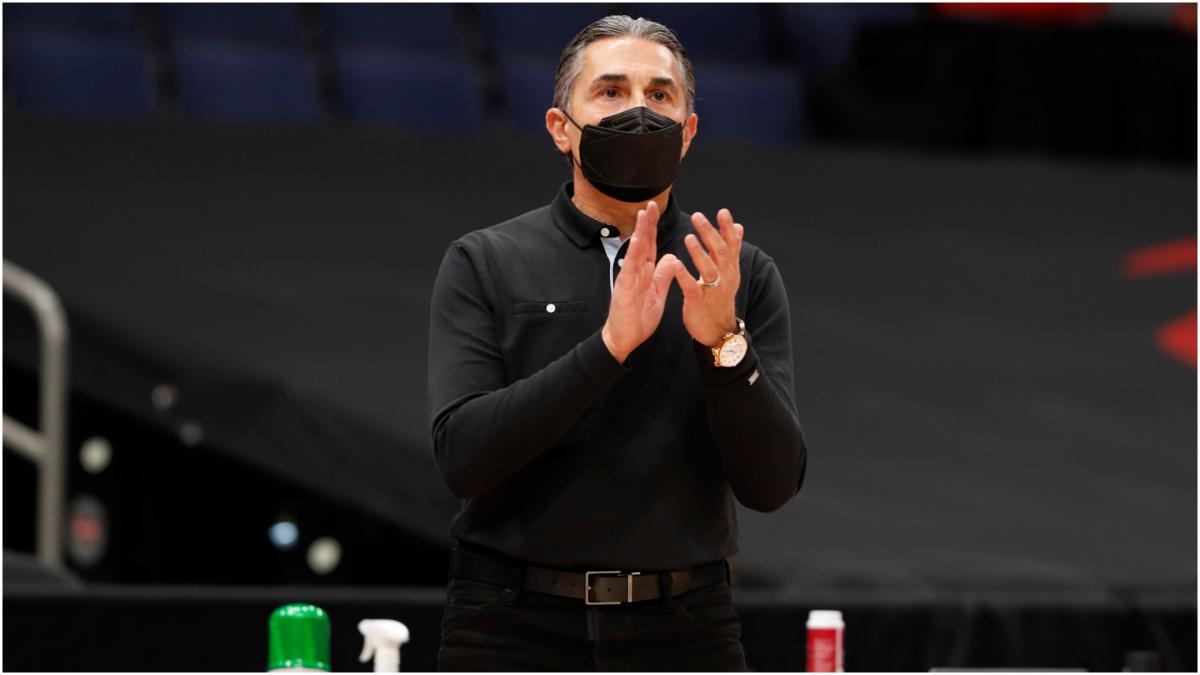 Sergio Scariolo made sure it was business as usual for the Toronto Raptors despite the absence of six coaches – and one key player – for the victory over the Houston Rockets. Head coach Nick Nurse and five of his assistants were unable to be involved with the team for Friday's game due to health and safety protocols amid the ongoing coronavirus pandemic.
The Raptors also recently lost assistant Chris Finch – who has taken over as head coach at the Minnesota Timberwolves – from their staff, yet Scariolo smoothly stepped up to take on the lead role, despite receiving little notice about his unexpected promotion. Nurse held a video call with his temporary replacement prior to the game, with Toronto going on to triumph 122-111 to move to 17-17 for the season.
"It was different, because everything happened so fast. We had to re-adjust tasks, timing, schedule, so we had to go a little bit on the fly," Scariolo explained to the media after the game. "But the players did a great job, and the remaining coaches – the few guys left – were great. The guys who were not with us tonight did a great job also, in terms of the game preparation. Coach Nurse was always there – we had a Zoom call before the game. This is teamwork, basically. There is a guy who stays on the sidelines who makes so decisions, but within coach Nurse's philosophy this has always been about teamwork, about a group, so I felt pretty comfortable."
VanVleet and Lowry
The Raptors - who are playing their home games this season in Florida due to travel restrictions in place during the global pandemic, were also without Pascal Siakam due to NBA protocols. However, 30 points from Norm Powell and 25 and 20 respectively from backcourt duo Fred VanVleet and Kyle Lowry saw them overcome the Rockets.
It helped that Scariolo knows all about the responsibilities of taking charge, too. As well as working for the Raptors, the Italian is also the head coach of the Spanish national team, leading them to a silver medal at the London Olympics in 2012, followed four years later by bronze in Rio.
Scariolo deputises
Having only just returned from international duty with Spain, the 59-year-old went through a period of quarantine before joining up again with the Raptors - a unique set of circumstances that allowed him to be available to cover for absent colleagues. "I think this is a subject for a book, rather than an answer!" Scariolo told the media. "I came back on Monday and was tested immediately after the trip from Poland, we had played there, played two games. Fortunately we won both, so it was worth the effort to go back and forth. I quarantined and got tested every day, then travelled to Miami by car by myself. I stayed totally separated from the coaches and the players. Then yesterday we had this situation coming out. I was working on preparing for this game as normal, then suddenly at night I got a few texts and realised things were going to change."