Al Thumama stadium nearly ready for FIFA World Cup 2022
Qatar's Supreme Committee for Delivery and Legacy posted photos of the stadium on its Twitter account.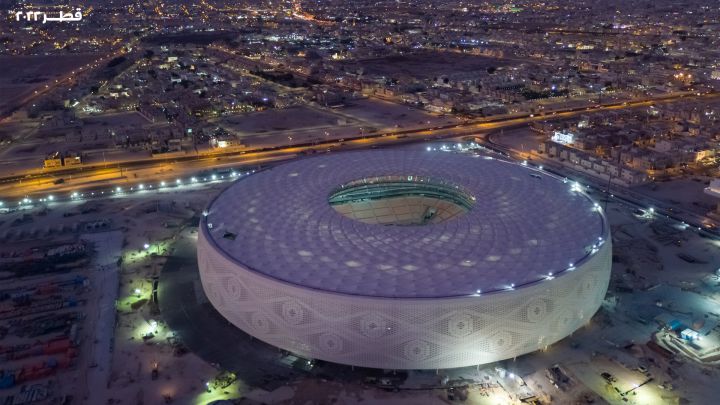 As can be seen from photos posted to Twitter by the Supreme Committee for Delivery and Legacy, the body responsible for managing the projects for FIFA Qatar 2022, the stadium Al Thumama, which will be used in the World Cup, is nearly finished.
The Supreme Committee tweeted "Aerial shots of the Al Thumama stadium, which will host 2022 World Cup matches, from the group stage to the quarter-finals".
The photos show the completed external structure of the Al Thumama stadium, designed in the form of a gahfiya cap. As well as the four training pitches next to the stadium, which will be used for training by participating countries. The work being carried out on the main stadium pitch can also be seen.
The stadium is designed to follow the shape of the gahfiya, the traditional woven cap worn by men and boys across the Middle East, and which is a fundamental part of the traditional clothing of the region. It is also a symbol of dignity and independence.
The photos also highlight the installation of the seating, with space for 40,000 fans in the venue, which will be reduced by half after the World Cup, with the seats removed being donated to developing nations. In line with the Supreme Committe's plans, the stadium will therefore be adapted to the local needs of society, as well providing high quality infrastructure for other countries.
The ground will also boast a branch of the Aspetar Orthopaedic and Sports Medicine hospital and a boutique hotel will take the place of the stadium's upper stands.
Furthermore, the area around the ground will become a centre for the community, including sports facilities for handball, volleyball, basketball and swimming.
There will also be running tracks and bike tracks, making it the perfect destination for athletes in the city of Doha.