$1,400 third stimulus check: do any Republicans support the bill?
This week the $1.9 trillion stimulus bill begins its next stage of life in the Senate, so have any GOP members expressed support for the bill?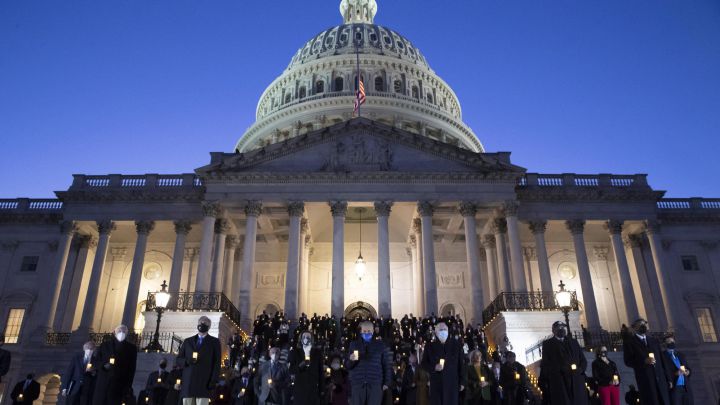 On the weekend the House of Representatives voted to approve President Joe Biden's $1.9 trillion covid-19 relief package along party lines, with all but two Democrats voting in favour. The package will now be taken up by the Senate where it is set to face strong opposition. Senate Majority Leader Chuck Schumer has vowed to pass it as soon as possible, but first he must keep the party unified in support of the bill.
The legislation, Biden's first major agenda item, is a sweeping relief package aimed at stabilising the economy, ramping up vaccine distribution and providing millions of Americans with direct $1,400 stimulus payments. The new proposal comes less than three months since Congress passed a $900 billion coronavirus relief bill.
Late last night, @HouseDemocrats passed the American Rescue Plan, taking a momentous step to ensure that Help Is On The Way. This package will be transformative: lifting 12M out of poverty, generating $1.25 for every $1 spent, & cut child poverty in half.https://t.co/Dd159yuOL2

— Nancy Pelosi (@SpeakerPelosi) February 27, 2021
Did any Republicans support the stimulus bill in the House?
The vote in the lower chamber, which concluded early Saturday morning, was split largely across party lines apart from two glaring exceptions - Democrats who voted against the bill - Kurt Schrader of Oregon and Jared Golden of Maine.
The votes in favour were all Democratic Representatives.
The vote tally was 219-212, with all Republicans voting against the bill.
Shortly after the bill was passed, the President praised the work of the House members, "If we act now, decisively, quickly and boldly, we can finally get ahead of this virus. We can finally get our economy moving again, and the people of this country have suffered far too much for too long," he said, speaking from the White House. "We need to relieve that suffering."
A hotly-contested $15 minimum wage increase could prove to be the part of the bill that causes the most debate among Democrats.
Seems like the biggest story today should be the fact that every House Republican just voted against $1,400 stimulus checks, funding to reopen schools, and unemployment benefits, legislation that 76% of Americans support.

— Matt McDermott (@mattmfm) February 27, 2021
Will any Republicans support the stimulus bill in Senate?
It doesn't look likely. It may even be tricky to get all Democratic senators to vote in favour of the stimulus bill, let alone convert any Republicans to the cause.
Senator Mike Rounds, R- South Dakota predicted in an interview on Fox News on Saturday that all GOP senators will be a 'no' vote on the coronavirus relief package.
Voicing concerns of many Republican members of Congress Rounds said that he believed Democrat's proposal was far from a "pandemic relief effort," citing that there are unrelated measures in the bill too. He called it "a giveaway to a lot of left wing causes."
Rounds went on to question the validity of a bill that comes so soon after December's stimulus package. "We've already got a trillion dollars that's not been spent yet from our December proposal" he said.
The bill's proposition to increase the minimum wage to $15 over five years may be the most potent point of contention in the Senate debates. While Republicans are united in their opposition, there are at least two Democrats who are opposed to the hike as well. Democratic Senators Joe Manchin of West Virginia and Kyrsten Sinema of Arizona both oppose such an increase, with Manchin preparing to offer an amendment to reduce the wage rise to $11.
The issue may end up being null and void as the Senate parliamentarian ruled last Thursday that the measure cannot be included in the bill if Democrats want to use budget reconciliation to pass the legislation. Democrats are currently trying to figure out a work-around.
What is in the bill?
The sprawling relief bill, in addition to topping up the $600 direct payments to Americans, would extend enhanced federal unemployment benefits through August, provide $350 billion in aid to state and local governments, boost funding for vaccine distribution and coronavirus testing. As well it includes other measures, such as money for schools, nutritional assistance and housing aid.
For all of the latest updates on the stimulus checks and tax credits as they happen, follow our dedicated live feed.