Why are unemployment benefits changing from $400 to $300?
President Biden's new stimulus bill was finally passed by the Senate on Saturday but a Republican amendment threatened to derail the whole package.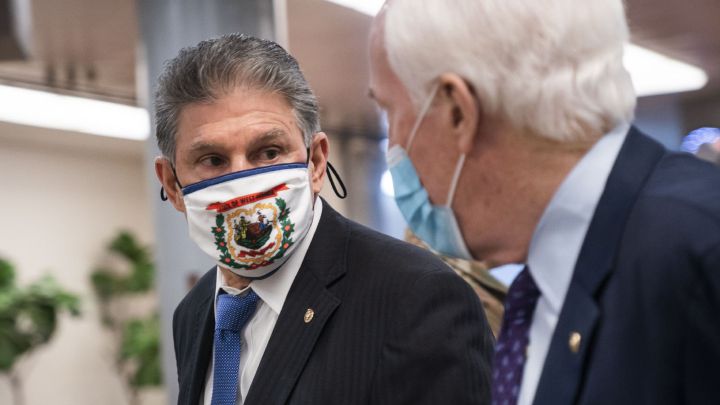 The stimulus bill was passed by the Senate on Saturday after a record-breaking 12-hour vote that saw both sides offer crucial amendments to the $1.9 trillion package. The discussion centred on the unemployment provision included in the bill, a key part of President Joe Biden's economic recovery plan.
Senator Joe Manchin was needed to give the Democrats the majority to pass the bill but he threatened to support a Republican amendment that would have thrown the delicate compromise into jeopardy.
This package, among many other things, increases direct payments by $1400, extends unemployment benefits, reduces child poverty by half, ensures we are vaccinating as many people as possible, and puts us on a path to safely reopen schools.

— Bernie Sanders (@SenSanders) March 6, 2021
Some careful negotiation brought Manchin back onside, but how did the dramatic events unfold and what jobless support is now included in the stimulus bill?
Manchin threatens to vote for GOP unemployment amendment
The Democrats finally introduced the American Rescue Plan in the Senate on Thursday after weeks of negotiations to ensure that they had a package that their whole caucus could agree on. The Republicans had shown little interest in supporting the bill, so with the Senate split 50/50 every vote was crucial.
Senate Majority Leader Chuck Schumer believed they had all votes accounted for but he did not realise that Manchin had not been made aware of the $10,200 worth of tax-free unemployment benefits provided for each recipient.
Manchin, a more moderate Democrats, was spooked by the inclusion and refused to support the bill when it went to a vote in the Senate. Instead, he appeared likely to vote for an amendment proposed by GOP Sen. Rob Portman.
Portman's suggestion would see the tax-free allowance removed and the weekly payment dropped from $400 to $300. It would also have shorted the provision considerably, ending in July rather than late September as Biden had originally proposed.
As the Democrats furiously lobbied to get Manchin back onside, they left the Senate vote open for a record 12 hours. Throughout Friday afternoon and into the evening Manchin had meetings and spoke on the phone with Schumer, Portman, other Senators from both parties and President Biden, who tried to secure his all-important vote.
New amendment sees stimulus bill passed in the Senate
According to sources familiar with the discussions, Manchin and Senate Democrats spent much of the 12-hour vote frantically exchanging proposal, searching for a compromise that both could agree on. The Democrats were conscious that any amendment that cut the benefits too sharply would struggle to pass in the House of Representatives when the new bill is introduced there.
In the end an amendment introduced by Sen Tom Carper managed to appeal to the broad Democratic caucus, and retained much of the same provision from the original plan.
Dem aide trumpets agreement "ACCEPTED BY MANCHIN" (caps mine) to approve UI through Sept. 6 at $300/week. Includes tax forgiveness on $10K in UI below $150K annula income

Biden's initial plan: UI at $400 through end of September

— Jeff Stein (@JStein_WaPo) March 6, 2021
The weekly unemployment benefits payments fell from $400 to $300, but the $10,200 tax exemption that had worried Manchin is retained for households with an annual income under $150,000. The provision will not last quite as long, but the September 6 deadline is only a few weeks shortly than originally proposed.
Speaking after the vote was finalised and the bill was passed, Biden told reporters: "The end result is essentially about the same, and so I don't think any of the compromises have in any way fundamentally altered the essence of what I put in the bill in the first place."