EUROPEAN FOOTBALL
What scoring records has Erling Haaland broken?
Erling Haaland has had a sensational rise to footballing stardom, first at RB Salzburg and now at Borussia Dortmund, and Europe's elite are watching closely.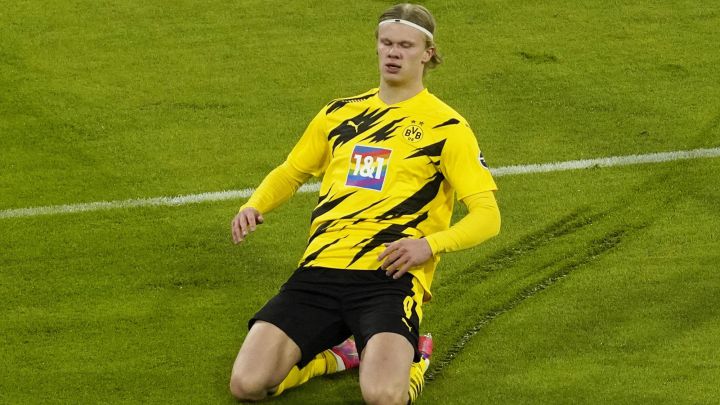 Ahead of Borussia Dortmund's second leg against Sevilla in the Champions League Round of 16 we wanted to assess just what records the Bundesliga side's star man, Erling Haaland, has already achieved. Catching the global attention at RB Salzburg with some stunning performances, the 20-year old made a move to the German Bundesliga, where he continued to suggest he could be the striker to catch for years to come.
Haaland: record setting
The Norway striker made his debut for Borussia Dortmund with a bang. Following a big-money move from Salzburg, Haaland came off the bench against Augsburg after 56 minutes and scored a hat-trick in a 5-3 win, which offered a taste of things to come. In fact, after playing a total of just 59 minutes after joining Dortmund, the youngster was given the Player of the Month award.
Here are a few other incredible feats that have Europe's elite clubs salivating and counting their beans...
Haaland record haul to date
First Dortmund player to score on Champions League, Bundesliga and DFB-Pokal Cup debut
Any buyers out there will be disappointed if he doesn't get off to a flying start for them.
Quickest player ever to score ten Champions League goal for a club
Scoring 10 UCL goals in just seven appearances for Dortmund, Haaland became the quickest player to get there, and by three games. (Previous record: Roy Makaay, Bayern Munich, 10 games).
In the UCL, in the Bundesliga, in the Austrian league, and for the national team, Haaland has bagged three goals in a single game.
Oh...and in case you hadn't heard, Haaland holds the world record for the longest standing long jump for a five-year-old. Back in 2006 he raised the kid bar to a distance of 1.63m. Just think of those young defenders marking him at a corner!
It's worth noting that the Dortmund striker has scored a brace in each of his past three Champions League appearances. If he nets another double against Sevilla, he will become the first player in the history of the competition to score twice in four consecutive appearances.
As we mentioned above, Haaland already has 18 goals in 13 Champions League outings overall (eight for Salzburg) and appears certain to surpass Harry Kane as the quickest man to 20 in terms of games. The England captain reached the landmark in his 24th appearance.
Haaland's first 12 months at Dortmund: stats breakdown
Looking across all competitions for the top-five European leagues since his Dortmund debut, only two players can better his tally of 35 goals.
Prepare to be shocked here (Narrator: there is zero shock value involved), those players were Robert Lewandowski (49) and Cristiano Ronaldo (40).
Ciro Immobile, Romelu Lukaku (each 33) and Lionel Messi (29) all trail Haaland, and when we view the numbers through a different lens his past 12 months become even more impressive.
Both Lewandowski (42) and Ronaldo (40) started more games than Haaland's 29. When looking at goals scored per 90 minutes, the Dortmund's star has 1.18 compared to 1.15 for Lewandowski, and 0.99 for Ronaldo. Surprisingly, Luis Muriel 1.57 heads the way here.
What is even more startling is the fact Haaland had 102 shots (including blocks) during this period, way down on Messi (253), Ronaldo (235) and Lewandowski (180).
Indeed, his goals have come from only 58 shots on target. Messi (115), Lewandowski (90) and Ronaldo (85) again head these metrics.
When looking at shots on target per 90, Haaland (1.96) ranks below Muriel (3.14), Messi (2.53), Kylian Mbappe (2.15), Lewandowski and Ronaldo (each 2.11).
No one can better Haaland's shot-conversion rate of 34.31 (Lewandowski for comparison is fifth on 27.22), and while Lewandowski (40) and Ronaldo (29) beat the 28 'big chances' he has scored, both have a lower 'big-chance' conversion rate (55.56 and 52.73 to Haaland's 60.87).
And when it comes to goals/minutes ratio, Haaland's 76.26 is beaten only by Muriel's 55.33. Lewandowski (78.37) and Ronaldo (90.68) are next on the list.
Haaland a haandful for Bundesliga defences
If we crunch similar numbers for goals across all competitions for just Bundesliga strikers, it's not exactly hard to see why Haaland has been such a big star in Germany's top flight.
While Lewandowski's 49 goals remain a high, Haaland's 35 is still comfortably better than Andre Silva (26) and Wout Weghorst (24).
The 1.18 goals per 90 minutes is a best among strikers playing in Germany. Lewandowski is of course close behind, but the next best are Lucas Alario (0.86), Andrej Kramaric (0.8) and Silva (0.76).
Lewandowski (180), Serge Gnabry (112) and Silva (110) have all taken more shots but only Lewandowski's 90 on target beats Haaland's 58. Weghorst (53), Gnabry (52) and Silva (51) are not too far behind.
Silva (22) and Weghorst (21) have each scored fewer of their 'big chances', while only three players have a higher 'big-chance' conversion among Bundesliga players.
In terms of goals/minute ratio – Haaland and Lewandowski are the only players below 100. Alario (105.22), Kramaric (112.25) and Silva (117.88) are way off the pace of the superstar duo.
The main takeaway from all of this is Haaland has been sensational over the past 12 months.