White Sox's Hendriks seeks to prove doubters wrong as World Series-chasing All-Star eyes glory
Chicago White Sox pitcher Liam Hendriks spoke to Stats Perform News about the new season, chasing World Series glory and data and AI in MLB.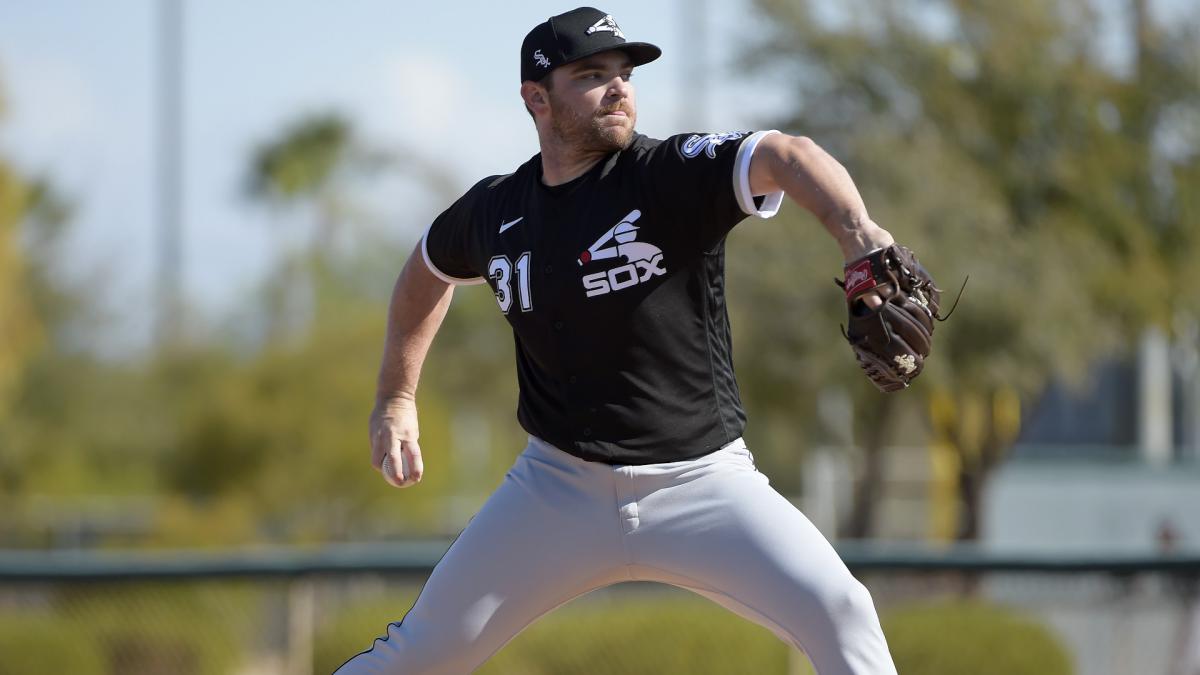 Expectations are high in Chicago as the White Sox set their sights on the World Series.
Gone are the days of 100-loss seasons, with 2018's 62-100 record consigned to bitter memory. The White Sox are in contention mode after catapulting themselves into the mix last year, with a rebuild firmly in the rear-view mirror following a remarkable ascent during the 2020 coronavirus-shortened MLB season.
Led by American League (AL) MVP Jose Abreu, the White Sox returned to the playoffs for the first time since 2008.
But it is win-now for the White Sox, who swapped manager Rick Renteria for Hall of Famer Tony La Russa in pursuit of a first World Series crown in 16 years.
Liam Hendriks is another new face in Chicago as the White Sox look to emerge from the shadows of city rivals the Cubs, who claimed the ultimate prize in 2016.
All eyes are on the White Sox in 2021 and while most projections tip La Russa's team to do well, All-Star closer Hendriks and his team-mates are focused on silencing the naysayers.
There will be a limited number of White Sox fans allowed to attend their home opener on April 8 amid the covid-19 pandemic, after the team visit the Los Angeles Angels on Opening Day (April 1).
Hendriks: "It's been on the Cubs one for too long now"
"There's been some projections that said we will be pretty good this year, but there's been some that we've taken a little offensively," Hendriks told Stats Perform News. "We're focusing more on the bad ones.
"The mindset we gotta take is 'you guys don't think we're gonna get to 95, 100 or however many wins, we're gonna prove you wrong and watch us do what we need to do and we're gonna go out there and make sure we win this division'.
"The biggest thing is making sure we prove people wrong. It's time for the city of Chicago to get on the White Sox bandwagon, it's been on the Cubs one for too long now."
The White Sox snapped a 12-year postseason drought in 2020 – officially going from rebuilder to contender.
They were the first AL team to clinch a playoff spot, but only won three of their remaining 12 regular-season games as the White Sox took their foot off the pedal.
It proved detrimental as Hendriks and the Oakland Athletics eliminated the White Sox in the Wild Card Round.
Having contributed to the White Sox's demise, 2019 All-Star Hendriks now finds himself at Guaranteed Rate Field, where the experienced Australian signed a three-year, $54million contract via free agency – a record annual average salary for a relief pitcher at $18m.
"They did a really good job with their team last season," Hendriks said. "They had a bunch of good players and guys developing they were hoping for. Hopefully we can take it into this year.
"The big thing for me is keeping the foot on the gas for as long as we can. They self-admitted that once they clinched a playoff spot last year, they kind of got too relaxed, they thought they'd made it.
"All of sudden, they went 3-12 the last two weeks and they were looking at a wildcard spot instead of hosting a series. That's big difference."
Hendriks looking to spur Sox to glory
Hendriks was named Reliever of the Year in the American League in 2020 after finishing with a 3-1 record, a 1.78 ERA, a 0.67 WHIP, 14 saves (second best in MLB), 37 strikeouts and three walks over 24 appearances and 25.3 innings.
His WHIFF percentage (swings and misses/pitches) was 180 last season – sixth best in MLB last season among pitchers who faced at least 50 batters. Compared to his new White Sox team-mates, Lucas Giolito (141) was the closest to that figure, well ahead of Codi Heuer (128), Lance Lynn (125) and Dallas Keuchel (81).
"The big thing I'm hoping to bring in is that intensity. It doesn't matter, you could clinch in July but that last month of the season is more absolutely more important than anything because that's when you get the momentum going into the playoffs and that's the one thing we have to focus on," said Hendriks, who spent four years with the Athletics before moving to Chicago at the end of 2020.
"The other thing, just dealing with some of the young guys in the bullpen. They had a good first taste of the big leagues last year but this is generally the year where guys have their biggest struggles – that sophomore slump.
"They think they have it all figured out but the league makes adjustments. Being able to deal with that and bounce ideas off the veteran guys out there is important. That's why bringing in guys like Lance Lynn, who's won a ring before, is a big deal."
Hendriks joins a bullpen that boasts World Series champions in Keuchel (also an AL Cy Young Award winner) and Lynn, as well 2019 All-Star Giolito.
"The biggest thing is I'm not trying to stand out at all in this bullpen," the 32-year-old continued. "We have too many guys who can do too many special things.
"This is the part where I can lean on what has happened to me in my career. Me and Evan Marshall in the team – we've both had our ups and downs and bounced around a bit, but we've come to a position where we're at now.
"We have some guys out there who are younger, in the middle and guys like me and Evan who are a little older with kind of life experiences.
"We're not trying to stand out. We're just trying to make sure we're flowing as a unit. If one of us has a tough day, the next guy in line picks us up. That's how it's gotta be. It's not one guy coming to save the rescue, it's an entire collection.
"We're gonna have seven or eight guys out there and at certain points of the year, we're gonna have to rely on all seven or eight to get it done and making sure we have confidence in everyone at all times."
White Sox eyeing first World Series since 2005
Not since 2005, when sweeping the Houston Astros in the World Series, have the White Sox reigned supreme, but Hendriks added: "I think they have the right attitude [this year]. A lot of young guys. But this is a window that's not only open for just a year, but will be open for several years. I'm excited about being a part of that. They got a little taste of it last year.
"That's generally how it goes, you get your feet wet and the next year you're ready and know what to expect and embrace it. You don't let the moment get too big for you, you just take care of business. Hopefully we can make a bit of a run at it."
Hendriks is one of the MLB's superior closers, but it has not been an easy journey for the Perth native, rather a long and winding road taking him to the Minnesota Twins, Toronto Blue Jays, Kansas City Royals, back to the Blue Jays and then the Athletics in 2016.
It was not until landing in Oakland and some words of wisdom from a tarot card reader that Hendriks truly felt that he belonged in the big leagues.
Since taking over as the Athletics' closer on June 21 in 2019, Hendriks has recorded a 1.99 ERA over 68 innings pitched, with 39 saves, 14.7 strikeout rate and a 0.79 WHIP in 65 appearances, which all rank first in the league.
"A lot of the time, I felt like I was just there," Hendriks said. "I didn't feel like I had a place where to succeed. I put ceilings on myself. I'd cap myself in statistical categories or whether it be in the role I was at – I'm not that guy, I'll never be at that point. Just hoping to eke out here and there.
"Then I had a bit of a come to Jesus moment, where I used some different sources. My wife actually connected us with a tarot card reader – Ruby. She had no idea about baseball and she still has zero idea about baseball. But she was like, 'okay, why can't you do that?'. Then you get thinking, 'she's right, why can't I?'. Why can't I break that record or get to his position that I thought was unattainable? You take those ceilings off and restrictions away, all of a sudden let the engine purr a little bit and look where we are.
"There was a lot of perseverance and persistence. The biggest thing for me is trying to prove people wrong. There's a lot of people out there that say I can't do it again, can't do it again, can't do it again. Now, it's going out to prove them wrong – 'you don't think I can do it again? Watch me, this is what I'm gonna do'."
Hendriks, who was close to re-joining AL rivals the Blue Jays continued: "It comes down to having a positive mindset. I had a chat with the pitchers recently. I consider myself some kind of a leader. I wanted to see where their minds are at.
"On the board, I wrote FIGJAM – f*** I'm good, just ask me. That positive mindset is one of the biggest things. If you throw a pitch with conviction, a pitch that you really want to throw, it's going to be better than a perfectly placed other pitch because you had that vibe, intensity and aggressiveness behind it.
"Convincing these guys, your pitches get people out. It's not like, okay he is usually getting a hit.
"The best hitter in the league is going to get a hit three out of 10 times, that means we win seven out of 10 times. That's the best hitter in the league. Don't ever doubt yourself against anybody.
"Pitchers are better than hitters and that's what we need to prove every time. Prove that you're better than the hitter in every single moment. That's one of the things I've taken into it. No matter what happens, you can't hit my fastball. I'm just going to keep throwing it until you get close to it, then all of a sudden, I'll pull the string and throw something else.
"It's a little cat and mouse game but you have to have the confidence behind it."
Hendriks is somewhat of a ninth-inning specialist, having recorded a 1.42 ERA (third), 0.68 WHIP (first) last season in 19 games. Over the course of his career, he has managed 95 games in the ninth inning – only tallying more in the seventh inning since entering MLB.
Since 2018, Hendriks tops the list for ERA (1.81) in the ninth inning among pitchers to have pitched 50 innings, while his WHIP figure (0.80) is only second to Josh Hader (0.77).
So, is there an advantage to having a traditional closer as opposed to a more analytic or committee approach?
"I think there is," Hendriks insisted. "I may be a bit biased because I want the ninth inning. Just purely based on the fact that you'll see guys and they will be really good in the highest leveraged situations throughout the game or anything and then they struggle in the ninth inning. It's a different mindset, different way of approaching the ball.
"In saying that, it gives some fluidly. All of a sudden, if you're up by three, you know you're getting the ninth. If you know you're getting the ninth, you prepare for that inning. If you're not sure when you're going to pitch between the sixth and the ninth, the preparation gets a little different.
"Some guys are good at it, some guys aren't. I think any time you give a guy a certain role, it's easier to adapt. If you get that consistent role, you know what you need to do to get ready."
Data and artificial intelligence continue to play a huge role in MLB, and Hendriks added: "I have two separate ways of looking at it. I love the analytical side off the field because I love to be able to be able to compare and look at something and be like, 'okay, what was I doing when I was good, what was I doing when I was bad? What is the difference and this is one area I need to focus on'. Whether it be, for me, release height, release extension point, the spin axis, the spin rate and all that fun stuff.
"And as soon as the game hits, I don't know a single thing. I want to be as stupid as I can on the mound because as soon as you start overthinking things, you just start thinking that, you'll come up with some negative ideas and it snowballs.
"For me, I love the analytical stuff off field and ways to get better, but on the field, I want to be as dumb as possible. I use a company and they print out these little maps. The maps are colour-coordinated – get in the blue, blue is good and red is bad. It's the easiest thing for me to remember.
"I pull up my piece of paper in the bullpen, be like okay, so and so are coming up – blue, blue, blue. I don't even look at the red. I just notice where the blue is. So it's okay, fast balls up this guy is good. Easy. then I don't have to worry about anything else.
"It's a lot easier to play the game when you're not having to worry about anything else and letting everything take over."