Real Madrid's fundamental five: Ramos, Kroos, Modric, Casemiro, Benzema
Sergio Ramos, Toni Kroos, Luka Modric, Casemiro and Karim Benzema create the spine of this current Real Madrid team, just as they did during Zidane's first spell.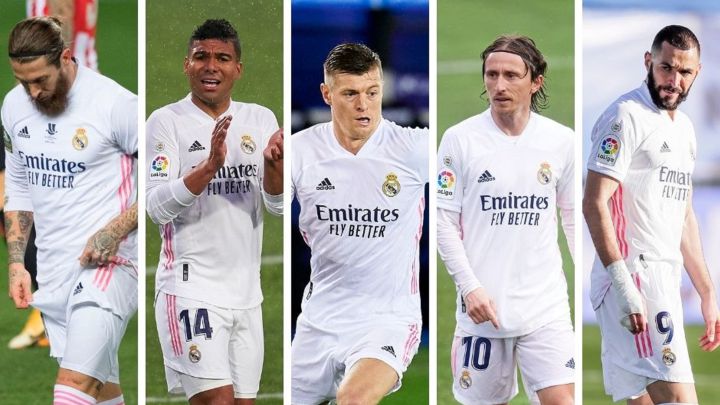 The seasons pass at Real Madrid but it is still the old guard who tend to come to Zinedine Zidane's rescue in the difficult moments. While the club awaits their chosen youngsters (Vinicius, Valverde, Mendy, Rodrygo…) to make the definitive step forward, Madrid's backbone remains unchanged: Sergio Ramos, Casemiro, Toni Kroos, Luka Modric and Karim Benzema.
Between the five of them, the average age is 32.4, and only Casemiro (29) is below the 30 barrier, but despite this they maintain their status as irreplaceable on their own merits.
Real Madrid's backbone unchanged
This season, all five players are in the top ten of the most used outfield players by Zidane. The Frenchman counts on them because he needs them, as was evident against lowly Elche at the weekend, when he rested Kroos and Modric with the Champions League in mind, but had to call on them when the game was slipping away.
They came off the bench at 0-1 and within half an hour had helped to turn things around. The first comeback goal was a corner taken by Kroos to Modric and the Croatian's cross was finished off by Benzema. Among those players who pushed on the most was Casemiro, who despite generally being a defensive midfielder was second only to Benzema (seven) in terms of shots against Elche (four).
In terms of the season's overall statistics, Benzema and Casemiro are also the team's top scorers: the Frenchman leading the way with 20 goals and the Brazilian some way back on six. Zizou is asking the midfielder to get into the opposition box more and more, and he has responded by regularly getting into shooting positions as he overlaps others.
Zidane's first Madrid spell
It has been five years since Zidane began his first spell as Real Madrid coach - taking over in January 2016 - although, as we have seen, the spine of his team has hardly changed.
Since losing the derby at the Santiago Bernabéu to Atlético in February that year, he introduced Casemiro into the starting XI and it didn't take him long to demonstrate he was going to be a nailed-on first teamer, alongside Kroos and Modric. For their part, Ramos and Benzema were permanent fixtures for the coach from the outset.
Since then, Madrid have looked to strengthen the squad: in defence (Militao, Odriozola...), in midfield (Valverde, Odegaard...) and in attack (Mariano, Jovic...), but when the going gets tough it is the veterans who Zidane turns to. And this season the coach has struggled to change this fact, proven as clearly as could be in the most recent league game against Elche.
Real Madrid face Atalanta on Tuesday evening as they look to book their place in the Champions League quarter-final draw.