Is the third stimulus check higher on money than the other two?
The latest round of stimulus checks under the American Rescue Plan provide more money to individuals and dependents than their predecessors.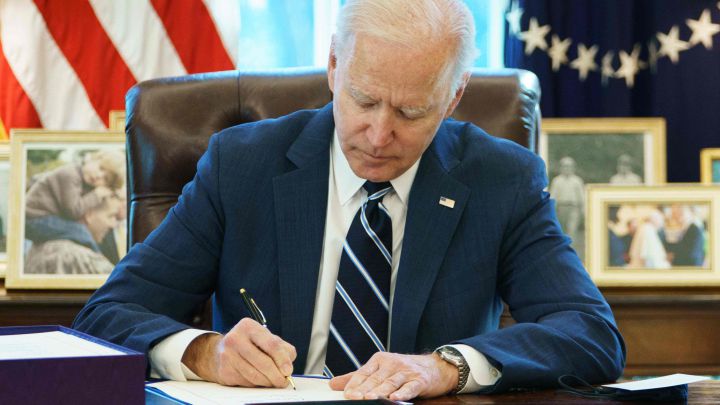 Joe Biden's American Rescue Plan, which has swung into action after receiving Congressional approval, has allocated around $400 billion for another round of stimulus checks to be issued to Nearly 160 million US households. The president made a fresh round of one-off payments to citizens one of his campaign promises and pushing through the economic aid payments was one of the cornerstones of his rescue package, drafted on the same day he moved into the Oval Office. After the bill passed both the Senate and the House, the IRS has started to issue checks via direct deposit and physical checks, with the Biden administration targeting 100 million payments between 15 and 25 March.
How does third stimulus check differ from previous two?
President Biden said on Monday that his administration was on pace to achieve two key goals by March 25: 100 million shots of Covid-19 vaccines since his inauguration and 100 million direct payments under his economic relief bill. https://t.co/qMvTEQLn1L

— The New York Times (@nytimes) March 16, 2021
The physical checks sent out to eligible recipients will have one major difference from the previous two issued under the $2.2 trillion CARES Act of March 2020 and the $2.3 trillion Consolidated Appropriations Act of last December: they will not bear the name of the serving president after Biden declined to add his signature as his predecessor Donald Trump had done.
In terms of money, recipients of the latest round of stimulus checks will receive direct payments of $1,400 per person, helping individuals earning up to $75,000 annually and couples up to $150,000. Those earning more, but less than $80,000 per individual or $160,000 per couple, will receive reduced amounts.
That compares to $1,200 under the first round of checks issued via the CARES Act and $600 for second-round payments under the Consolidated Appropriations Act.
The amount of money provided in the third round of stimulus checks was not an arbitrary decision: the $600 checks issued under December's stimulus package were deemed insufficient by Democrats and a vast majority of recipients with calls for $2,000 stimulus checks – a campaign that is still ongoing and led by a group of 11 Senate Democrats who are backing recurring payments rather than the current one-off system – with the $600 and the wider December bill described by Biden as merely a "down payment."
The $1,400 checks now being issued bring the total over the past two runs to $2,000 per individual. This was first mooted in a bill that passed the House on 28 December – the CASH Act – but was later rebuffed by Republicans. Under that standalone proposal, direct payments would have been increased to $2,000. The idea of combining the two payments in the Consolidated Appropriations Act and the American Rescue Plan to reach that same amount was later proposed.
Dependents
Who will get checks, and for how much?

➡️ Individuals who earn as much as $75,000
➡️ Couples making $150,000, plus their children or adult dependents
➡️ Single parents with at least one dependent who earn $112,500 or less https://t.co/AFYjgQz7MH.

— Bloomberg Tax (@tax) March 9, 2021
In both rounds of previous stimulus payments, families received an additional $500 (CARES Act) or $600 (Consolidated Appropriations Act, respectively), for each dependent child age 16 or younger. However, older children, including college students age 23 or younger, and elderly dependent parents were not included.
Dependents of all ages have been included under the American Rescue Plan with the amount per dependent raised to $1,400 across the board.
Stimulus check news: live
For all of the latest updates on the stimulus check payments as they go out, follow our dedicated live feed.