Rodrygo: "Benzema is the best player in the world"
Real Madrid's Brazilian forward Rodrygo spoke to FIFA.com and discussed Benzema, Casemiro, Neymar and his World Cup 2022 hopes.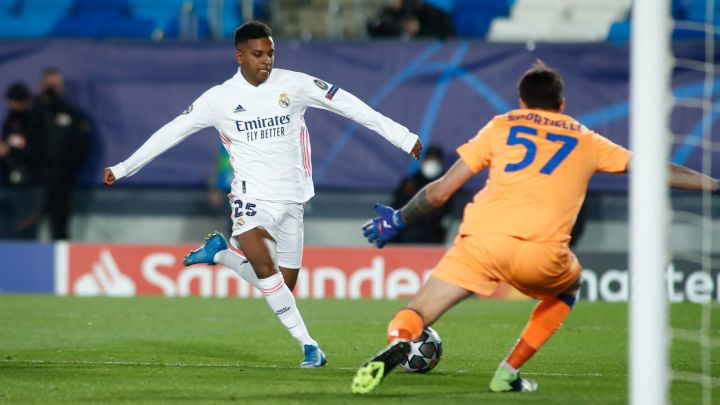 Real Madrid youngster Rodrygo Goes is regarded as one of Brazil's most promising forwards and has already earned three senior caps following his €45m move to the Bernabéu from Santos in 2019. When his father, Eric, was a right back at Mirassol in 2011-12 he was handed the task of marking Neymar in a game against Santos. Rodrygo was only 11 at the time and a Peixe junior, but he was still asked for advice on how to keep his future Brazil teammate quiet.



LaLiga Santander
*Update 19 de marzo de 2021
"I was in the youth ranks at Santos, so I used to watch all of Neymar's games," Rodrygo said in an interview with FIFA.com. "I'd seen so many different moves he would do and I knew how difficult it was to mark Neymar. I was only 11, but I told my dad to watch out because Neymar would do this move and watch out because he would do this trick. My dad had a good game, so maybe the kid's tips weren't that bad!"
Now 20 and one of Madrid's Brazilian diaspora, Rodrygo has shone on the biggest stage in the Champions League and made his debut for the Canarinha against Argentina in November 2019. Despite the number of world-famous players he has played with and against, he says his hero remains his father. "I always liked Neymar, Robinho, Cristiano Ronaldo, but my biggest hero was my dad. I used to love going to watch him play. I was sad when we were apart because of football, but sometimes we moved cities to be with him. That stopped when I joined Santos."
Rodrygo on World Cup: "I want to be one of those players I was watching"
His recent promotion to the senior Brazil side has the forward dreaming of representing his country at the 2022 World Cup. "Ever since I understood what football is, I have dreamed of playing in the World Cup. The World Cup in Brazil is something amazing. I remember being young and seeing the streets painted with the Brazilian colours. You gather the whole family to watch the games, everyone cheering the Seleção fanatically. They are great memories. Now I want to be one of those players I was watching."
On his former Santos mentor Neymar and his current Madrid teammate Casemiro, Rodrygo only has the highest praise. "Neymar is an absolute genius as a footballer, a unique player. And he's an incredible person. In the short time we've had together, he's been a sensational influence on me. Casa's a phenomenon. He's a guy who's helped me a lot since I arrived here. He's a wonderful person. I'd seen him playing on the TV beforehand and thought he was an incredible player, but he's even better than I thought. Casemiro is without doubt the best defensive midfielder in the world."
"Benzema is an exceptional player, and a cool guy too"
However, Rodrygo believes another of his teammates at the Bernabéu stands head and shoulders above the rest, even Leo Messi and Cristiano Ronaldo. "Benzema is the best player in the world. He's an exceptional player. He's having an incredible season, he had an incredible season last year, and he's had several incredible seasons in his career. To play alongside him is a big honour. I really enjoy being able to supply him with passes. His finishing is magnificent. He's a really cool guy too."
After Madrid were paired with Liverpool in the last eight of the Champions League on Friday, a repeat of the 2018 final, Rodrygo shared his thoughts on the tie. "The further you go in this competition, the more difficult it becomes. At this stage all the teams are really strong, and Liverpool are one of them. They will definitely be two great games, very even. Real Madrid and Liverpool is always a huge fixture between two traditional giants of world football. I remember the 2018 final well, I watched it and even then I was cheering Real on a lot. It was a special and memorable final."
Able to throw defenders off balance on the pitch, Rodrygo also has a surprising hobby when he's not involved in football. As well as being a pretty handy chef, the forward also plays the ukulele.