New York Giants: Free agency moves give Jones a fighting chance
Despite a poor 6-10 season for the Giants, there is at least some room for optimism in New York after a busy offseason.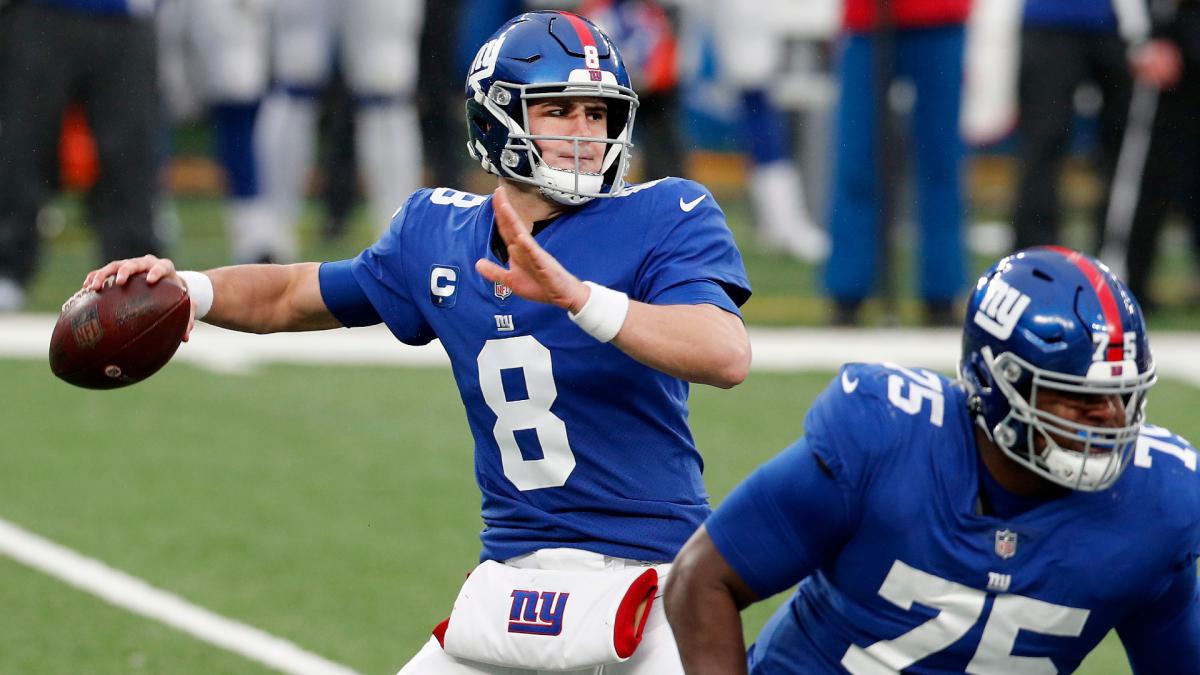 It was another disappointing season for the New York Giants in 2020, despite the arrival of new head coach Joe Judge.
The Giants endured a fourth consecutive losing campaign and have not tasted victory in a playoff game since winning the Super Bowl to conclude the 2011 season.
However, after going 1-7 in the first half of the year, the Giants went 5-3 down the stretch to finish 6-10.
That decent finish, which was helped by a competitive defense, coupled with some high-profile moves in free agency, has at least given Giants fans some reasons for optimism going into 2021.
We have looked at the best Stats Perform data to get a good look at what they need to do to become competitive again.

Offense
The offense was a key weakness for Big Blue in 2020, with Judge and new offensive coordinator Jason Garrett struggling to find a solution.
But while it is fair to suggest Daniel Jones does not look like an elite quarterback, it is hard to place much of the blame on his shoulders.
The Giants' offensive line was among the worst in the NFL once more, with number four overall pick Andrew Thomas enduring a rough rookie season as veteran Nate Solder opted out amid the coronavirus pandemic.
While they had a varied group of skillsets at wider receiver, the unit lacked a true number one option.
A succession of injuries also meant the Giants rarely had all their key pass-catchers on the field at the same time. To make matters worse, star running back Saquon Barkley was lost for the season with a torn ACL in Week 2.
Jones played better than his headline statistics - 11 touchdowns and 10 interceptions from 14 games, an 80.4 passer rating and 29th-ranked passing offense (189.1 net passing yards per game) - would suggest.
The lack of a top supporting cast is highlighted by a total of 751 yards proving enough for Darius Slayton to be Jones' leading target, while with 423 yards on the ground, the QB was the team's second-highest rusher.
The Giants had just 36 passing plays of 20-plus yards, the second-lowest in the NFL.
But Jones thrived when they did open the offense up, providing hope for when he has better receivers to throw to and some more aggressive play-calling.
In passing attempts with 21-plus air yards, Jones had a passer rating of 135.4 – best in the NFL – completing 19 of 38 for five touchdowns and zero interceptions.
Despite his success in that category, there were 21 other QBs who threw more deep passes, with Tom Brady topping the list with 86 attempts, statistics that should give Garrett food for thought.
Without Barkley as the O-line often struggled, the Giants had 46 runs of 10-plus yards and averaged 110.5 YPG, both figures which were below the league average.
Defense
The Giants' defense, though, was a surprising positive for the season.
Despite going into the year with concerns over a lack of star power and talent, defensive coordinator Patrick Graham put together a competitive unit.
Cornerback James Bradberry was a Pro Bowl selection after signing in free agency, while Leonard Williams enjoyed a strong season on the defensive line.
The Giants were ninth in points allowed (357) over the whole season. Even more impressively, they allowed just 138 points over the final eight games, the best total in the NFL over that span.
They were 12th in yards allowed per game (349.3) while 5.34 yards allowed per play was ninth in the NFL.
New York allowed only 52 big plays of 20-plus yards (ranked 6th) and just six of those went for touchdowns (equal 3rd).
They were better than league average with 22 takeaways and 40 sacks too – 11.5 of which went to Williams, who was playing on the franchise tag and also had 30 QB hits and 14 TFL.
Offseason
All of that meant the Giants went into the offseason with improving on offense as a priority and plenty to build from on the defense.
That defense got even stronger with the addition of former first-round pick Adoree' Jackson after his release from the Tennessee Titans, giving the team what looks like a strong cornerback pairing with Bradberry.
With Jabrill Peppers and last year's highly rated second-round selection Xavier McKinney at safety, the secondary looks strong.
Linebacker is a weakness, though the Giants are still looking good up front after Williams was retained on a three-year, $63million deal.
While that looks like a huge overpay, it does at least ensure the defensive line is well placed despite the departure of Dalvin Tomlinson, with Dexter Lawrence, their first-round pick in 2019 still in place.
An elite edge rusher would complement those big bodies well and may well be an area of focus in the draft.
Offensively, the big splash was Kenny Golladay, seen as the top wide receiver to hit the open market, on a four-year, $72m deal.
A low-cost flier was taken on speedster John Ross after the release of Golden Tate, while veteran Kyle Rudolph joined Evan Engram in the tight end room.
The offensive line remains a concern, particularly with guard Kevin Zeitler released, though Solder is back for 2021 on a restructured deal and there will be hopes of an improved sophomore year from Thomas.
With the number 11 pick in the draft, and many of the other teams near the top of the order eyeing a QB, the Giants are in a good position to land a key contributor at a position of need.
If the Giants go receiver and bring in either Ja'Marr Chase, DeVonta Smith or Jaylen Waddle to pair with Golladay and possession receiver Sterling Shephard, Jones will surely greet the move with delight.
Gregory Rousseau is among the options if the Giants look to fill their need at edge in the first round, while tackle Rashawn Slater could prove tempting if the Giants try to swing again for an offensive lineman.
Regardless of the route they go down, Jones' supporting cast has already been significantly improved.
It is fair to say he has not had a great situation either during his college career at Duke or in his first two years as an NFL quarterback.
But going into his third season, Jones now has a platform to succeed and must show enough this year to prove he can be the man who is capable of bringing the Giants back to the top.
If he cannot, both he and general manager Dave Gettleman will be facing an uncertain future.