Durant limps off in Nets last second loss to the Heat
Kevin Durant has been battling to get healthy all year. He has missed more than half of Brooklyn's games and suffered another injury tonight in Miami.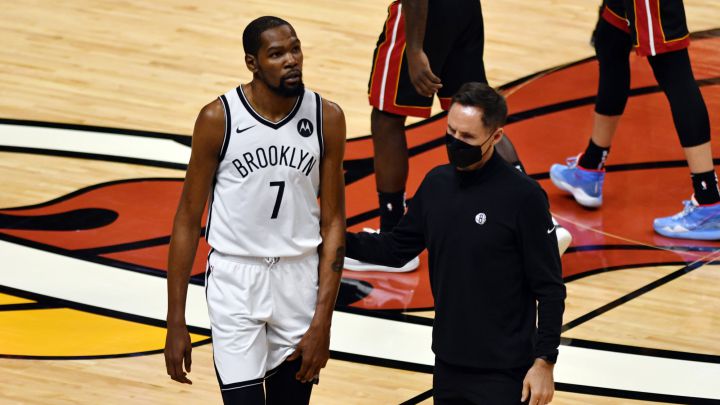 Brooklyn's Kevin Durant was helped off the court in the first quarter of the Nets 109-107 loss to the Miami Heat.
Durant exits early in Nets loss
The star studded Nets have been hampered by injuries all year long and tonight was just the 16th time all season and Durant and Kyrie Irving have been in the starting five together.
Durant was shaken up after colliding with Trevor Ariza early in the game. KD was evaluated on the bench before heading to the locker room at American Airlines Arena.
More test will be carried out on Monday to see the severity of the contusion, but the Nets Head Coach Steve Nash said "He's sore. We don't know how severe. We'll see tomorrow how he wakes up and go from there."
Injuries have plagued KD and the Nets season
Before he limped off the court in the opening quarter, KD had eight points in the first four minutes and was perfect from the field. The Nets eventually lost to the Heat on a last second shot by Bam Adebayo.
The former NBA MVP has missed over half the season, and the Nets are hoping their superstar will return shortly.
"Any time one of our teammates goes down, any time something like that happens, it's definitely going to take a hit for us," said Kyrie Irving. "And he's just gotten back. We just pray that it's not too serious and he's able to recover, but it definitely has a hit on our continuity at times."
The Nets will finish off their road trip in New Orleans. KD is expected to make the trip to Louisiana but is questionable for the game against the Pelicans.