NFL Draft: A look back at the 2020 first round
The 2021 NFL Draft is just days away, but before we take a look the future stars waiting to hear thier name called, we look back at last years 1st round.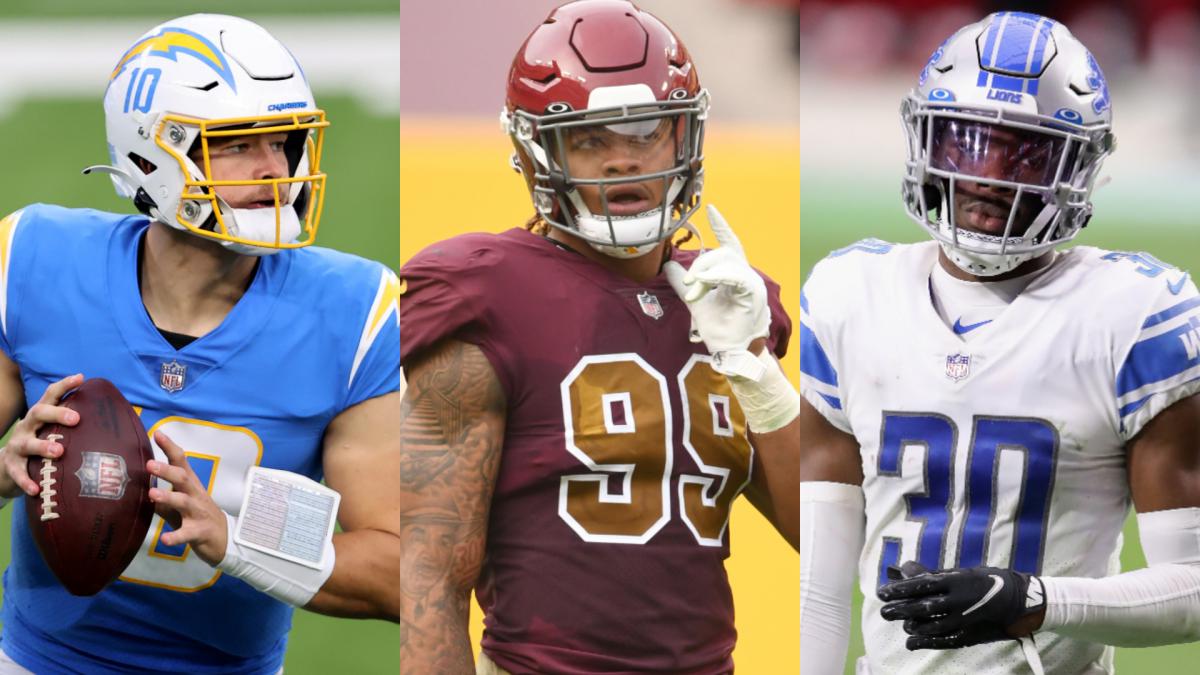 The 2020 NFL Draft was unlike any other as the impact of the coronavirus pandemic forced the league to make necessary changes.
With all public events cancelled due to COVID-19, the 85th edition of the annual meeting went remote. Commissioner Roger Goodell announced picks from his own home and, with facilities closed, online communication became the only way to do business for all 32 teams.
With the 2021 event fast approaching, it seems an appropriate time to assess the first round from a year ago with the help of Stats Perform data.
While still early in their NFL careers, it is already clear some made franchise-chasing picks. Others, however, will hope there is still much more to come from their opening-day selections.
TOP OF THE CLASS...
Chase Young
Nick Bosa was right: Young is the "real deal", for sure.
San Francisco 49ers defensive end Bosa predicted big things for his former Ohio State teammate prior to the draft having seen up close his capabilities, and NFL offensive linemen quickly grew to realise the problems the second overall pick will cause them for years to come.
With Joe Burrow going to the Cincinnati Bengals, Washington had the chance to take the top defensive prospect. Young delivered on his potential, with his total of 7.5 sacks ranked first among all rookies. He also led the way for quarterback hurries (37), knockdowns (12.5) and hits (12), as well as total pressures (55).
Unsurprisingly, Young – who forced four fumbles, recovering three of them himself - was named Defensive Rookie of the Year (as Bosa had predicted, by the way) after helping Washington win the NFC East.
Justin Herbert
Herbert was selected at number six by the Los Angeles Chargers, who had a plan to let their new quarterback initially sit behind Tyrod Taylor. The development curve suddenly changed trajectory when the starter suffered an injury just before facing the Kansas City Chiefs in Week 2, meaning the rookie got an unexpected first opportunity to play.
The Oregon product quickly made clear there was no need to keep him waiting in the wings any longer, with Herbert going on to become just the second quarterback in NFL history to threw for over 4,000 yards in a season having not started in the opening game.
He set records for completions (396), passing yards per game (289.1) and passing touchdowns (31) for a first-year quarterback, unsurprisingly resulting in him being named Offensive Rookie of the Year. Herbert's outstanding numbers were not enough for the Chargers to make the playoffs - or keep head coach Anthony Lynn in his job - but have given the franchise a key building block at a discount price.
Burrow and Tua Tagovailoa – taken by the Miami Dolphins at five – had testing times in year one, but Herbert's debut season has raised the bar considerably high for his quarterback contemporaries.
Tristan Wirfs
Wirfs was the fourth offensive lineman to come off the board when the Tampa Bay Buccaneers were lucky enough to get him at 13, having traded up one spot to do so.
Andrew Thomas (New York Giants), Jedrick Wills (Cleveland Browns) and Mekhi Becton (New York Jets) went ahead of the former Iowa Hawkeye, who would end up being an ever present for the Bucs on their journey to Super Bowl glory.
The 22-year-old provided excellent protection for Tom Brady at right tackle. In 476 pass protection snaps, he allowed just 25 quarterback pressures. That pressure rate of 5.3 per cent sits third across the league among right tackles, behind only Lane Johnson and Mike Onwenu, while 10th overall among all tackles.
Tampa Bay certainly did not whiff when taking Wirfs, who established himself as a foundational piece on a title-winning roster.
Justin Jefferson
Minnesota should be thankful to those teams who opted to take alternative receivers prior to them grabbing Jefferson at 22. The Vikings had secured the pick as part of the trade that sent Stefon Diggs to Buffalo – then used it to take the departed wideout's replacement.
Diggs did lead the league with 1,535 receiving yards, yet Jefferson was not too far behind, ranking fourth in the category with 1,400. That total set a new record for a rookie in the Super Bowl era, aided by seven 100-yard games.
No receiver had more catches of 25 yards or more than the former LSU star's total of 16, while he averaged 15.9 yards per reception. A year on, that trade with the Bills was a rare occasion when both teams benefited.
What makes Jefferson's output even more impressive is he had just five receptions for 70 yards through his first two NFL games. The breakout game came in Week 3 against the Tennessee Titans, as a seven-catch, 175-yard outing ignited what would become a phenomenal first year.
MUST DO BETTER...
Jeff Okudah
Okudah became the first cornerback to go inside the first three picks since the Seattle Seahawks selected Shawn Springs in 1997.
Ohio State has a strong recent tradition of providing opening-round selections at the position, including Marshon Lattimore and Denzel Ward in 2017 and 2018 respectively.
Injuries, however, hampered Okudah in year one. A hamstring issue in training camp delayed his debut until Week 2, while surgery on a core muscle in mid-December saw him placed on injured reserve, ending his involvement for a Lions team who ended up with a 5-11 record.
When on the field, Okudah allowed receivers to get open on 88.6 per cent of his targets when having an expected open percentage of 63.7. He allowed a 'big play' on 43.9 per cent of his coverage snaps, ranking him third on an unwanted list for defensive backs. The Lions will hope he can not only stay healthy in 2021 but also play a greater role in shoring up their secondary.
Jalen Reagor
The transition to pass-heavy offensive schemes has placed a greater premium on receivers in the draft. In 2020, six were taken in the opening 32 picks, while a draft record 13 went across the first two rounds.
Henry Ruggs was the first off the board, taken by the Las Vegas Raiders at 12. Jerry Jeudy followed three picks later to the Denver Broncos, then CeeDee Lamb at 17 by the Dallas Cowboys.
There was much talk that the Philadelphia Eagles had Lamb in their sights. Instead, Jalen Reagor was their choice at 21 - one slot ahead of Jefferson. The former missed time due to a torn ligament in his thumb, while the team transitioning from Carson Wentz to Jalen Hurts at quarterback hardly aided his development.
Reagor finished with 31 catches for 396 yards and a solitary touchdown (there was also a score on a punt return, too) for an anaemic passing attack. Philadelphia averaged just 207.9 yards per game through the air, finishing with 22 touchdowns to 20 interceptions. All still involved will hope for an improvement under a new regime this year.
Isaiah Wilson
Wilson's rookie season included two stints on the reserve/COVID-19 list, a suspension due to a violation of team rules and just the one game. It remains to be seen how many more appearances he makes in the NFL, considering he is currently a free agent.
In taking the offensive tackle at 29, the Tennessee Titans hoped they had a player able to compete for a starting spot after impressing for Georgia, including being named second-team All-SEC following his final season with the Bulldogs.
His solitary outing came in Week 11 against the Indianapolis Colts, during which he was on the field for 4.2 per cent of the team's offensive snaps (plus one on special teams, too).
Traded to the Miami Dolphins in March, Wilson was waived three days after the deal having turned up late for his physical and then skipped multiple optional workouts he had originally agreed to attend.
Clyde Edwards-Helaire
The rich had seemingly got even richer when the Kansas City Chiefs rounded out the opening round in 2020 by taking a tailback, one who had demonstrated his abilities as both a runner and a pass-catcher while helping LSU win the 2020 National Championship Game.
There was a promising start in Week 1 as he had 138 yards on 25 carries, but that was one of just two games where he made it to three figures in terms of rushing. Edwards-Helaire saw his involvement in the regular season cut short by injury, finishing with 803 yards at an average of 4.4 per carry.
That average rose to 4.7 yards during a postseason that included 11 touches in a Super Bowl defeat for the Chiefs. Edwards-Helaire was steady, but the pre-draft hype suggested a more spectacular impact on an offensive juggernaut.
Then there is also the question over whether the franchise needed to take a running back at 32. There were five more taken in the second round, so Kansas City perhaps realised Edwards-Helaire was unlikely to still be available by the time they picked again.