Who is Trevor Lawrence, the QB picked by the Jaguars in the NFL Draft 2021?
NFL writer Kevin Partra has called Jaguars draft pick Trevor Lawrence "a generational quarterback", while Sports Illustrated has hailed him as "the best quarterback in years".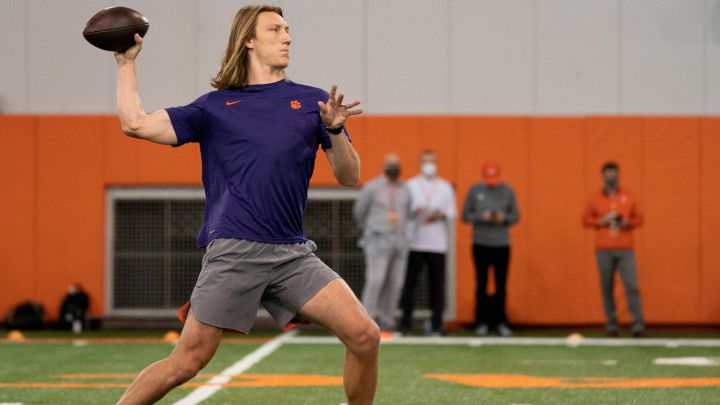 The Jacksonville Jaguars enjoyed their first-ever number one pick in the NFL Draft and what a year to have it with one of the most exciting quarterback prospects in years up for the taking.
After a disastrous 2020 season which saw the Jaguars record their worst-ever record of one win and 15 defeats, the Jacksonville franchise have drafted in new head coach Urban Meyer, who it is hoped will begin a revival along with no.1 draft pick Trevor Lawrence, considered the most NFL-ready quarterback to come out of the college pool for years.
Many pundits expect 21-year-old Lawrence to become a top-five quarterback in the NFL in his first three to four seasons. NFL writer Kevin Partra has called Lawrence "a generational quarterback", while Sports Illustrated has hailed him as "the best quarterback in years".
Most recognizable for his long blonde locks, Lawrence measures 6'6" and weighs in at 220lb. He is noted for his natural talent, intelligence and toughness on the field, which he demonstrated during his three successful college seasons with the the Clemson Tigers.
Trevor Lawrence's college football career with Clemson
Lawrence joins the Jaguars after having enjoyed one of the most celebrated careers by a quarterback in college football history from 2018-20. He led the Clemson Tigers to a national championship as a freshman in 2018 and was named ACC Football Rookie of the Year. He went on to make two more College Football Playoff appearances in 2019 and 2020, before deciding to forego his senior year so he could enter the NFL Draft in 2021.
During his three seasons in college football, Lawrence clocked up 36 starts, with a record of 34-2 and 90 passing touchdowns. Lawrence ranks joint first in the NCAA Division in TD passes, and second in yards (10,098), total yards (11,041) and total TDs (108). He is also the only college QB to record 10-plus deep TD passes in each of the past three campaigns.
Lawrence capped off his final season with the Tigers 231-of-334 for 3,153 passing yards with 24 touchdowns and 5 interceptions. The Tenesse native was named ACC Player of the Year, and came second in the voting for the Heisman Trophy behind Alabama wide receiver DeVonta Smith (who was the Philadelphia Eagles' draft pick). Lawrence is the first-ever Clemson player to be selected in the top three of the NFL draft, and the fourth overall.
Lawrence early years and personal life
Lawrence was born in Knoxville, Tennessee on October 6, 1999. He attended Cartersville High School in Cartersville, Georgia, where he played football and basketball, and was named USA Today High School Football Player of the Year in 2017.
One of three children of Jeremy and Amanda Lawrence, Trevor is a devout christian who married his high-school sweetheart, Marissa Mowry, at a chapel in Bluffton, South Carolina on 10 April.
Having missed the recent NFL Draft medical testing in Indianapolis due to his wedding, Lawrence is currently recovering from a torn labrum in his left shoulder, for which he underwent surgery in February. He is expected to make a full recovery on time to start the NFL training camp ahead of the new season.
Trevor Lawrence: career highlights and awards
CFP National Champion (2018)
CFP National Championship Offensive MVP (2018)
ACC Player of the Year (2020)
ACC Football Rookie of the Year (2018)
Third-team All-American (2020)
2× first-team All-ACC (2019, 2020)
Second-team All-ACC (2018)
USA Today high school All-American (2017)
USA Today High School Football Player of the Year (2017)