Messi hosts party for Barcelona team-mates
The Blaugrana squad met at the Argentine's home to get together for the final stretch of the season, where they are hoping to add to their Copa del Rey trophy.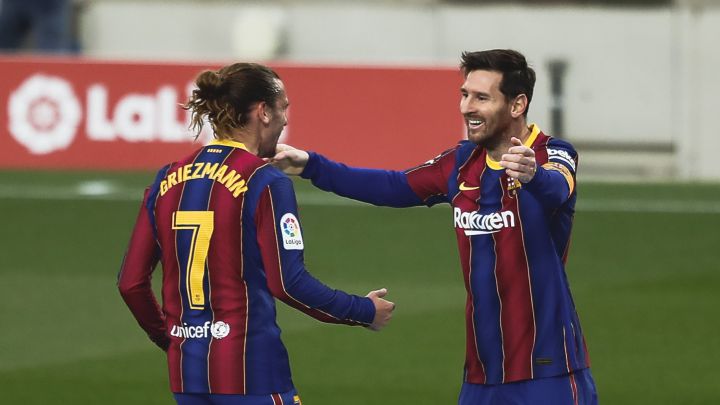 Barcelona have become accustomed to living in the abyss and, when things seem doomed, surviving against the odds. For this reason, the Barça team gathered at Leo Messi's house for a meal ahead of the four remaining games in LaLiga, which starts on Saturday at Camp Nou against Atlético Madrid.
This newspaper contacted FC Barcelona to see if the meal was a breach of covid-19 rules, but the club confirmed that the team forms a bubble and that they eat together every day at the Ciutat Esportiva and that at all times the distance rules were respected.
Messi lifting mood

This meal can be viewed as an act of leadership by Messi as captain of the team in a bid to boost morale ahead of a decisive phase of the season, starting with the match against Cholo Simeone's team.
Barça are convinced that if they win their four remaining LaLiga games, they will win the title and the shock of last Thursday's home defeat against Granada is now behind them.
Laporta confident
Koeman already announced, before going to Valencia, his conviction that "if we win all five games, we will be champions". An idea that president Joan Laporta reaffirmed after the win at Mestalla.
"I said before the game against Valencia that if we win the five games we have left, we are convinced that we will win LaLiga. Well, now it's no longer five, now it's four that we have left to win the title," the president said on his arrival in Barcelona from Valencia in the early hours of the morning.
Barça aiming to follow in Cruyff's footsteps
Barcelona find themselves in a situation similar to that of the 1991-92 season, when with four games to go they were third behind Real Madrid and Atlético. That season, the team then coached by club legend Johan Cruyff won the last four games of the league and became champions against the odds with Real Madrid's defeat in Tenerife on the last day of the season.