Will the fourth stimulus check be approved? Can it still happen in May?
The fate of the next round of direct payments is up in the air after public statements from President Joe Biden and White House press secretary Jen Psaki.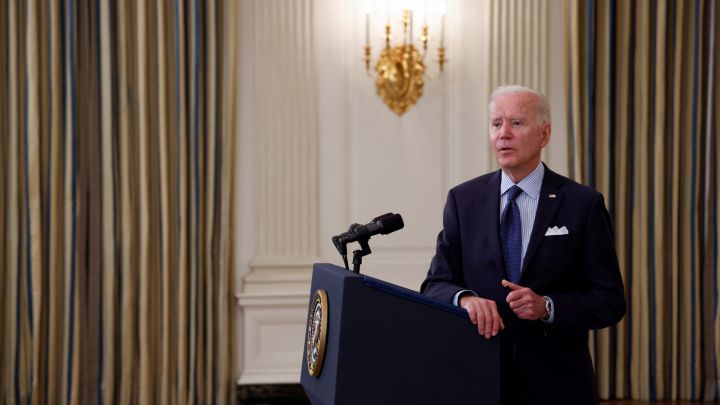 As President Joe Biden pushes on with his agenda he has announced trillions more in federal spending over the past few weeks, which will complete his three-pronged Build Back Better legislative plan.
The American Jobs Plan was announced in early April, with details of the American Families Plan emerging from Biden's first address to a joint session of Congress later that month. But although the two bills include more than $4 trillion of spending, there was no fourth stimulus check included in either proposal.
Given how long it took to pass the last stimulus bill, it is extremely unlikely that another round of the direct payments could be passed in May. However that does not mean that more long-term hopes for a fourth stimulus check have been extinguished.
Petition for fourth stimulus check surpasses 2 million signatures
There is little news from the White House in terms of a new direct payment but there are growing calls, both across the country and within Congress, for Biden to consider recurring payments in future bills.
A new petition entitled '$2000/month to every American #moneyforthepeople #covid19' has reached 2.1 million signatures as people put pressure on the government. The petition was authored by Stephanie Bonin, who describes her situation as that of a typical "working family" who "needed to know that we would have a safety net during this pandemic".
A petition demanding monthly stimulus checks reached over 2 million signatures, bringing the possibility back to life in Congress.

The best path forward? Tie automatic payments to markers of economic health.https://t.co/7HM5OYhhHb

— Humanity Forward (@HumanityForward) May 4, 2021
The petition only began on 3 May 2021 but has already garnered a huge number of signatures. Interestingly, it is not just a fourth stimulus check that is mentioned in the petition. The petition reads: "Moving forward Congress needs to make recurring checks automatic if certain triggers are met. No more waiting around for our government to send the help we need."
White House remain unmoved on prospect of fourth stimulus check
In his big speech in Congress last week, one of the first things Biden mentioned was his administration's success in distributing the third round of stimulus checks.
"We've already sent more than 160 million checks out the door. It's making a difference," he told the 200 lawmakers in attendance. "For many people, it's making all the difference in the world."
STIMULUS CHECK: When asked about a possible additional direct stimulus check, Jen Psaki says the payments "are not free" and that Congress should take the lead if they want another round to go out pic.twitter.com/80xAdH1wTq

— Forbes (@Forbes) May 5, 2021
But despite focusing on the good that is being done by the stimulus checks, Biden refused to be drawn on the matter of another stimulus check and it seems like he has little intention of pushing for another one now. His current agenda is particularly ambitious with a scale of federal spending unlike any in American history, and he will need to retain most of his political capital to force the proposals through Congress.
When asked about the possibility of a fourth stimulus check, White House press secretary Jen Psaki made clear that Biden would not push for another round, adding that it was up to lawmakers to do so. She told reporters gathered: "We'll see what members of Congress propose, but [stimulus checks] are not free".