Barcelona's continual struggles against top teams
Barça didn't win any of this season's LaLiga games against Real Madrid and Atlético. They also lost to PSG and Juventus in the Champions League.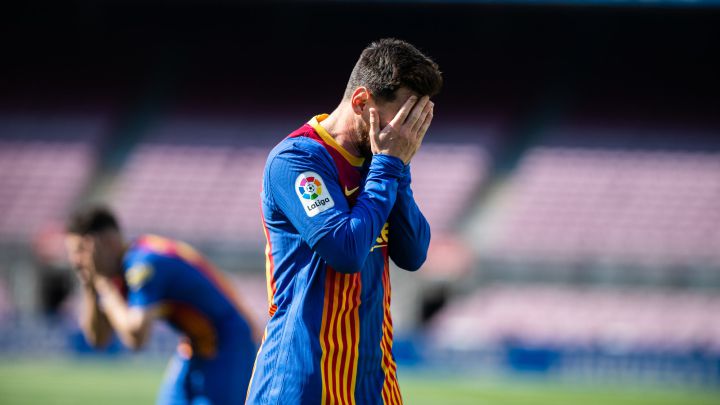 Barça have slipped down the order in terms of prestige in LaLiga. In Europe, their decline has been noted for some time, following a handful of painful defeats - the 4-0 defeat to PSG and 3-0 to Juventus (2017), 3-0 to Roma (2018), 4-0 to Liverpool (2019) and the 2-8 humiliation to Bayern in Lisbon last year. That trend has continued in this season's Champions League (a 0-3 defeat to Juventus and 1-4 to PSG); and also in LaLiga, where Barça lost both of their meetings with Real Madrid (1-3 at Camp Nou and 2-1 in Vadebebas) and they have been unable to beat Atlético. What's worse, they haven't even managed to score past Atleti during the current campaign (1-0 at Wanda and 0-0 at Camp Nou). If you can't beat your direct rivals in the decisive clashes, it's difficult to win the league.
Barça have found out the hard way that in all of the key matches against elite sides this season, they have fallen short. The current team is shadow of the one which won the treble in 2015. For a couple of years, Barça continued to dominate domestically but by last year, the team was in a period of reconstruction. Koeman initiated the new era by bringing in young players like Araújo, Dest, Pedri and Ilaix; who are learning from the veterans - Piqué, Busquets, Alba and Messi; and others who have carved out important roles within the side such as Ter Stegen and De Jong; and more recently, Griezmann and Dembélé.
But Barça lack star quality. If Messi isn't having a good day, the team generally doesn't win. The Argentinean has not scored a single goal against Real Madrid or Atlético this season. He played a key part in the team's Copa campaign, but if he doesn't score, few others will. Barça have a lot of work to do if they are to rejoin the elite.
The future doesn't look too bright for Barça, because the kind if players who make a difference, for example Neymar or Haaland are practically impossible for them to sign. The club must strengthen the squad with players who will hopefully raise their level and that Griezmann and Dembélé, if they renews, start giving a little more. But for the moment, the reality is that Barça will continue struggling against the top teams.