How much were the first, second and third stimulus checks and when were they sent out?
There have been three rounds of federal stimulus aid in the US since the start of the pandemic under two different administrations. We take a look back at them.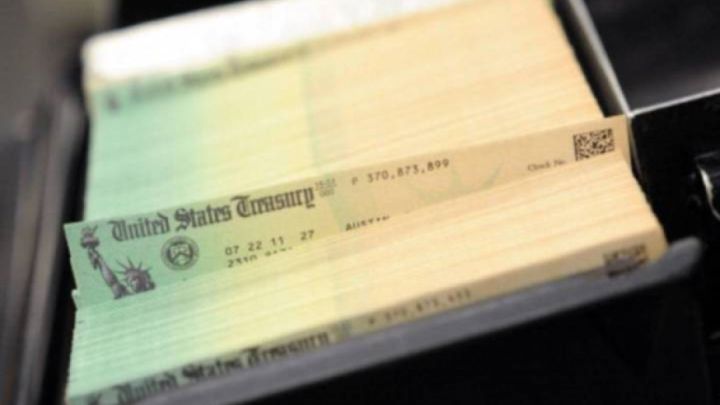 On 25 March 2020, little over two months after the first positive case of coronavirus infection was reported in the United States, Senate Republicans and Democrats agreed on a new relief package designed to get American hospitals, businesses and workers through the pandemic. It was passed by the House of Representatives and a couple of days later on Friday 27 March, Donald Trump, then US president, signed the CARES Act, a $2.2 trillion economic stimulus package into law.
First round of economic stimulus checks – April 2020
The Cares ACT included a provision for a round of stimulus payments – eligible tax-paying adults received a check of up to $1,200 while eligible dependents under 16 years of age received $500 each (a maximum of three dependents could be claimed for).
The payments were made to everyone earning under the income limits, which were set at Adjusted Gross Income of $75,000 ($150,000 for married couples filing jointly) with the stimulus check value reducing in a tapered fashion up to a maximum of $99,000 ($198,000 for married couples filing jointly). The very first stimulus checks were paid into people's bank accounts over the weekend of the 11 and 12 of April, either via direct deposit into individuals' bank accounts, paper checks sent through the post or in some cases, through a prepaid debit card, the Economic Impact Payment (EIP) Card which were sent out in late May/early June last year.
Proposals for a second bill – summer 2020
By July and through the summer, proposals were already underway for a second round of stimulus payments. The CARES 2 package was reviewed by the administration and an agreement in principle was reached on the basic points outlined in the package but it was never passed. Nor was the HEROES Act, a $3 trillion economic stimulus bill which was passed by the House by a vote of 208–199 on 15 May 15 2020 but never reached a Senate vote.
If you filed your tax return reporting unemployment compensation before recent changes made by the American Rescue Plan, #IRS will correct the amount and any resulting overpayment of tax will be either refunded or applied to other outstanding taxes owed. https://t.co/pglPeUWwVu pic.twitter.com/ybYShPTxxK

— IRSnews (@IRSnews) May 8, 2021
Second round of direct payments: December 2020-January 2021
The second round of aid, a $900 billion package which was part of the Coronavirus Response and Relief Supplemental Appropriations Act of 2021 was signed off by Trump on 27 December 2020. It provided a one-off check of up to $600, but this time, households were also able to claim an additional $600 for child dependents aged 16 or under. Those who earned under $75,000 in the 2019 tax year received the full stimulus check, while a steadily smaller figure was given to those on a higher annual income, up to a maximum phase-out limit of $87,000. The first payments, through direct deposit and paper checks with some later payments made by EIP 2 Cards, were issued between 29 December 2020 and 15 January 2021.
Those who didn't receive a stimulus payment either through the CARES Act or the December Covid-19 Relief bill were able to claim for it retroactively when they filed their federal tax returns for 2020 through the IRS Recovery Rebate Credit.
Before I took office, I promised you that help was on the way. Today, I signed the American Rescue Plan into law, and can officially say: help is here. pic.twitter.com/uuEZAkGloz

— President Biden (@POTUS) March 11, 2021
New President, third round of stimulus checks – March 2021
Barely a week after the second round of stimulus payments were completed, new president Joe Biden entered office and immediately unveiled his $1.9tn American Rescue Plan (ARP), which proposed a third of round of payments to Americans, including some of those who might have missed out on the first two rounds.
On Thursday 11 March, Biden signed his $1.9tn American Rescue Plan into law. The third payment provided eligible individual taxpayers for a check of up to $1,400, while couples filing jointly could receive a maximum of $2,800. In addition, families with dependents were eligible for an extra payment of $1,400 per dependent, regardless of the dependent's age – this time, there was no limit to the number of dependents that could be claimed for.
The first stimulus payments were issued swiftly - just hours after Biden has signed the bill, the first batch of 164 million payments, with a total value of approximately $386 billion, arrived by direct deposit in individual's bank accounts. Some received their payments on the weekend of 13/14 March 2021. Since then, a further seven batches of stimulus payments have been sent out, the most recent of which, on 30 April.