Qatari and Algerian FAs sign partnership agreement
Qatar and Algeria's football federations have put pen to paper on a five-year deal that will see the two countries work together in several areas.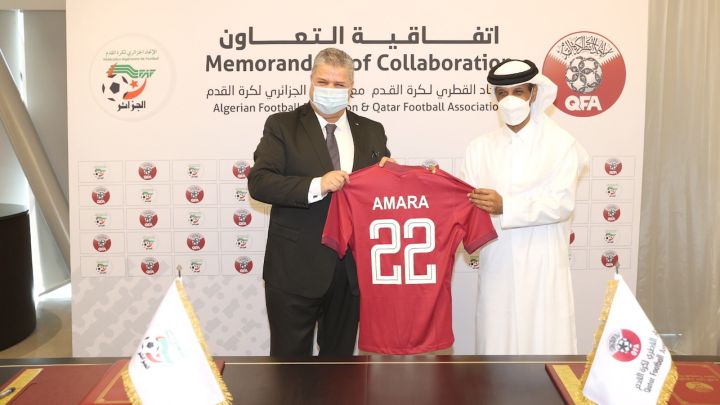 The excellent relationship between Qatar and Algeria's football federations was on Thursday underlined by the signing of a new partnership that will see the Aspetar sports medicine and orthopaedic hospital work with the Algerian FA.
As part of the agreement, Algeria national-team players will receive medical support from Aspetar specialists during competitions, as well as benefiting from other world-class services provided by the FIFA-recognised facility.
The agreement is the latest important step taken by the Qatari FA in its strategy for developing football in the country and strengthening its relationship with other federations, whether continental, Arab or international.
The agreement was signed by Qatari FA president Hamad bin Khalifa bin Ahmed Al Thani and his Algerian counterpart, Charaf Eddine Amara. A delegation from the Algerian FA was in Doha, the Qatari capital, for the 2021 FIFA Arab Cup draw.
The signing ceremony was attended by Mohammed Khalifa Al Suwaidi, the director general of Aspetar and CEO of Aspire Zone Foundation, Mansoor Al Ansari, the secretary general of the Qatari FA, and Mohamed Saad, the secretary general of the Algerian FA.
By signing this agreement, the Qatari and Algerian federations seek to reinforce relations between the two nations, and embrace areas of innovation that serve to raise the standard of football in their countries, thereby furthering their prospects of success.
The partnership agreement, which is due to run for five years, covers many areas of the game in its bid to advance football in both countries. For example, it also focuses on cooperation in the field of coaching, and on promoting an exchange of ideas at national-team level.