Packers star Adams suggests future linked to Rodgers stay
Wide receiver Davante Adams said he would have to think about his own future at the Green Bay Packers should quarterback Aaron Rodgers leave.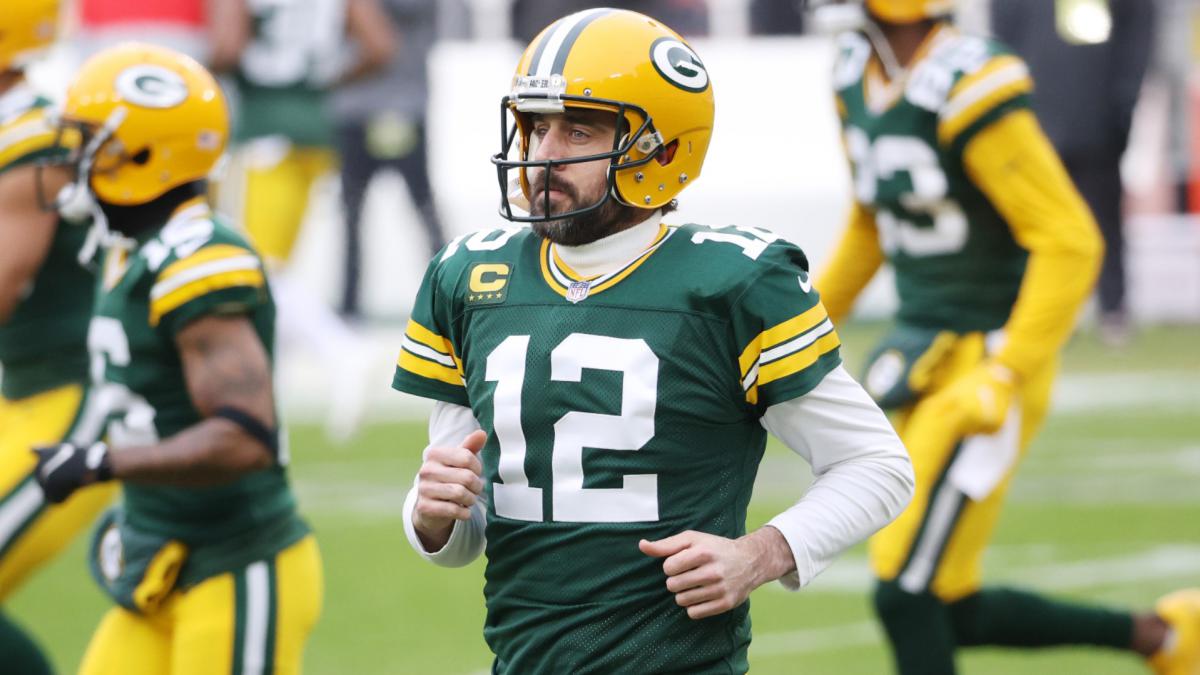 Green Bay Packers star Davante Adams said he would "definitely have to do some extra thinking" if reigning NFL MVP Aaron Rodgers did not suit up for the franchise next season.
Rodgers is reportedly unhappy and seeking a Packers exit, though Green Bay have made it clear they are unwilling to trade the three-time MVP and Super Bowl champion.
It remains to be seen what the future holds for Rodgers, 37, heading into the 2021 season after leading the Packers to the NFC Championship Game.
All-Pro team-mate Adams is into the final year of his contract and admitted his fate could potentially hinge on the superstar quarterback.
Adams: "That's the only guy that I've played with"
"Potentially, potentially; that's my guy," Packers wide receiver Adams told Fox Sports Radio. "That's the only guy that I've had -- other than that 2017 season, when he got hurt. That's the only guy that I've played with.
"We've built up a special connection over the years that has put us both in really good positions in our career. Not that he needed me to come along for it, because he was already in that spot, but we've established a lot together.
"So, it would change a lot. Doesn't mean potentially I'd be gone, but I'd definitely have to do some extra thinking if my guy wasn't here."
Adams caught 115 passes for 1,374 yards and 18 touchdowns last season, while Rodgers amassed 48 TDs, five interceptions and a completion rate of 70.7 per cent for the Packers – who lost to eventual Super Bowl champions the Tampa Bay Buccaneers.
Rodgers' quarterback rating of 121.5 puts him second on the all-time list among qualifiers, behind only his 2011 campaign (122.5).
In total, Rodgers completed 372 of 526 attempts for 4,299 yards as the Packers topped the NFC North with a 13-3 record to clinch home-field advantage and the top seed in the NFC playoffs for the first time since 2011.
Rodgers is level with Buccaneers quarterback Tom Brady, Favre, Johnny Unitas and Jim Brown with three MVP honours – only Peyton Manning (five) has more in NFL history.
"A lot is still being figured out on his end, so it's tough for me to get into the specifics and speak on it," Adams said. "Obviously, I would love to. Can't wait until I can tell you he's back and we're back doing our thing we've been doing. But for now, you've got to iron out a few things. Hopefully I'll be back on the show and we'll be celebrating taking shots and whatnot."
Adams – a four-time Pro Bowler – added: "We all know this is a pretty intense business, there's a lot that happens, a lot that goes on here. Just like any other job, you want to be happy, and once you've gained that respect, you want to be treated with that type of respect.
"There's certain things that I can't speak on specifics, but there are certain things that he wants, and maybe the club wasn't so excited about living up to right away.
"And that can affect a guy who's done so much for an organization. He's put his body and really laid his life on the line out there for that team, for his teammates. So I've been behind him 100 per cent throughout the whole thing.
"Obviously I'm praying everything works out and we get him back and we can continue to go out there and continue to do stuff like we did [last season] because it's a lot of fun doing that."