Covid-19 vaccine in the US news summary: 19 May 2021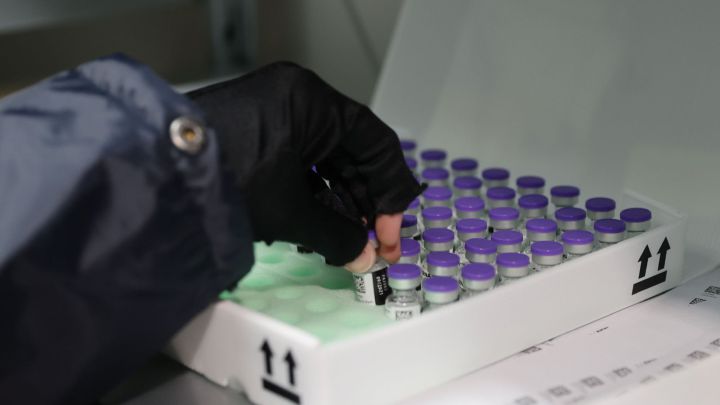 Covid-19 vaccine latest news live | Wednesday 19 May 2021
Headlines
- US vaccine rollout tops 346.6 million doses delivered, 275.5 doses administered
- Biden to send up to 80 million surplus vaccines overseas
- New travel rules for vaccinated US citizens (Read more)
- US vaccine roll-out to children aged 12-15
- Study shows AstraZeneca vaccine works well as third booster
- India case total passes 25.5M
- Ohio lines up $1 million vaccine lottery
- Over 125.4 million US citizens now fully vaccinated (track CDC data here)
- US covid-19: 33.02 million cases / 587,858 deaths (live updates from JHU)
Scroll through some of our related articles:
Headlines
- US vaccine rollout tops 346.6 million doses delivered, 275.5 doses administered
- Biden to send up to 80 million surplus vaccines overseas
- New travel rules for vaccinated US citizens (Read more)
- US vaccine roll-out to children aged 12-15
- Study shows AstraZeneca vaccine works well as third booster
- India case total passes 25.5M
- Ohio lines up $1 million vaccine lottery
- Over 125.4 million US citizens now fully vaccinated (track CDC data here)
- US covid-19: 33.02 million cases / 587,838 deaths (live updates from JHU)
Scroll through some of our related articles:
Anti-vaxxers find new target to spread doubt about vaccine safety
Anti-vaxxers are spreading a conspiracy theory on social media claiming that SM-102 is not safe for human use. Many of the social media posts and videos feature the US biochemical manufacturing company Cayman Chemical which sells SM-102 as a research chemical. On the product description page for the company's SM-102, chloroform is listed as part of the formulation, "a solution in chloroform".
This is being latched onto by anti-vaxxers but as is pointed out by interviews with scientists in Newsweek, this is ingenuous and easily misinterpreted. Just because this company says it sells its SM-102 product "for research use only, not for human or veterinary use" does not imply that the SM-102 Moderna uses is not safe. Furthermore, chloroform is not listed among the ingredients of the Moderna vaccine.
Al Edwards, impact lead for the pharmacy research division at the University of Reading, told Newsweek "A seller can label something as not for human consumption or use in medicines just because they don't want the product to be used in that way; the business does not want to certify that it's safe for human use." Adding "Peanuts sold for bird seed often are labelled in this way. That doesn't mean peanuts are hazardous to humans."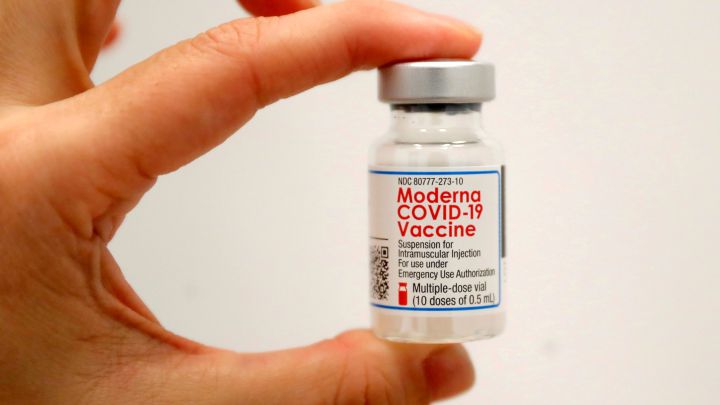 Moderna covid-19 vaccine: what is SM-102?
A new type of vaccine is being employed against the covid-19 virus that came out of a scientific backwater but could now create a medical revolution helping countless around the world. In order for the vaccine to reach its destination in one piece, it requires a protective covering of lipids, one of which has wrongly drawn the attention of anti-vaxxers.
Without lipids neither of the two mRNA vaccines that are currently being used in the fight against covid-19 would be possible, SM-102 is one of them.
According to data from the Federal Bureau of Prisons, 52% of inmates in federal facilities are fully vaccinated.
Vaccine update: Texas
As the Texas Department of State Health Services tell us, 'the vaccine works and covid is down across the board.'
'The vaccine is preventing covid's worst and stopping the spread. Get your vax today.'
Check out the latest numbers.
Vaccine demand vs availability: the latino challenge
Unvaccinated Latinos are two times more likely than whites to want a covid-19 vaccine, highlighting an opportunity for targeted outreach to boost overall vaccination rates, according to a new survey from the Kaiser Family Foundation.
But Latinos surveyed raised several concerns, including having to pay for the vaccination and having to give information that may reveal one's immigration status — showing that there needs to be more information that stresses vaccines are free and available to anyone regardless of legal status.
"With so many unvaccinated Hispanic adults eager to get a shot, there's an opportunity to further close the gap in vaccination rates by addressing worries about costs and practical concerns, such as time off work," Liz Hamel, director of public opinion and survey research at the Kaiser Family Foundation, said in a statement Thursday.
Full report by Nicole Acevedo.
Carlson Tucker's vaccine mistruths defended
Fox CEO Lachlan Murdoch has come to the defence of the controversial presenter who included a 17-year-old who shot himself with a gun after being vaccinated a week before as part of the proof that the vaccine was dangerous.
Careful who you listen to, folks.
Not anti-vaccine, but anti-vaccine mandate
Out of a total enrollment of 51,000 undergrads, these are the select few Rutgers students who say they intend to fight the university's mandate that they get the coronavirus vaccine in order to return to campus this fall. They plan to hold a protest against the mandate this Friday on the College Avenue campus in New Brunswick.
"I'm very angry. I think the decision to get a covid vaccination should be a personal choice, not the government's," said Sara Razi, a 21-year-old Rutgers junior. "And I'm not anti-vaccine at all. I've gotten the flu shot; my childhood vaccines. I'm anti-vaccine mandate."
Vaccine requirements in Nashville colleges
While schools adjust to changing covid-19 mask guidance, colleges in Nashville are sharing their plans for vaccines for students.
Vanderbilt University announced that all students are required to get the covid-19 vaccine for the upcoming fall semester.
The university says the requirement applies to all undergraduate, graduate and professional students for the 2021-2022 school year. Accommodations can be made for those with medical and religious exemptions.
Tennessee State University (TSU) said it's not requiring vaccines for students in the fall, but is working with partners to offer the vaccine.
Belmont University says there's no vaccine requirement at this time. Lipscomb is undecided on the covid-19 vaccine policy for upcoming fall classes.
Find out more at the following link.
Vaccine factchecker: testing on animals
A Texas state lawmaker recently claimed, falsely, that animal trials for the vaccines were "stopped" because "the animals were dying." And his words are now fueling widely viewed social media posts seeking to discredit the vaccines.
"Covid Jab: They Skipped all Animal Trials Because all Animals Were Dying & Went Directly to People," reads the text of a video meme repeatedly posted on Instagram. It also cites where the video was taken: "Texas State Senate, May 2021."
A report that dispells this, and related, dangerous false information.

No masks required on campus as of 4 June
Texan public school districts have been given more time to comply with new mask regulations but after June 4, "no student, teacher, parent or other staff member of visitor can be required to wear a mask while on campus," governor Greg Abbott announced.
Regardless of what government mandates are in place, a new Ipsos poll conducted for Reuters over the weekend shows more than half of Americans expressing a reluctance to quickly return to normal pre-pandemic behavior.
Of those surveyed, just 17% said they intended to swiftly get back to their previous routines. Another 28% said they already were doing so, a figure that included 42% of Republicans polled.
US drug-maker Pfizer to open covid-19 vaccine production facility in Ireland
Pfizer is to begin producing ingredients for its covid-19 vaccine at an Irish facility, the U.S. drugmaker said in a statement.
The plant, which will produce "mRNA drug substance" and employ 75 new staff, will be brought onto the network by the end of 2021 with an investment of up to $40 million, the statement said.

The US will donate substantial portion of vaccines through COVAX - US official
The United States will donate a significant number of covid-19 vaccines through the World Health Organization's COVAX scheme for distributing doses to poorer countries, the U.S. coordinator on global COVID, Gayle Smith, told a news conference on Wednesday.
President Joe Biden announced on Monday that his administration will send by the end of June a total of 20 million doses of the Pfizer Inc/BioNTech SE, Moderna Inc and Johnson & Johnson vaccines, on top of 60 million AstraZeneca Plc doses he had already planned to give to other countries.
"The allocation of the vaccines will include obviously a substantial portion through COVAX, but we have not made final decisions," Smith said.

EU agrees to ease travel restrictions on non-EU tourists
European Union countries agreed on Wednesday to ease covid-19 travel restrictions on non-EU visitors ahead of the summer tourist season, two EU sources said.
European Union countries agreed on Wednesday to ease COVID-19 travel restrictions on non-EU visitors ahead of the summer tourist season, two EU sources said.
Ambassadors from the 27 EU countries approved a European Commission proposal from May 3 to loosen the criteria to determine "safe" countries and to let in fully vaccinated tourists from elsewhere.
They are expected to set a new list this week or early next week. Based on data from the European Centre for Disease Control and Prevention, people arriving from Britain and a number of other countries would meet the new criteria, but U.S. residents would not. One EU diplomat said cases of the Indian variant in Britain would need to be taken into account, although individual EU countries are already setting their own policies. Portugal lifted a four-month travel ban on British tourists on Monday.
Under current restrictions, people from only seven countries, including Australia, Israel and Singapore, can enter the EU on holiday, regardless of whether they have been vaccinated.
The current main criterion is that there should be no more than 25 new covid-19 cases per 100,000 people in the previous 14 days. The trend should be stable or decreasing and there should be a sufficient number of tests, which would need to show a minimum percentage of negative tests. Variants of concern can be taken into account.

Cuba raises Latam hopes as it starts mass inoculation with own covid-19 shot
Cuba started a mass vaccination campaign against covid this week using one of its five homegrown vaccine candidates which, if proven effective, could improve access to inoculations across Latin America, one of the regions hardest hit by the pandemic.
Cuba's state-run biopharma sector - which has a long history of developing, producing and exporting serums - has concluded late-phase trials at home for the vaccine, Abdala, in more than 48,000 volunteers but not yet published the results.
Still, it says the advantages of starting mass vaccination outweigh the risks, given the shot has proven safe and effective in generating antibodies and Cuba is facing its worst covid-19 outbreak since the start of the pandemic.

NY to drop mask mandate for vaccinated individuals
New York Governor Andrew Cuomo announced on Monday his state will drop face mask requirements in most public spaces for vaccinated individuals, while fellow Democratic Governor Gavin Newsom of California said he would keep his mask order in place for another month.
But most governors who have discarded mask mandates at the state level have allowed local governments, school districts and businesses to exercise discretion in choosing when and how to ease their own requirements.
Texas, the second-most populous state in the nation, now becomes the most aggressive in steering away from masks altogether.
Texas bars mask mandates for schools, defying latest CDC guidance
Texas Governor Greg Abbott on Tuesday ordered all public school districts in his state to lift mask-wearing requirements next month, contradicting the latest student-safety covid-19 guidance from the U.S. Centers for Disease Control and Prevention (CDC).
Abbott's executive order also bars other local government entities in the state from continuing to require face coverings beginning on Friday, echoing a similar move earlier this month by fellow Republican Governor Ron DeSantis of Florida.
Abbott said Texas was making strides against the covid-19 pandemic through vaccinations, antibody therapeutics and voluntary health-safety practices, leaving government mask requirements no longer necessary.
"We can continue to mitigate covid-19 while defending Texans' liberty to choose whether or not they mask up," he said in a statement announcing the executive order.

Indian PM Modi's rating falls to new low as India reels from covid-19
Indian Prime Minister Narendra Modi's approval ratings have fallen to a new low, two surveys showed, as the country struggles to contain a devastating second wave of the coronavirus pandemic.
Modi, who swept to power in 2014 and was re-elected in 2019 with the biggest majority of any Indian politician in three decades, has long fostered the image of a powerful nationalist leader.
But India's covid-19 caseload surged past 25 million this week, exposing a lack of preparation and eroding Modi's support base, according to U.S. data intelligence company Morning Consult's tracker of a dozen global leaders.
Modi's overall ratings this week stand at 63%, his lowest since the U.S. firm began tracking his popularity in August 2019. The big decline happened in April when his net approval dropped 22 points, Another survey by Indian polling agency CVOTER found the number of respondents "very much satisfied" with Modi's performance had dropped to 37% from around 65% a year ago.
For the first time in seven years, respondents expressing dissatisfaction with the Modi government's performance outnumbered those satisfied with it, CVOTER data shows.
"The prime minister is facing the biggest political challenge of his career," CVOTER founder Yashwant Deshmukh told Reuters.

Study shows AstraZeneca vaccine works well as third booster - FT
The covid-19 vaccine of AstraZeneca Plc and Oxford University works well as a third booster dose, stepping up antibodies to the coronavirus spike protein among participants in a study, the Financial Times said on Wednesday.
The news comes as vaccine makers warn that the world will need yearly booster shots, or new vaccines, to tackle virus variants, although some scientists question if such shots are necessary.
The newspaper quoted a person familiar with the results of the study as saying it showed the antibody reaction to the booster shot was "strong enough against any variant" and put to rest fears that adenoviruses could not be used more than once.
AstraZeneca and Oxford University did not immediately respond to a Reuters request for comment on Oxford's yet to be published study.

Under pressure EU presents WTO plan to boost vaccine output
The European Union put forward a plan on Wednesday it believes will help boost production and availability of covid-19 vaccines more effectively than a proposed waiver of patent rights now backed by the United States.
Under pressure from developing countries to agree to waiving intellectual property (IP) rights for vaccines and treatments, the EU plan will focus on export restrictions, pledges from vaccine developers and use of existing World Trade Organization rules.
"Universal and fair access to vaccines and treatments must be the global community's number one priority," EU Trade Commissioner Valdis Dombrovskis told the European Parliament.
In a debate on global vaccine access, Dombrovskis told lawmakers the European Union was ready to engage in examining the extent to which temporarily waiving the WTO's TRIPS agreement contributed to expanding vaccine availability.
India and South Africa have urged fellow WTO members since October to lift IP rights to vaccines as a way of ensuring the world is supplied. Debate around the issue erupted anew last week when U.S. President Joe Biden supported the idea.

60% of all vaccine doses given in just three countries
AFP report that, more than 1,500,017,337 vaccine doses have now been administered in 210 countries and territories.
Nearly three-fifths of the total have been given in three countries: China (421.9m), the US (274.4m) and India (184.4m).
In Israel, nearly six in 10 residents have been completely vaccinated, while 32% of Europeans have received a dose. Only 11 countries have yet to roll out vaccines.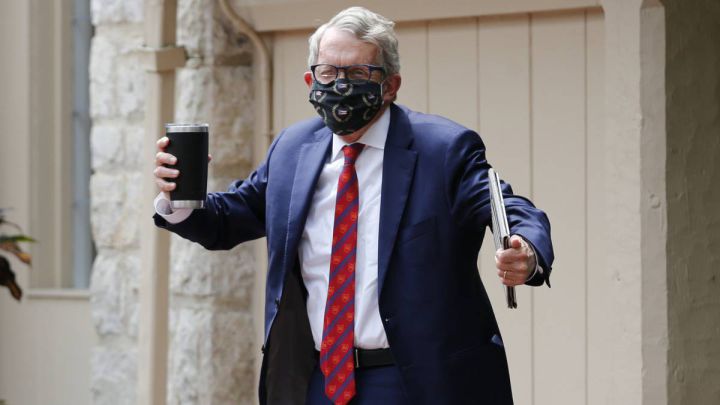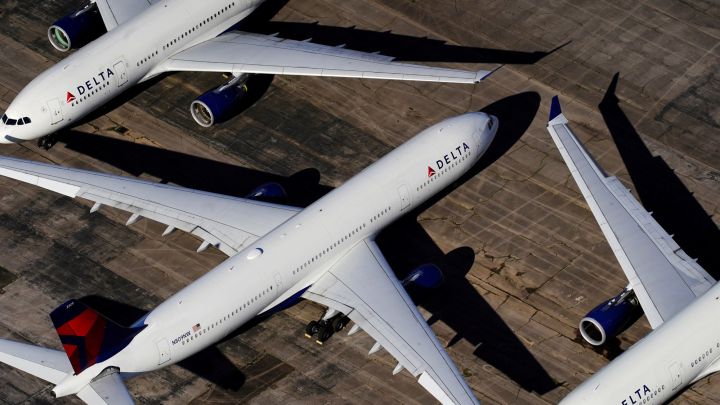 CDC vaccine roll-out data
The latest snapshot from the vaccine roll-out via The United States Centers for Disease Control and Prevention
Covid-19 vaccine news: welcome
Hello and welcome to our dedicated live blog for Wednesday 19 May 2021.
Here we aim to keep you fully up to date with all the latest news and updates regarding the covid-19 pandemic and all aspects of the vaccine development and rollout across the United States and around the world.
.