Fourth stimulus checks: when will the next relief bill be discussed?
President Biden is holding White House meetings with bipartisan groups to discuss the next stage of his Build Back Better plan, but are stimulus checks on the agenda?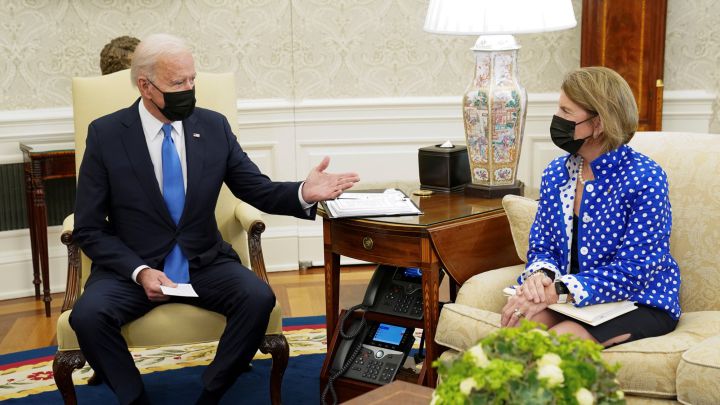 On 28 April President Biden announced details of his American Families Plan, the third part of his administration's Build Back Better legislative agenda. A fourth stimulus check was not included at that time but there are reports that the President is now considering adding direct payments to the package.
It is thought that Biden will concentrate first on passing the American Jobs Plan, the infrastructure bill, but much of the public focus remains on the American Families Plan. A number of Democrats in Congress have publically insisted that stimulus checks be included in the bill, but the White House is remaining tight-lipped for now.
When will negotiations on the fourth stimulus check begin?
The combined cost of the two outstanding bills is thought to exceed $4 trillion, an enormous outlay and one that no Republican lawmaker is likely to support. With an evenly-split Senate this means that Biden will have to keep every single Democratic senator on-side with some careful negotiations.
The President has been meeting with bipartisan groups of lawmakers in recent weeks to see if he can find a two-party solution but it seems unlikely that a compromise will be found. Some Republicans have hinted that they would support a stand-alone bill for more stimulus checks but they appear unwilling to vote for a package of the size Biden has proposed.
This morning, Vice President Harris and I met with a bipartisan group of Congressional Leaders. As I've said before, we can't let the divisions of the present stop us from doing right by the future. We're committed to working together to build back better for the American people. pic.twitter.com/EaR5vwPoaj

— President Biden (@POTUS) May 12, 2021
Bloomberg report that some GOP members had tabled a $568 billion counter-proposal to Biden's $2.25 trillion American Jobs Plan, which suggests that the two sides are too far apart to find a compromise. These talks are still ongoing but it seems increasingly likely that Biden's negotiations will have to focus on keeping his own caucus united, rather than finding a common ground with the GOP.
White House considers introducing stimulus check "automatic stabilizers"
While Biden continues his efforts to bring Republicans onside, his administration are reportedly working on implementing automatic stimulus checks in upcoming legislation. Newsweek report that the Economic Security Project have briefed 50 members of staff from the Senate Finance Committee on the prospect of introducing "automatic stabilizers," to avoid Congressional logjams in future.
NEWS: The White House and Senate Finance Committee are weighing the use of stimulus checks with 'automatic stabilizers' in place.

Automatic stabilizers act like a financial first aid, delivering monthly stimulus checks until economic conditions improve.https://t.co/PAQvE2Gm3G

— Humanity Forward (@HumanityForward) May 7, 2021
This would see the next round of stimulus checks, and potentially unemployment benefits too, linked to economic triggers that would automatically result in payments being made when a certain criteria is met. This could be a more palatable option for moderate Democrats, and potentially even a few Republicans, who are in favour of stimulus but worried about overheating the economy.
"They understand that this is smart policy and good politics," Adam Ruben, director of the Economic Security Project, told Newsweek recently. "Putting in place these kinds of triggers would smooth out the recovery and no one is left at the mercy of Washington gridlock in future recessions."