Who has been pushing to pass a fourth stimulus check?
Calls for the White House to include more stimulus checks in the Build Back Better investment package continue, so who are those behind the push?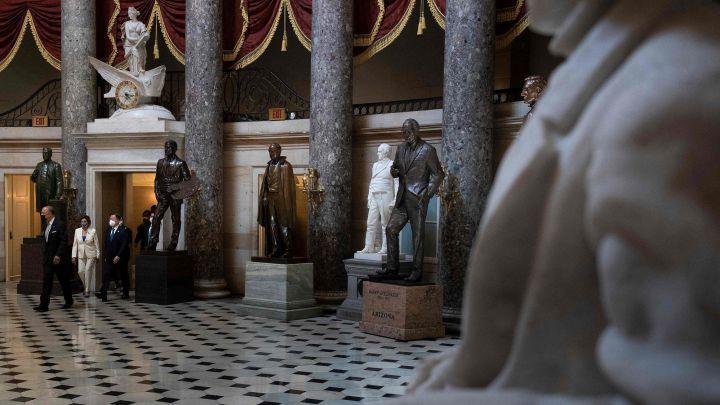 The IRS has sent out the vast majority of stimulus checks budgeted for in the third round of Economic Impact Payments (EIP), but there are indications that the effect of those $1,400 stimulus checks is beginning to wear off for some.
The White House has received three letters from congressional Democrats urging the inclusion of recurring stimulus checks. In the letter that senate Democrats sent to President Biden, they pointed out that six in ten Americans didn't think that the $1,400 direct payments wouldn't last them even three months.
Stimulus checks until the end of the pandemic
From inside Washington and outside the Beltway, support for additional stimulus checks until the pandemic is over has been growing. When the end of the pandemic will occur has yet to be seen. Economists are predicting that the US economy will come roaring back this year, but the economic data has been mixed.
As for the virus itself, President Biden has set a goal of putting at least one vaccine shot in 70 percent of the US population by 4 July so the nation can return to normal. Although the US has crossed the 50 percent mark and nine states have met the 70 percent target, vaccination rates are again slowing after a small bump last week that corresponded with Pfizer being authorized for adolescents 12 to 15.
Who is calling for more stimulus checks?
Outside of Washington there are petitions on Change.org, one of them has garnered over 2 million signatures since being set up. Inside the Beltway, 80 Democrats in Congress have now signed onto letters urging additional financial help to struggling US households.
Representative Ilhan Omar led the House's effort for recurring payments with a letter in January. "A one-time payment of $2,000 is simply not enough. The American people are counting on us to deliver transformative change, and we need to meet the moment by delivering monthly payments of $2,000," the letter read.
Then in March Democrats in the Senate, led by Senator Ron Wyden, had a go at persuading the White House with 21 Senators signing on. "This crisis is far from over, and families deserve certainty that they can put food on the table and keep a roof over their heads. Families should not be at the mercy of constantly-shifting legislative timelines and ad hoc solutions," they wrote.
The most recent attempt to get the Biden administration on board came from seven Democratic members of the House Ways and Means Committee. Their influential committee controls the "purse strings" of the US government. "The pandemic has served as a stark reminder that families and workers need certainty in a crisis," they wrote. "They deserve to know they can put food on the table and keep a roof over their heads."
The White House has been holding off stating its position but when pressed earlier this month White House Press Secretary Jen Psaki told reporters that they would have to "see what members of Congress propose," adding that stimulus checks "are not free." Despite being mum about a fourth stimulus check, reports suggest that the White House is actually considering a measure that would see direct payments automatically sent out when certain economic measures are triggered. Fifty members of White House staff were briefed by the Economic Security Project, an initiative which aims at tackling wealth inequality, on potential applications of these "automatic stabilizers."
Now is the time to go BIG and BOLD.

Mitch McConnell said 100% of his focus is on blocking this administration — so it's time to move forward without Republicans.

— Rep. Pramila Jayapal (@RepJayapal) May 26, 2021
What are the chances of more stimulus checks?
Legislation has been reintroduced in Congress by Representatives Pramila Jayapal and Rashida Tlaib that would provide a fourth direct payment of $2,000, and then $1,000 recurring direct payments to Americans until the pandemic ends. The BOOST Act has nearly ten co-sponsors, including Representatives Alexandria Ocasio-Cortez and Ayanna Pressley. House Speaker Nancy Pelosi hasn't said anything on the subject however, and a new round of payments would need her blessing to get through the lower chamber.
Likewise, there doesn't seem to be enough support among the rest of the Democratic party to get another round of direct payments through Congress. The Democrats can almost certainly count on not having Republican support, so if the measure were to proceed, they would most likely need to use budget reconciliation as they did with the American Rescue Plan.
Using this procedure they were able to pass the legislation with a simple majority avoiding a filibuster, whereby they would have needed at least 10 GOP votes. Not one Republican voted for the American Rescue Plan, and despite bipartisan negotiations Republican support for the two-phase Build Back Better plan looks slim to none. The Democrats would need all 50 votes in their caucus to pass any bill containing more stimulus checks and with less than half formally supporting the measure it is unlikely more stimulus checks will be coming anytime soon.