What teams have won the most Champions League titles? Full list of winners
Real Madrid is by far the most decorated side in European Cup/Champions League history, being one of 13 clubs to have won the competition twice or more.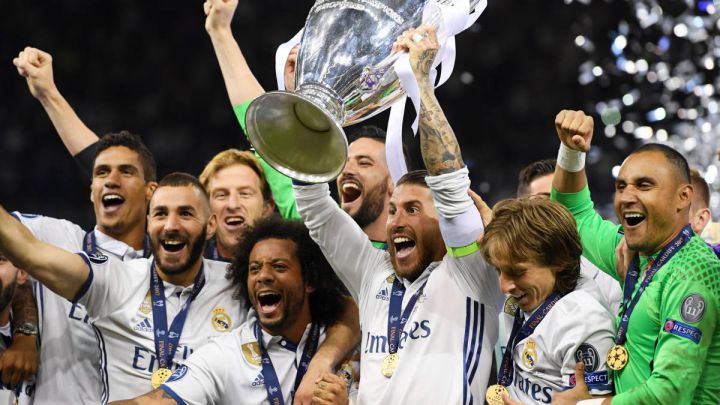 Since the inception of the European Cup in 1955, a total of 22 clubs have had the privilege of lifting the most coveted title in club football, with only 12 teams having won the competition twice or more before Saturday's final.
**Champions League final 2021: Man City 0-1 Chelsea: as it happened**
On Saturday night, Chelsea became the 13th team to scoop trophy more than once, while Manchester City, playing in their first-ever European Cup/Champions League final, failed to become a rare first time appearance winner.
Real Madrid and AC Milan, 20 titles combined
Having won the first five editions of the tournament (in 1956, 1957, 1958, 1959 and 1960), Real Madrid are by far the most decorated club in European Cup history with a total of 13 titles. The last three of those, of course, came in three consecutive seasons in 2016, 2017 and 2018 under coach Zinedine Zidane, who, having announced his first resignation shortly after that last victory in 2018, has this week confirmed he is stepping down from his post for the second time following his second two-plus-year stint at the helm of Madrid.
Long behind Real Madrid in second place is AC Milan with seven trophies. With their first five titles coming in 1963, 1969, 1989, 1990, 1994, Milan have only scooped the trophy twice in the 21st century, in 2003 and 2007.
Bayern and Liverpool - six titles each; Barcelona - five titles
In joint third place with six trophies each are the winners of the previous two editions of the tournament -- current holders Bayern Munich and 2019 winners Liverpool, whose incredible comeback from 3-0 down against AC Milan before winning on penalties in 2005 will be remembered as one of the greatest finals of all time.
In fifth place with five titles is Barcelona, whose first title came as late as 1992 after two successive final defeats in 1961 and 1986. The rest of the Blaugrana's victories came during the club's 'Golden Era' of the 21st century, in 2006, 2009, 2011, 2015.
Ajax, Manchester United and AC Milan
With four titles (1971, 1972, 1973, 1995), Ajax are the sixth most decorated side in European Cup/Champions League history -- the Dutch club's most notable victory coming in 1995 with an all-star side containing the likes of Marc Overmars, the De Boer brothers, Edgar Davis, Frank Rijkaard, Edwin van Der Sar and Finidi George, who was one of only two non-Dutch starters in the final XI along with Finland's Jari Litmanen.
Behind Ajax in joint seventh with three titles each are Manchester United -- who, like Liverpool, will be remembered for one of history's greatest final comebacks in 1999, when they overturned Bayern Munich in injury time to win 2-1 -- and Inter Milan, whose last victory came under Jose Mourinho in 2010.
Five two-time and nine one-time winners
Following those two are five two-time winners: Juventus, whose last win came in 1996; Benfica, who won the sixth and seventh editions of the tournament in 1961 and 1962 after Real Madrid's five consecutive victories; Nottingham Forest, one of six clubs to have managed to retain the title, which it did in 1979 and 1980; and Porto, who, following their stunning 2004 victory under Mourinho that came against all the odds, remain the only winners of the 21st century to have come from outside the the big four leagues of Spain, England, Germany and Italy. Chelsea have now added their name to that group after their win over City.

Champions League Winners List
Club
Titles
Years
Real Madrid
13
1956, 1957, 1958, 1959, 1960,

1966, 1998, 2000, 2002, 2014,

2016, 2017, 2018

AC Milan
7
1963, 1969, 1989, 1990,

1994, 2003, 2007

Bayern Munich
6

1974, 1975, 1976, 2001, 2013, 2020

Liverpool
6
1977, 1978, 1981, 1984, 2005, 2019
Barcelona
5
1992, 2006, 2009, 2011, 2015
Ajax
4
1971, 1972, 1973, 1995
Manchester United
3
1968, 1999, 2008
Inter Milan
3
1964, 1965, 2010
Juventus
2
1985, 1996
Benfica
2
1961, 1962
Nottingham Forest
2
1979, 1980
Porto
2
1987, 2004
Chelsea
1
2012, 2021
Hamburger SV
1
1983
Steaua București
1
1986
Marseille
1
1993
Borussia Dortmund
1
1997
Celtic
1
1967
Feyenoord
1
1970
Aston Villa
1
1982
PSV Eindhoven
1
1988
Red Star Belgrade
1
1991
Making up the full list of one-time winners are: Celtic, Hamburg, Steaua București, Marseille, Borussia Dortmund, Feyenoord, Aston Villa, PSV and Red Star Belgrade.