E3 2021 hosts: who are Greg Miller, Jacki King, and Alex "Goldenboy" Mendez?
Experienced gaming journalists, hosts, and commentators will be presenting E3 2021. We explain who they are so you don't get lost during the event.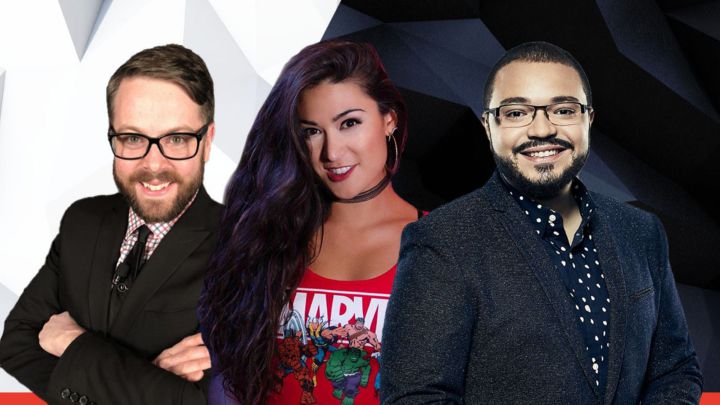 To host the virtual edition of E3 2021, the ESA has announced a trio of stars who will be presenting the event from 12 to 15 June: Greg Miller, Jacki Jing, and Alex "Goldenboy" Mendez. The three hosts will comment on everything happening, interview publishers and developers, and provide their best insights on gaming. For those E3 2021 viewers who want to know more about them, we are taking a glance at their extended careers in the gaming industry to explain who they are.
Who is Greg Miller?
Greg Miller is one of the most well-known faces in the video games industry. He used to be editor and host of IGN and currently is co-owner of the outlet Kinda Funny, where he manages the content on YouTube, Patreon, and Twitch, such as videos or podcasts, and is a veritable star on those formats. In E3 2019, Kinda Funny even had its own conference with Greg Miller as host showcasing over 60 indie games.
It's almost the most wonderful time of the year — #E32021.

This time, I hope you'll join me, Jacki, and Goldenboy for the official show.

That's right — I'm hosting E3! pic.twitter.com/zukUOVRYWn

— Greg Miller (@GameOverGreggy) April 28, 2021
Who is Jacki King?
Jacki King is a specialist in video games, esports, anime, and entertainment. A journalist, on-camera host, and producer who has been seen on IGN, Nerdist, Funimation, and Anime News Network. She has also hosted several live red carpets and conducted dozens of celebrity interviews for AAA feature films.
Hosted this LIVE on @reddit r/thegamerlounge today
talking about their E3 coverage and chatting with fellow gamers about what we are hyped for! Thanks for joining and I'll be doing a post E3 show with Reddit too on the 16th! Don't miss it :) pic.twitter.com/baPg9vPvRw

— Jacki Jing (@JackiJing) June 3, 2021
Who is Alex "Goldenboy" Mendez?
Goldenboy is one of the most well-known professional esports commentators in America after hosting big events such as the Overwatch World Cup and the Overwatch League for several years, as well as other games like Fortnite, Halo and Valorant. He also works for G4TV, creating esports and gaming content, and for NBC's The Titan Games, where people from across America compete in physical challenges.