Unemployment benefits: can you keep the payments if you go back to work?
Businesses are hiring, and many in the US are curious how quickly their enhanced unemployment benefits will be cut when they return to work.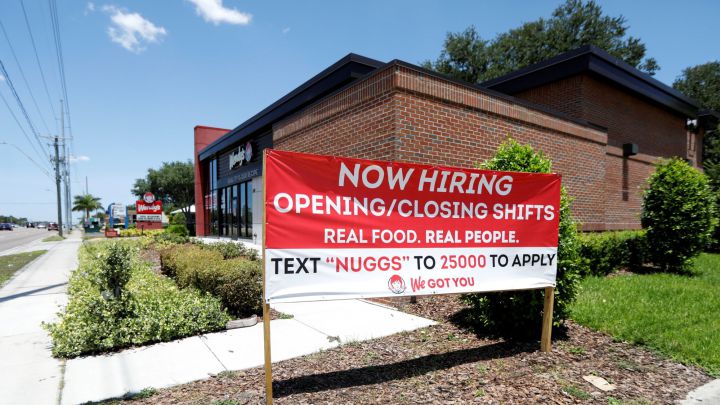 The Bureau of Labor Statistics announced that in June, unemployment claims dropped to their lowest level since the pandemic began. Signs that the economy is heating up are being seen around the country as some states report hundreds of thousands of job openings.
Additionally, four states ended the $300 a week federal topper sent along with state benefits, which may have led to the decrease.
Can you keep receiving payments if you are hired?
In most cases, no. Unemployment insurance is designed to help households sustain themselves while workers find a new job. Policymakers see the benefits as a way to assist individuals temporarily, and only during the pandemic has the number of weeks people can claim benefits been extended.
There is one case where unemployed workers may be able to keep parts of their benefits, and that is if they take a part-time job. This situation would allow a claimant to receive half the benefits from the state while still receiving the $300 a week federal pandemic assistance.
So, for example, say a worker in Kentucky finds part-time work, they would be eligible for an average weekly benefit of around $182, plus the $300 from the federal government. The combined total from these two sources would bring their weekly income to just under $500 a week.
If our Kentucky workers make $9 an hour after taxes, which is above the state's minimum wage of $7.25, their weekly take-home would be $180. This weekly income is around what a person could receive on unemployment without the additional $300.
Calls for wage increases grow as those on employment delay their reentry into the workforce.
A new study released by the National Bureau of Economic Research found that nearly 70% of unemployment beneficiaries saw larger incomes than what they took home before the pandemic. To conservative economists, this signifies that the benefits are too generous and keep people from reentering the workforce. For those on the left, this data demonstrates the low wages workers in the US were subjected to before the pandemic. As businesses have reopened, many have had to increase wages and salaries to attract candidates, complaining that they are forced to complete the government benefits.
Businesses are noticing is that to hire workers, they must move wages closer to the living wage in the states they operate. For Kentucky, researchers from MIT have estimated the living wage to be around $13.50 with adults without children. So for a part-time worker making $13.50 an hour, their weekly take-home pay would be about $270. While still lower than what they could make on unemployment, it may be high enough to encourage workers to reenter the labor market.
For full-time workers, the math is similar. The average weekly benefit in the state is $365. With the $300 from the federal government, unemployed workers could expect to receive around $665. To compete with this, businesses would need to offer a wage closer to $17 an hour, which is higher than the living wage for a single worker but about half of what is estimated for an individual supporting two children.
Context is everything in these situations. A working mom with two kids is far more likely to stay unemployed if she lacks access to affordable child care and can make more money staying home with her kids. The narrative that workers are simply loafing around undermines women's vital and disproportionate role in raising children and taking care of the home.
Arizona lawmakers realized that the lack of affordable childcare options was keeping people from finding a job. To support worker reentry, they opted to provide three months of free childcare. This program helps those on unemployment overcome the barriers that keep them from returning to work, rather than removing the safety net and throwing them back into the labor market with little support.
Arizona will no longer be taking the Federal Pandemic Unemployment Compensation, and instead will offer one-time bonuses to returning workers, along with child care support, educational opportunities and rental assistance. https://t.co/5dX9V02IzM

— Free Enterprise Club (@azfec) May 16, 2021
As more states end federal benefits in June and July, more data will be available on how the decision has impacted "labor shortages," wages, and the state and national unemployment rates. Very few people are calling for the permanent expansion of enhanced unemployment benefits. Instead, many argue that the decision to take away benefits should account for the forces of friction that keep workers from returning to work.