EURO 2020
England had to 'manage the tournament' – Southgate defends approach to Scotland bore draw
England manager Gareth Southgate conceded his team were poor against Scotland but defended not chasing the game.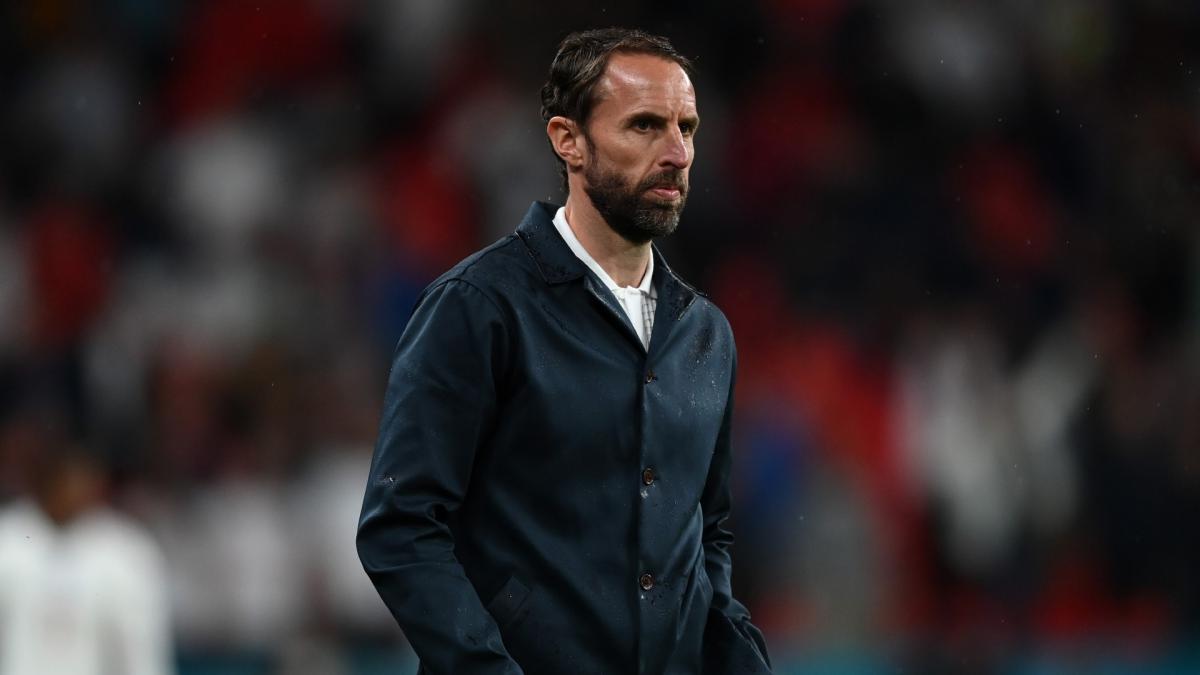 Gareth Southgate defended England's approach in their 0-0 draw with Scotland at Euro 2020, insisting he had to "manage" their overall position in the tournament.
The England manager conceded his team performed considerably below par as they only mustered a solitary shot on target against their neighbours at Wembley.
John Stones headed an early Mason Mount corner against the post but, from that point, Scotland fashioned the better chances as Jordan Pickford superbly kept out Stephen O'Donnell's volley and Reece James cleared Lyndon Dykes' second-half attempt off the line.
It means Tuesday's game between England and Czech Republic will settle who finishes top of Group D as they sit on four points apiece and Southgate felt remaining in charge of their own destiny was something worth preserving.
Southgate: Scotland game "was a bit frantic"

"I would say we had a fourth attacking player in Mount throughout the whole game," he said at a post-match news conference, after Jack Grealish replaced Phil Foden in a like-for-like swap that did not alter England's rigid 4-2-3-1 shape.
"In those moments, if we had to chase to win with no consequence for conceding then you might approach it differently, or if we were behind in the game and we were chasing.
"It was a bit frantic, it wasn't a game where there was a huge amount of control. You've got to make sure, sitting on three points as we did, that we manage the tournament as well as the game
4 - Jack Grealish came off the bench and won four fouls for England; the most by a substitute at EURO 2020, and the most by a substitute in a EUROs match since Éder won five for Portugal in the EURO 2016 final vs France. Taster. #ENG #EURO2020 pic.twitter.com/2INBHeSSIQ

— OptaJoe (@OptaJoe) June 18, 2021
"It's easy to gamble towards the end and lose shape and then end up losing the game in the last five minutes.
"I understand we're at Wembley, it's a game against Scotland where everyone wants us to win, we wanted to win.
"But it is in the context of a tournament and the qualification is the most important thing."
For the second successive match, Southgate substituted his captain Harry Kane.
Like in the opening 1-0 win over Croatia, the Tottenham striker failed to produce a shot on target and was a peripheral figure for the most part – restricted to 19 touches overall.
10 - Harry Kane had just 10 touches in the first half; the fewest of any player in the match, while just one was in Scotland's box and the England forward completed just two of five passes attempted. Isolated. #ENG #EURO2020 pic.twitter.com/hDwf3F7wGf

— OptaJoe (@OptaJoe) June 18, 2021
"I think the whole team, we've got to look at the whole performance and our use of the ball and review where we can be better," Southgate replied when asked specifically about the 2018 World Cup Golden Boot winner.
"That's right across the board, it's not just about one person. Scotland marked him extremely well, with the back five there isn't a lot of space and anything that was played up they were aggressive and defended well.
"We couldn't find the answers. We've got to go away, review the game and find those answers for the Czech Republic."
The precise nature of those answers is likely to be poured over extensively in the interim coverage and Southgate was keen to spare his players – who were audibly booed off by their home supporters – from undue criticism.
"We know we didn't hit the level we wanted to or need to. We have to accept anything that comes our way," he added.
"I totally understand that as the manager and totally understand anything that comes my way. What we need to make sure we do is get behind the players.
"There are a lot of young players that need the support of everybody. Most of them haven't been involved in a game like that before. They are unique occasions. They'll learn a lot, they'll bounce back from it. They need everybody behind them."