Portugal in form but can Ronaldo, Santos and co be fun?
Portugal slogged their way to Euro 2016 success but, five years on, Cristiano Ronaldo and his team-mates can swagger to glory.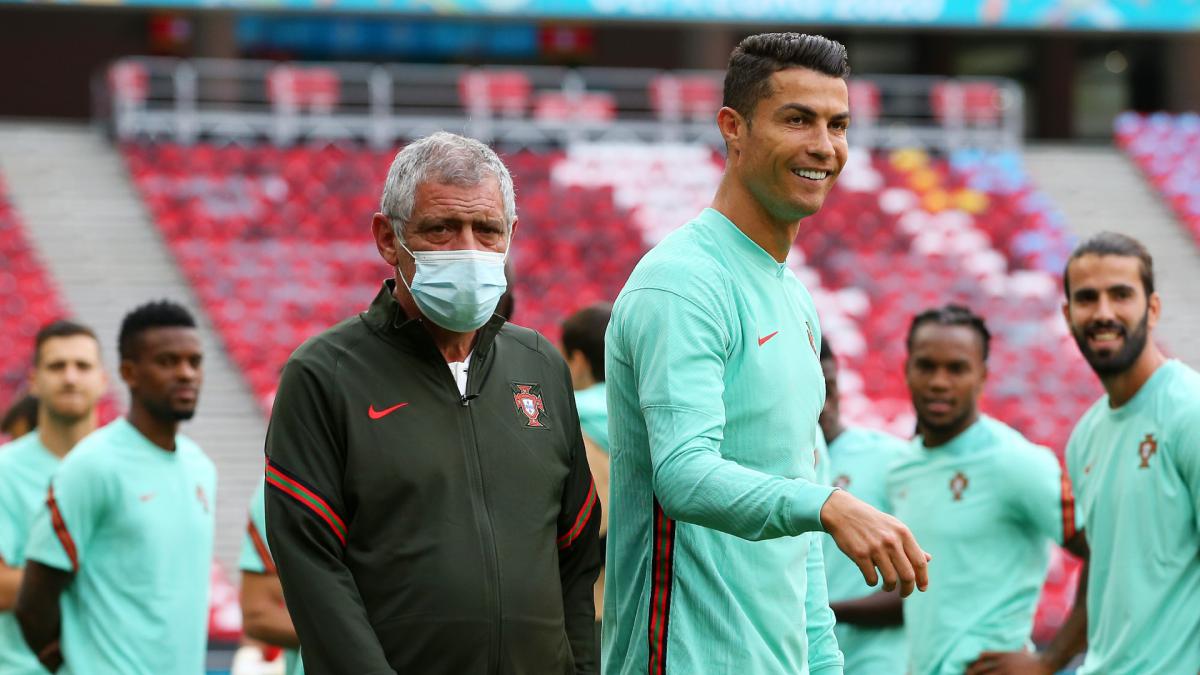 When Cristiano Ronaldo limped out of the Euro 2016 final, Portugal had to bide their time and turn towards an unlikely hero.
Eder, a flop in the Premier League with Swansea City who had been sent out on loan to Lille, enjoyed the most memorable moment of his time in France – and, indeed, his career – when he drove home a brilliant winner to down the hosts 1-0 in extra time at the Stade de France.
It felt like an entirely fitting way for Fernando Santos' team to win a tournament they slogged their way through.
Euro 2016 champions
Quickfire goals from Ronaldo and Nani early in the second half of a 2-0 semi-final win over Wales accounted for Portugal's only victory inside 90 minutes.
There were three draws during the group stage, including a 0-0 scoreline remaining intact when their talisman missed a penalty against Austria. The last-16 encounter with Croatia also reached full-time goalless before Ricardo Quaresma struck during the additional period.
Quaresma and Nani provided dutiful support as their careers at the top level ticked down, but the cupboard was fairly bare for Santos once injury struck during the first half in Paris and Ronaldo was reduced to barking encouragement and instructions from the touchline.
Should a similar fate befall Portugal's all-time leading scorer this time around, the replacement goal threat would not be so obscure.
Santos' attacking options
In Andre Silva, there is a natural stand-in at centre-forward, buoyed by 28 goals in 32 Bundesliga outings for Eintracht Frankfurt this season.
The burden could also be shouldered by Manchester United star Bruno Fernandes, an ideal candidate for penalty duties, while Diogo Jota's threat would remain.
Let's not forget that Bernardo Silva played a decent amount of Manchester City's triumphant Premier League title campaign and run to the Champions League final as a false nine, while Joao Felix remains an outstanding talent despite not yet justifying his €126 million transfer fee to Atletico Madrid.
None of that quintet were involved at Euro 2016.
In short, Santos now has a squad overflowing with attacking firepower, having masterminded a route to glory when such options were far more scarce – save for one ludicrously prolific exception – five years ago.
However, as they prepare to face Germany, they remain a target for some of the criticism that came France's way after their opening 1-0 win in Munich.
Like Didier Deschamps, Santos has been accused of lacking imagination, providing a solid base for his attacking creatives and not much else.
"We are different from France. Let's see what Germany does and we'll try to control Germany too. One thing's for certain, we have to have a ball," Santos told reporters on Friday, insisting his team would look to take the initiative.
"We are not going to defend man to man. We're going to maintain our defensive pattern to be able to have the ball, as we did against Hungary, whom we forced to run."
Ronaldo bags brace
The Hungary game was goalless until the 84th minute, as Ronaldo bagged a brace and superior quality – along with all that enforced running – eventually told in a 3-0 win.
But, with two heavyweight encounters to come before the end of the group stage, the question remains over whether Santos can make his team of winners a team people love to see win.
In the period from the end of the Euro 2012 up until their trudging triumph in 2016, per game Portugal averaged 1.6 goals form 17.2 shots and 5.9 on target at a shot conversion rate of 9.5 per cent.
Portugal improving

Since Euro 2016, all of those numbers are up. They average 2.3 goals per game, 18.1 shots and 6.6 on target, converting 12.7 per cent. Their passing accuracy has improved from 83.2 per cent to 86 per cent, while an average of 172.9 passes ending in the final third in every match – up from 145.7 – also suggests a more progressive approach.
Far from waiting around for things to happen, Portugal imposed themselves against Hungary and a partisan Budapest crowd, enjoying 70 per cent possession and making 19 high turnovers – ranking them third overall in the tournament for teams winning the ball back 40 metres from the opposition goal, despite being one of sixes sides to have only played once so far.
Ronaldo reaping the benefit
For context, Santos' men made 27 high turnovers over the course of their six matches in France five years ago.
Ronaldo is reaping the benefit of this increased output of the attacking unit around him. Six of his nine international hat-tricks have come since lifting the European Championship.
If Portugal and the affable curmudgeon Santos are to mimic their neighbours Spain, who went back-to-back in 2008 and 2012, they might just capture hearts and minds along with winners' medals this time around.