NBA
When was the last time the Bucks were in the Eastern NBA Conference Finals?
The Milwaukee Bucks will face Trae Young and the Atlanta Hawks in the Eastern Conference Finals after beating the Brooklyn Nets in 7 games.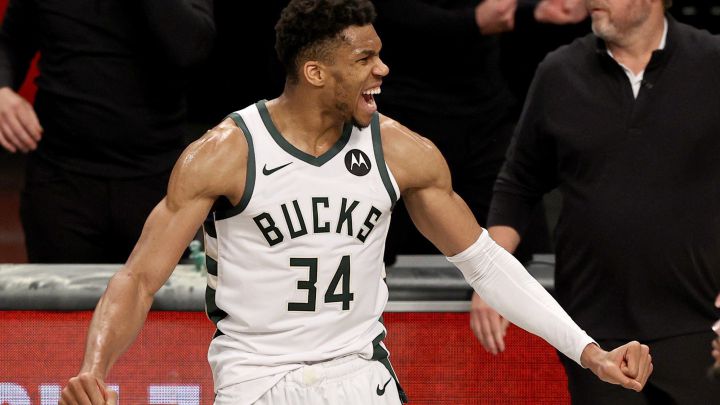 Giannis Antetokounmpo took the Bucks to the NBA Eastern Conference Finals after putting up 34 points and 12 rebounds in game 7 against the Brooklyn Net, his best game of the series. Milwaukee reached the Eastern Conference Finals for the last time in 2019, with a great Giannis who won the MVP award.
That year the Bucks faced the Toronto Raptors in the finals, who had an inspired Kawhi Leonard that averaged 29 points and 9.5 rebounds. The series went to 6 games, where the Canadian team beat Milwaukee 4-2. Later the Raptors would win the 2019 NBA Championship after beating the Golden State Warriors in 6 games.
When was the last time the Bucks won the NBA finals?
The franchise was born in 1969, and won their first and only NBA Championship Finals back in 1971. They have made the playoffs a total of 32 times in the 52 seasons they have as a team.
NBA Eastern Conference Finals 2021
After defeating the Nets in 7 games, the Bucks will now face the Atlanta Hawks this Wednesday, June 23, for the first game of the series. After defeating the Philadelphia 76ers in seven games, the Hawks reached the Conference finals, with an incredible Trae Young averaging 29 points this postseason.
The winner of the Conference Finals will have to play the winner of the Western Conference Final between the Phoenix Suns and the LA Clippers. If Kawhi Leonard is healthy and the Clippers make it to the NBA Finals, there is a chance he would meet Giannis if the Bucks reach the finals.