Stanley Cup: Cooper tells Lightning to 'stick with the process' after crushing Canadiens
Nikita Kucherov dazzled as the Tampa Bay Lightning took a 1-0 lead in their Stanley Cup Finals series against the Montreal Canadiens.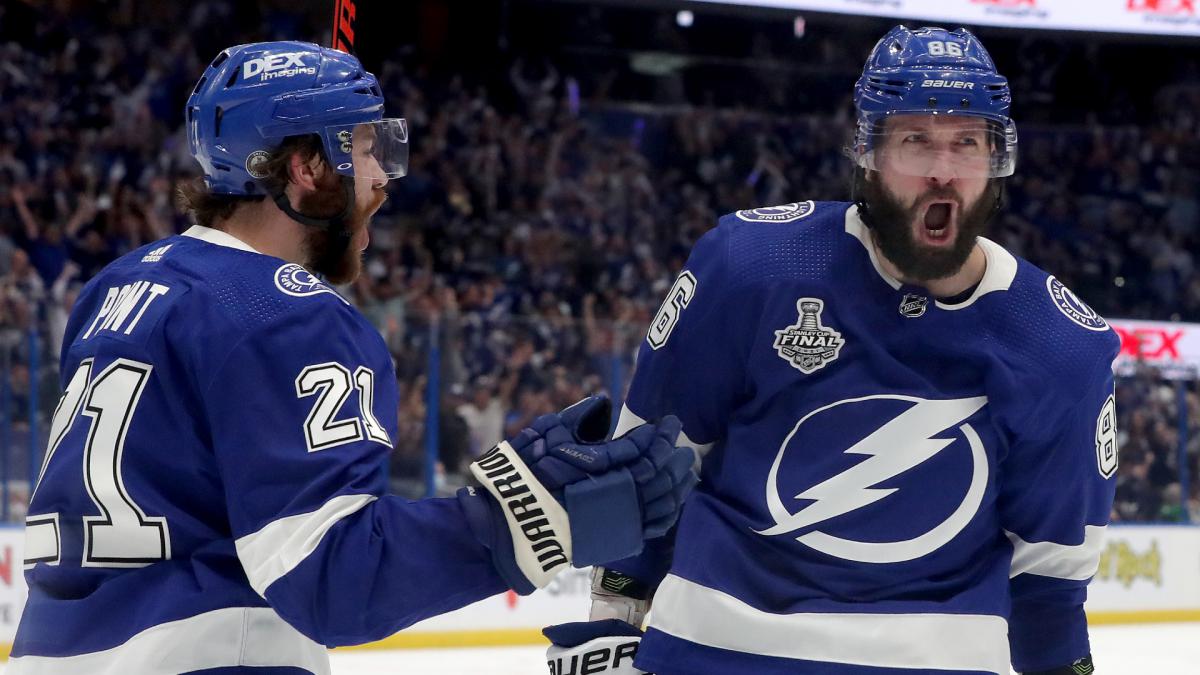 The Tampa Bay Lightning were served with a warning by head coach Jon Cooper after launching their Stanley Cup Finals mission with a 5-1 win over the Montreal Canadiens.
Cooper said his team still had a heap of work to do if they are to clinch back-to-back titles, and borrowed a string of baseball metaphors as he spoke of potential "curveballs" to come.
Two goals and an assist from Nikita Kucherov helped the Lightning to their comprehensive win in Game 1 at Amalie Arena.
Kucherov now has 30 points in the Stanley Cup playoffs for a second straight year, after seven goals and 23 assists. He has 64 points across this season and the previous campaign in the playoffs, a total only ever surpassed in successive playoff campaigns by Wayne Gretzky and Mario Lemieux.
The Russian became just the fifth player in NHL history to achieve multiple 30-point playoff campaigns, following Gretzky (six), Mark Messier (three), Jari Kurri (two) and Lemieux (two).
Cooper sounded a note of caution though, dialling down the euphoria and saying in his post-game news conference: "Consistency is the key.
"You have your plan, you stick with it and you consistently rock it, and if you do that we like our chances in games, but it doesn't guarantee results.
"For us we have found something that works with us. It doesn't mean you're going to win every night, but it's sticking with that process.
"You look no further than the last series we played in."
That was the semi-final against the New York Islanders that went all the way to the seventh game, the Lighting taking a 1-0 win in that decider.
"Teams in this league push you to the brink," Cooper said. "You have to hang in there and stick with it and this group has found a way to do that.
"You're not going to win a series in one night. There's curveballs and sliders and fastballs, and they're all thrown at you at different times, but if you're consistent with your game we trust that good things will happen.
"Tonight was just one, but the series is long from over. We're happy with tonight and now we're just going to improve on what we're doing and try and replicate it in Game 2."
That second game comes on Wednesday night, also in Tampa.
Canadiens assistant coach Luke Richardson, leading the team in the continuing absence of Dominique Ducharme who tested positive for covid-19 earlier this month, expects a tighter battle next time.
Richardson said: "The rink was buzzing, and that's something that we will get over and we'll be a little bit more used to next game.
"I think maybe just to strike early for us will be key next game, to try and weather that storm and quiet the building a little bit and let us get a rhythm going."