Carlos Vela waiting on contract talks with LAFC
The Mexico international arrived at Los Angeles FC in 2018 and his contract is set to expire on 31 December 2021 amid links to the Australian A-League.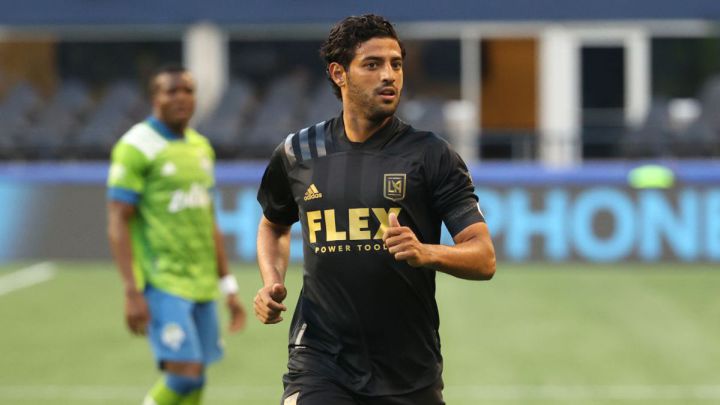 Carlos Vela has broken all individual records during three seasons in Major League Soccer after his arrival in January 2018. The Mexico international had a breakout season in 2019, scoring 34 goals and giving 15 assists, a single-season MLS record.
10

Uncertain future for the LAFC captain
That year Vela won the MVP award and the Golden Boot as he captained Los Angeles FC to the Supporters' Shield, the first trophy in the history of the club. Now Vela has entered the fourth and final year of his contract with the Black & Gold and there has been no news about a possible renewal.
When Vela received the MVP trophy in 2019, he said that this award made him 'more hungry and the next step was to be champion.' Unfortunately, he suffered a serious knee injury in 2020 and only played seven games in the season, scoring four goals.
In the first game of the 2021 MLS regular season, Vela suffered another knee injury and missed LAFC's next three games. He scored his first goal of the season in LAFC's 2-0 home victory against FC Dallas in week nine.
Now close to reaching full fitness after recovering from his knee injury, Vela's future in Major League Soccer is uncertain. His contract expires at the end of the current season (31 December) and there has been no discussion about a renewal.
He remains one of the highest paid players in the league but after a string of injuries the LAFC bosses are hesitant to renew his contract for two more seasons. The 32-year-old has publicly said that he wants to live and play in Australia before he retires.
"I do not know if I will continue in Major League Soccer, I'll see. Someday I want to live in Australia. Maybe I'll go soon," said Vela.
Adelaide and Brisbane are the two teams in Australia that could feasibly make a bid for the Los Angeles FC captain, who will become a free agent and can sign a pre-contract with any team that he pleases when his contract expires.