Copa América
Copa América 2021 Golden Boot standings: who are the top scorers?
Ahead of this week's semi-finals, the top goal scorer ranking is starting to take shape at 2021 Copa América with one familiar name in pole position.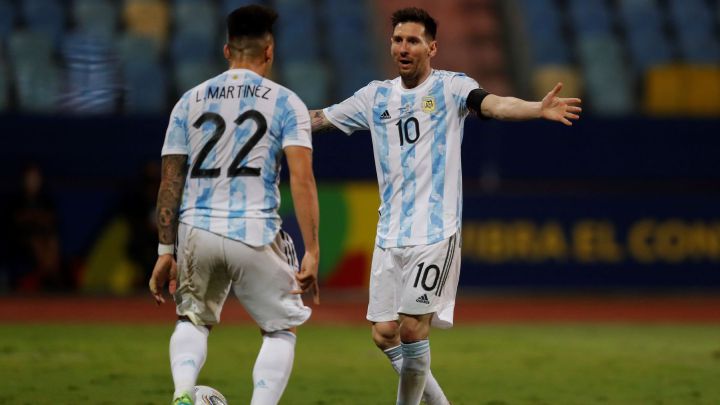 With all 12 group matches now completed, 2021 Copa América enters the semi-final stage this week and the first candidates for the Golden Boot award have started to emerge. Brazil, Peru, Argentina and Colombia are the four teams who remain in the tournament and who will be seeking to book their place in the final when the semis take place on Tuesday and Wednesday.
Messi in pole position
One familiar face tops the goals chart on conclusion of the group stage – Leo Messi. The Argentinean got off the mark in the opening game against Chile but didn't find the target in the two games that followed, against Uruguay and Paraguay. He made up for that by getting on the scoresheet twice in Argentina's 1-4 win over Bolivia and just had enough time to bag another, in stoppage-time, in the 3-0 victory over Ecuador. That takes his personal tally to four goals in five games and as things stand, he is the maximum goal scorer in the competition and the favourite to pick up the Golden Boot - curiously, one of the few awards he has never won.
Messi's overall goals tally in the history of the competition stands at 13 from 32 matches; he is currently four goals away from equalling the Copa América all-time top goal scorers - Norbeto Méndez (Argentina) and Zizinho (Brazil) who both have 17.
After Messi, there are 10 players on two goals although only five of them remain in the tournament and have the chance to add to their tally.
2021 Copa América top goal scorers
4 Lionel Messi (Argentina)
2 Papu Gómez (Argentina)
2 Lautaro Martínez (Argentina)
2 André Carrilo (Peru)
2 Gianluca Lapadula (Peru)
2 Neymar (Brazil)
The following players are also on two goals at 2021 Copa América but their teams have been eliminated from the competition: Ángel Romero (Paraguay), Ayrton Preciado (Ecuador), Edinson Cavani (Uruguay), Eduardo Vargas (Chile) and Erwin Saavedra (Bolivia).