Zlatan Ibrahimovic meets Ronaldo on holiday
The Swedish striker has been vocal about his admiration for the former Brazilian striker and Ibrahimovic posted a picture with him over the weekend.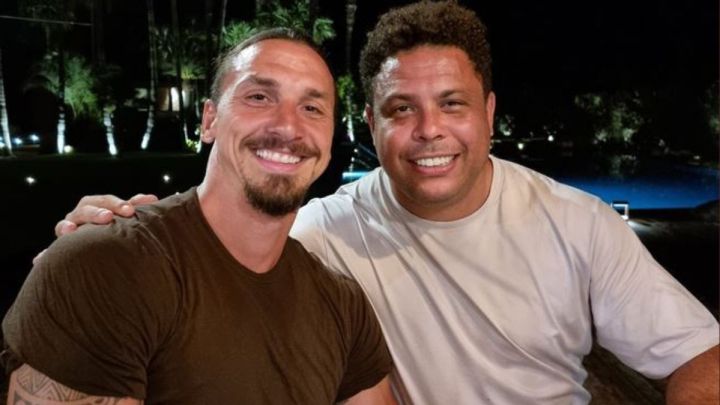 Zlatan Ibrahimovic continues his recovery from a knee injury that prevented him from playing the Euro 2020 with Sweden. The 39-year-old is currently enjoying his holidays and over the weekend he posted a picture alongside Ronaldo in Brazil with a caption that read 'just imagine.'
Ibrahimovic's admiration for Ronaldo
Ronaldo is considered to be one of the world's best strikers of all time. The former Brazilian international won many individual and collective titles between the late 1990s and early 2000s before hanging up his boots in 2011.
Ronaldo won the World Cup twice with Brazil and his best moments were with Barcelona, Inter Milan and Real Madrid. The now businessman also played for AC Milan and faced Zlatan Ibrahimovic when he played for Inter in the Milan derby.
Zlatan's praise for Ronaldo
"I think Ronaldo was phenomenal," said Ibrahimovic when he was with Manchester United in 2016. "He was the player that whatever he did became… 'wow'! He could do a difficult thing and it became magic.
"He would take the ball and it was like him saying 'I'll take care of it now'. You didn't have that kind of football player before and you don't have it today. He doesn't exist. As a young player I watched him and said to myself 'I want to be exactly like that.' The player who makes the difference, the shining light, simple as that."
In 2019, Ibrahimovic caused some controversy when he was asked if he will find the real Ronaldo (referring to Cristiano) in the Serie A and he replied to AS: "None of it! There is one Ronaldo, the Brazilian!"