Bucks try to bury previous postseason failures, claim first NBA title since 1971
For the first time since 1974, the Milwaukee Bucks will compete in the NBA Finals, but can they bury past postseason failures?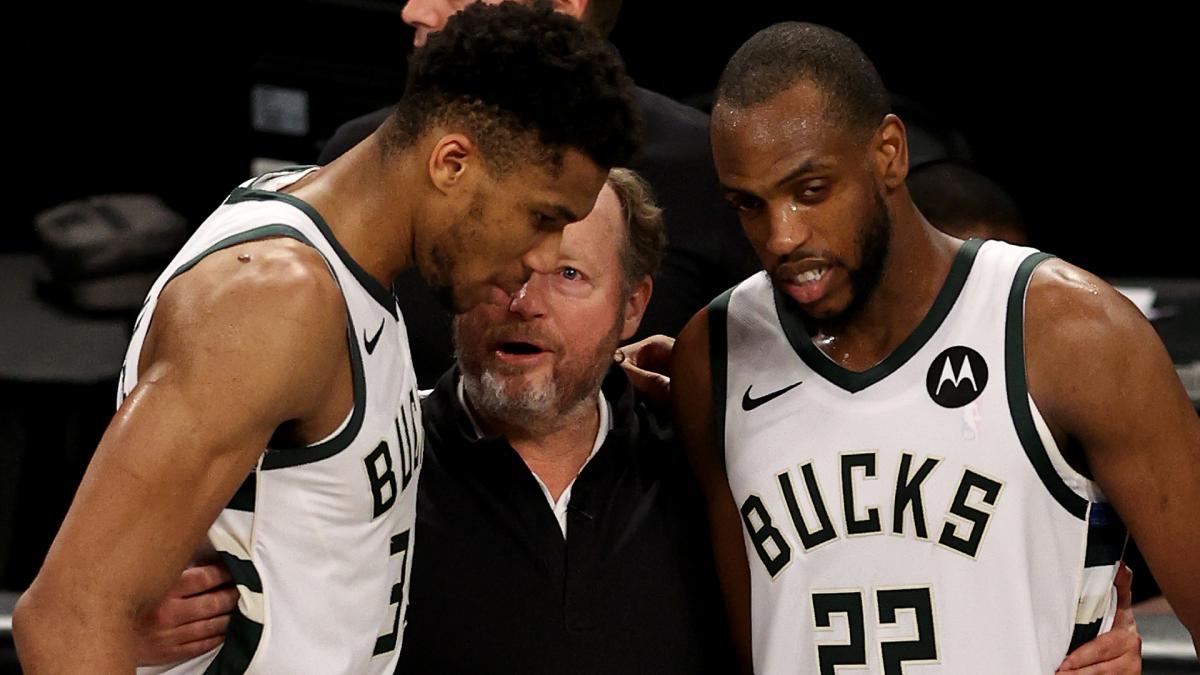 The Milwaukee Bucks have enjoyed better regular seasons in recent times. This year's .639 winning percentage (46-26) pales in comparison to last season's .767 (56-17) or even the .732 (60-22) from 2018-19.
Bucks better placed to win 2021 playoffs despite less impressive regular season?
Yet it is this vintage of the Bucks that will be playing in the NBA Finals for the first time since 1974. While some will dismiss this year's champions as a beneficiary of a strange season and a postseason full of devastating injuries, the Bucks and Phoenix Suns will not be apologising for having beaten every team in front them so far.
It is also quite possible that, despite having a less accomplished regular season, this Bucks squad is better equipped to win in the playoffs, using the first 72 games on the schedule to learn how to best focus its strengths.
Milwaukee coach Mike Budenholzer has developed a reputation as a stubborn tactician, clinging to his preferred strategy regardless of the opponent, especially on the defensive end.
Budenholzer has traditionally asked his players to guard their position and to fight through screens without switching assignments. This structure has allowed Milwaukee to utilise its size and has been formidable in the regular season with the Bucks allowing 101.9 points per 100 possessions across the 2018-19 and 2019-20 seasons, best in the NBA.
But Milwaukee's defense faltered in decisive playoff series in each of the previous two seasons, with a defensive rating that rose to 106.9 in 2019 against the Toronto Raptors and ballooned to 112.1 last year against the Miami Heat.
Budenholzer responded by using the 2020-21 regular season to experiment with a more varied defensive approach. The results were not always the best, allowing opponents to score 109.1 points per 100 possessions.
That experience, however, has given Milwaukee the tools to employ a more diverse defense in the playoffs, with the Bucks boasting a 103.5 defensive rating this postseason.
Milwaukee still holds on to its big lineups and objects to switching all five defenders like some teams do while playing trendy small ball, but the growing pains have added another tool to the toolbox. Even if the switching itself proves not to be a strategic advantage, the Bucks are at least better prepared to throw different looks at Chris Paul, Devin Booker and the rest of the Suns.
Of course, scheme alone can only take a team so far, but this year's Bucks team appears to have improved personnel, as well.
Giannis Antetokounmpo is a two-way monster who obviously takes top billing, but perhaps this postseason has shown that the Bucks are at their best when the two-time MVP takes a slightly reduced role on offense.
Antetokounmpo is averaging a playoff career-high 28.2 points this postseason, but the Bucks have lost three of his five highest-scoring games. When he has five or more assists, however, Milwaukee are 6-1.
His team has also fared much better when Antetokounmpo aggressively attacks the basket, going 6-0 this postseason when he attempts nine or more free throws, even though he is shooting just 53.7 percent from the line.
Antetokounmpo doubted for NBA Finals Game 1
Perhaps the biggest question facing Antetokounmpo, however, is his health. After leaving Game 4 of the Eastern Conference finals with a hyper-extended left knee, he was held out of the next two games of the series, both Milwaukee victories.
Although imaging has revealed no significant structural damage to his knee, Antetokounmpo is listed as doubtful to play in Tuesday's NBA Finals opener. And while the Bucks were able to close out an Atlanta Hawks team that was missing Trae Young, they will likely need an impactful contribution from Antetokounmpo to beat a healthy and confident Suns team.
The Bucks and their supporters can take heart, however, in the supporting cast appearing to be much better than in previous playoff runs.
Last offseason, Milwaukee paid a heavy price to replace Eric Bledsoe with Jrue Holiday, trading away three first-round draft picks in a blockbuster four-team deal. And while the upgrade could appear trivial on paper – going from Bledsoe's 14.9 points per game last season to Holiday's 17.7 this season – this postseason has revealed why Holiday was such a coveted piece on the trade market.
In the 2019 and 2020 playoffs, Bledsoe averaged 12.9 points, 4.0 rebounds and 4.9 assists for the Bucks while shooting 40.3 percent from the field and 24.0 percent from 3-point range.
During Milwaukee's run to the Finals, Holiday has averaged 17.6 points, 5.6 rebounds and 8.4 assists, all while playing two of his best career playoff games to close out the Hawks while Antetokounmpo was sidelined.
Holiday leads the Bucks this postseason in plus-minus per game at +7.2, and the team is 4-1 when he attempts at least 20 shots.
Perhaps the key to the 2021 Finals is the performance of unsung star Khris Middleton, who will be the crunch-time focal point for the Bucks.
With Antetokounmpo's struggles from the free throw line, Milwaukee is forced to look elsewhere to create offense in the waning minutes of close games. Middleton has attempted a team-high 14 shots in the last three minutes of the fourth quarter during this playoff run and is 10 for 10 from the free throw line in clutch situations. Antetokounmpo is just 7 for 15.
Middleton has also shown the ability to carry the team when Antetokounmpo is off the floor, a valuable stopgap if the Bucks are forced to play a game or more without Antetokounmpo.
He has averaged 29.0 points, 8.5 rebounds and 7.5 assists in the final two games of the East finals, all while shooting above his playoff career average from the floor.
Middleton has done some of his best work this postseason while Antetokounmpo has been on the bench, either due to injury or routine substitution. Not only has Middleton scored more when Milwaukee's Greek superstar is off the floor – 37.9 points per 100 possessions compared to 25.1 with Antetokounmpo on the floor – his efficiency also improves when he is the primary option.
With Middleton shooting 47.8 percent from the field and 35.0 percent from 3-point range when Antetokounmpo is off the court this postseason, that compares to 41.1 percent overall and 33.3 percent from deep when he plays alongside the two-time MVP.
The Suns will undoubtedly present an enormous challenge for the Bucks in an NBA Finals between two teams desperate for a championship parade. And the Bucks, just like the Suns, have benefitted from some measure of good luck this postseason, facing an injury-riddled Brooklyn squad and avoiding East top seed Philadelphia.
But this Milwaukee team is also better equipped to lift the Larry O'Brien Trophy than in the previous two seasons, despite a less impressive regular season.
With some added schematic versatility and a better supporting cast, the Bucks might only need a bit of healing in Antetokounmpo's left knee to be crowned NBA champions for the first time since 1971.