Coronavirus US: what are the new incentives proposed by the White House for vaccination?
After the US did not meet the President's vaccination goal, the White House begins to talk about incentives to increase uptake of the vaccines.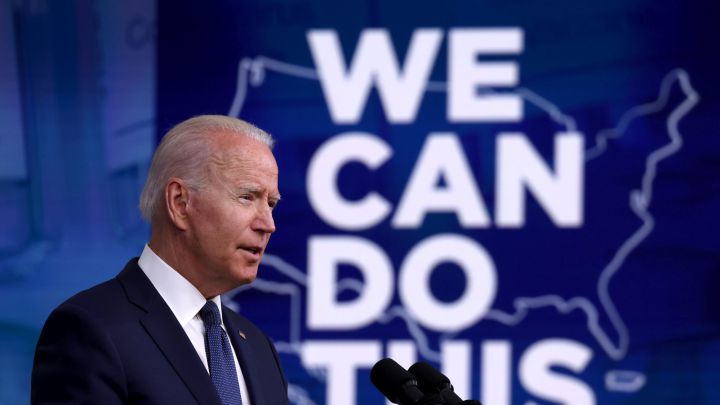 On 4 July, President Biden addressed the nation, acknowledging both independence from the British and independence from covid-19. During his remarks, the President highlighted that this Fourth of July had a more significant meaning as it represents the country "emerging from the darkness of years; a year of pandemic and isolation; a year of pain, fear, and heartbreaking loss."
Early this year, President Biden announced a target to have at least seventy percent of adults at least partially vaccinated by the Fourth of July. While close, the country did not meet this benchmark.
As of 6 July, 67.1 percent of adults are partially vaccinated, and around 58 percent of those above eighteen are fully protected against covid-19. When looking at the entire population, these figures drop to around 55 and 47.5 percent, respectively.
While the percentage of vaccinated people needed to reach herd immunity is still unknown, most estimates have that number about sixty and seventy percent. While the President did not mention the failure to meet his goal, he did encourage those who have yet to receive their shots to do so, describing the action as "the most patriotic thing you can do."
During remarks by the President on 6 July, he touted that 160 million Americans will be fully vaccinated by the end of this week, meeting one of the goals he had set back in March. The President also cautioned the public, saying that the millions of unvaccinated people put their community, friends, and the "people they care about at risk."
Since President Biden took office, nearly 160M Americans have been vaccinated. Additionally:
- 90% of Seniors are fully vaccinated
- 70% of Americans aged 27+ are fully vaccinated
- COVID-19 deaths are down 90%
- 182M Americans have received at least 1 shot so far

— The White House (@WhiteHouse) July 7, 2021
How will the White House be encouraging more Americans to get vaccinated?
The White House does not have the power to mandate that businesses and local governments offer incentives to get vaccinated. However, to help the US reach higher immunity levels, some businesses have offered deals and other freebies to vaccinated customers.
On 6 July, Chipotle will give away a free burrito to those who have gotten vaccinated.
From 2 to 4 July, Panera was giving away free bagels.
These are only two examples from major food chains, but many small businesses have also offered locals incentives. The White House has highlighted some of these efforts but mainly uses the argument of "returning to normal life" as an incentive for those who haven't gotten poked to book an appointment.
The White House will be offering support to communities to encourage greater vaccine uptake. This support will be provided through several avenues. The first includes the sending of additional doses to 42,000 drug stores where recipients can get pricked when "picking up your prescription or just going in to get toothpaste or something else you need from a drug store."
The second is focus on getting vaccines into the hands of family doctors other "healthcare providers so more Americans can get this shot at their doctor's office from the folks that they know and they trust the most." The administration is also working to get pediatricians access to more doses so that as families and children come in for back-to-school check-ups, they can get their shots.
Lastly, the administration will be working to establish mobile clinics so that those attending "special events, summer festivals, sporting events, as well as places of worship" can get their shots.
How many states met the seventy-percent target?
A total of twenty-one states and the District of Colombia met the President's target:
Vermont
Hawaii
Massachusetts
Connecticut
Maine
New Mexico
New Jersey
Rhode Island
Pennsylvania
California
Maryland
Washington
New Hampshire
District of Colombia
New York
Illinois
Virginia
Deleware
Minnesota
Oregon
Colorado
Only two states, Mississippi and Louisiana, fall below the fifty percent mark for adults with one shot.
At the current vaccination rate, it could take the US weeks to reach the seventy percent goal, even longer if the demand for vaccines continues to decline.
Dr. Anthony Fauci has warned that the delta variant is the single "greatest threat" to bringing the pandemic to an end. Some experts believe the variant to be sixty percent more contagious than previous strains, and it is quickly spreading in the US.
From the beginning to the end of June, the delta variant represented under fourteen percent of covid-19 cases to over twenty by some estimates. At this rate, it will soon overtake the Alpha variant, which was traced back to the United Kingdom.