How many titles has Neymar Jr. won with Brazil and how many did Pelé win?
Ahead of Saturday's Copa América final between Brazil and Argentina, we compare the honors list of Pelé and Neymar.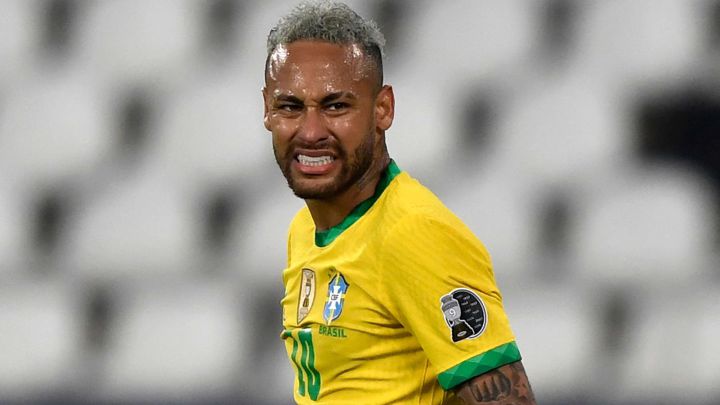 Brazil superstar Neymar will face Lionel Messi in the final of the Copa América 2021 in Rio on Saturday night, as the two teams prepare to meet in the final of the continental tournament for the first time since 2007.
With just two goals so far in the tournament, Neymar will be hoping to add to his tally in the final as record-holders Brazil chase their seventh Copa América trophy.
Having won the tournament on home soil in 2019, Brazil are the current holders of the Copa America. However Neymar sat out that tournament through injury, which means he is still in the hunt for his first winners' medal.
Having never won the World Cup with Brazil either, Neymar's only titles at international level have so far come at the 2013 Confederations Cup and the 2016 Rio Olympics, where he picked up a gold medal representing the hosts. At youth level he won the South American Youth Championship in 2011, as well as a silver medal at the 2012 London Olympics.
Neymar desperate to win first Copa America
The PSG star, who days ago said he wanted to face Argentina in the final, has had his wish granted and is relishing the opportunity to go up against his former Barcelona teammate Messi, with both chasing their first major trophy at international level.
"Messi is, as I've always said, the best player I've ever seen play and he's a great friend, but now we're in a final, we're rivals. I want to win and I really want to win this title, which would be my first Copa America."
While Messi has made several final appearances at the Copa América and World Cup (albeit always on the losing side), this will be Neymar's first-ever final appearance at a major international tournament.
Pelé-Neymar comparisons
Comparisons are often drawn between Pelé and Neymar. Having scored 57 goals for Brazil during his career so far, 29-year-old Neymar could well go on to surpass Pelé's 77 goals to become his country's all-time leading goalscorer.
However, matching or surpassing Pelé's title achievements with the national side will be an almost insurmountable feat for the PSG forward.
Pele's record-leading three World Cup titles
During his career, Pelé won three World Cup titles in 1958, 1962 and 1970. The former Santos forward, regarded by many as the greatest of all time, holds the record as a player for most World Cup medals. The long list of players on two medals is dominated by Brazilians, including the likes of Cafu, Ronaldo and several of Pelé's team mates in 1958 and 1972.
Then a teenager, Pelé played an instrumental role in Brazil's 1958 World Cup victory, scoring a hat-trick in the semi-final against France, before netting a brace in the final in the 5-2 win over hosts Sweden, where he became the youngest player to play in a World Cup final match at 17 years and 249 days.
While he picked up a winner's medal in the 1962 World Cup, his role in Brazil's victory was much more limited. After scoring a brace in the 2-0 win over Mexico in the opening game, Pélé had to sit out the rest of the tournament due to injury.
In his third and final World Cup triumph in 1970, Pélé suffered no injury setbacks this time, making it all the way to the final where he scored the opener in the 4-1 over Italy. He also picked the Golden Boot after netting four goals in the tournament.