Chiellini: We thought Mancini was crazy
Roberto Mancini always had belief Italy could win Euro 2020, according to veteran defender Giorgio Chiellini.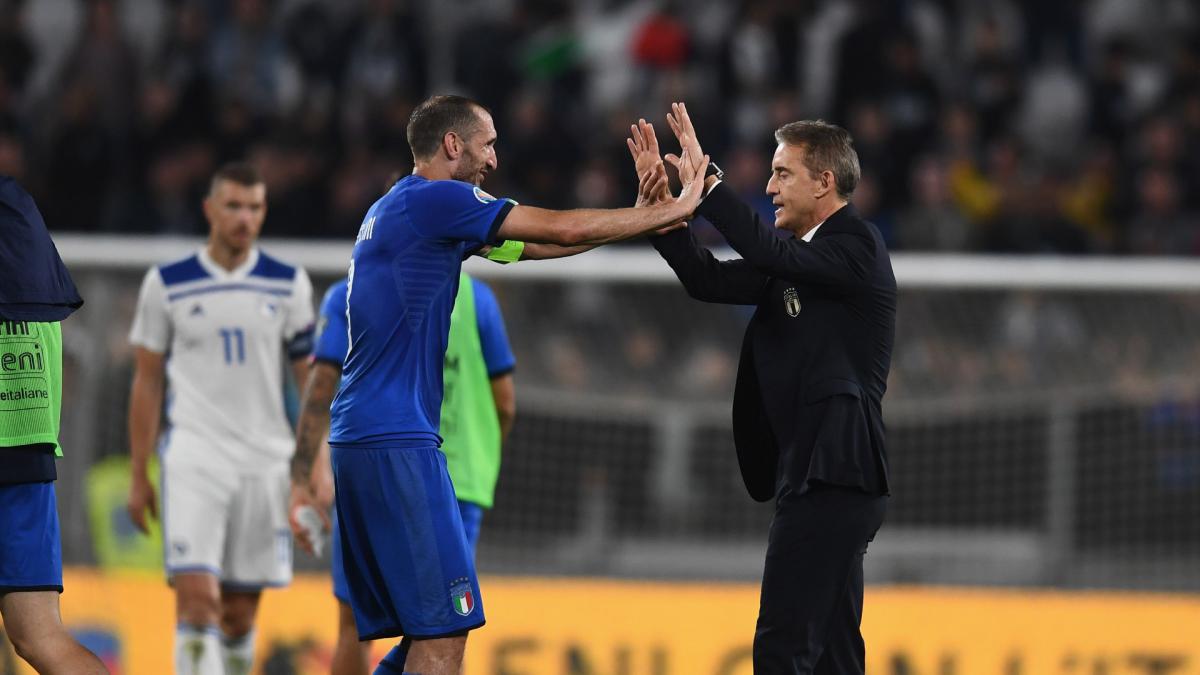 Giorgio Chiellini quipped Italy's squad believed Roberto Mancini to be "crazy" when the Azzurri boss initially laid out his plans to win Euro 2020.
Mancini was appointed Italy coach in May 2018, after the Azzurri's failure to qualify for that year's World Cup.
After an indifferent start to his tenure, Italy have gone on a record-setting 33-match unbeaten run, leading them to the Euro 2020 final, in which they will face England at Wembley.
Along with their opponents on Sunday, Italy have been the standout performers in the competition, and saw off fellow heavyweights Belgium and Spain en route to the final.
Italy chasing dream
Juventus' Chiellini has been a key figure, with the veteran campaigner making four appearances. And though Italy will be full of confidence heading into the showdown, he revealed the faith in Mancini's plan was not always so prominent.
"[Getting to the final is] a dream we've been chasing over the years, a dream we've been carrying [with us] for three years, a dream our coach slowly put in our minds until it became true," Chiellini told UEFA.com.
"At the beginning, when he told us to have in our minds the idea of winning the Euro, we thought he was crazy; instead, during these years he has created a team which is now on the brink of doing that.
"And as he has repeated to us after every match, 'one centimetre at a time', and now there is only the last centimetre left.
"This championship has been very emotional, from the first match against Turkey up to now. But, if I read some of the texts that I sent before Euro 2020 to some of my close friends, the feeling was that we would have a summer filled with emotion, joy, magical nights and adventures.
"It was in us because you felt the ease and the bond that we feel when this team does things together."
Chiellini is 36, but has never won an international competition with Italy, having missed out on the squad for the 2006 World Cup.
He has played in a European Championship final before, only to fall foul of an all-conquering Spain side that thrashed Italy 4-0 in 2012.
Chiellini savouring the moment
" A win is as exciting at 36 as it is at 21. Maybe at 36 you feel it more because you understand more how hard it is and the work that goes into it," said Chiellini, the eighth-oldest player to have been involved in Euro 2020.
"I believe that I have succeeded in bringing my experience here and the emotions that I felt from the 15 years since I started playing professionally.
"You know how it feels at every age: at 20, at 25, and at 30 you start understanding your team-mates' behaviour. Now, I have the maturity to understand fully what this championship means to us."