When was the last time England and Italy faced each other and who has won more times?
Italy hold the historical edge over England going into Sunday's Euro 2020 final and the Three Lions have never beaten the Azzurri at a major tournament.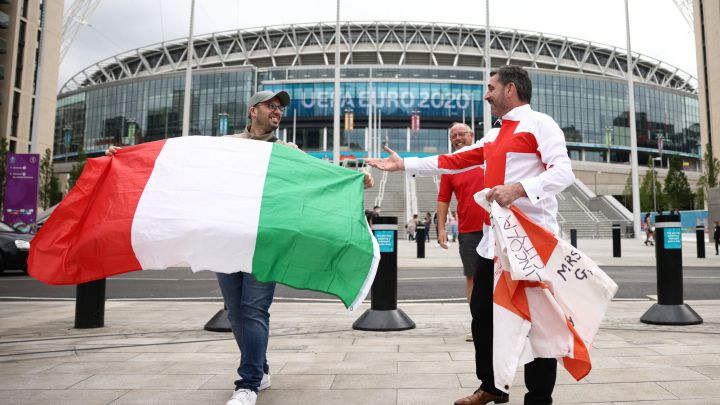 Italy and England go head-to-head for the Euro 2020 title at Wembley on Sunday night, where Gareth Southgate's side will aim to secure a first major international trophy since the nation's World Cup victory in 1966. In order to do so, England will need to do something they have never managed before: beat the Azzurri at a major tournament.
England and Italy have met four times before at the Euros and World Cup, with the Azzurri victorious on all four occasions – a 1-0 win at Euro 1980, a 2-1 victory in third place play-off at the 1990 World Cup, a penalty shoot-out success in the quarter-finals of Euro 2012 and a 2-1 group stage victory at the World Cup in Brazil two years later.
Sandwiched between those two major tournament defeats came England's last win over Italy, a 2-1 victory in a friendly staged in Switzerland in August 2012. That was also England's only win over Italy in the last eight meetings between the sides.
Italy on a 33-match unbeaten run

In total, England and Italy have played each other 27 times since the first match between the nations in 1933, which ended in a 1-1 draw. Italy hold the historical edge with a record of 11 wins to England's eight, with eight draws.
In recent years the Azzurri have been firmly on top of the match-up, with England's only real consolation a 2-0 win at Le Tournoi in France in 1997. Since then, there have been four Italy wins (including the Euro 2012 shoot-out capped by Andrea Pirlo's Panenka) and three draws punctuated by a single Three Lions victory in the above-mentioned friendly in Berne.
Roberto Mancini's side will go into the final as favourites after a run of 33 matches without defeat.