Ramos: "I advise Mbappé to stay at PSG"
Sergio Ramos said he would advise Kylian Mbappé to one day join Real Madrid, but for now he wants him to stay at PSG.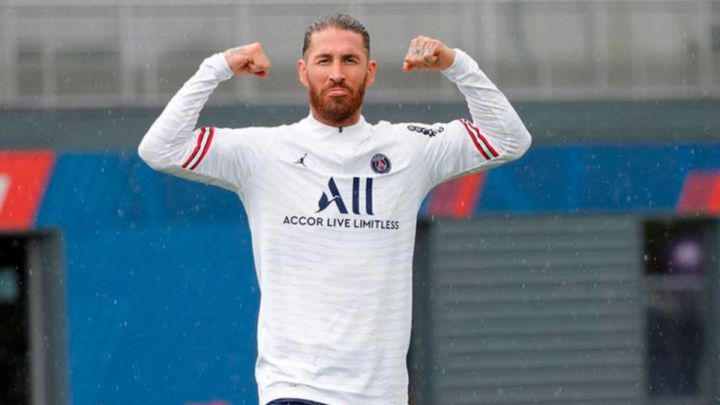 Sergio Ramos has advised Kylian Mbappé to stay at Paris following the Spanish defender's move from Real Madrid to PSG.
Mbappé, who has long been the prime transfer target of Madrid, has yet to sign a new contract at PSG with less than one year until his current deal ends. While he is believed to be in favour of a move to Madrid, former Blanco captain Ramos has told L'Equipe that he hopes that the French star will remain at PSG.
Ramos: I want Mbappé to stay
"I advise [Mbappé] to stay at PSG. I am nobody to decide Kylian's future, but I want him to stay. You have to have the best players and Kylian is one of them, like Neymar. The three of us can do great things," said Ramos, who has given a wide-ranging interview to L'Equipe following his unveiling as a PSG player last week.
"I could never give him advice on a personal level," he added. "I could comment on something from experience, but I would do so in private. As a PSG player, I would like him to stay. I like to play with the best and Mbappé is one of them."
Asked how he could help to ensure that Mbappé stays in Paris, Ramos replied: "I don't know. When one makes the decision to leave or stay, it ends up being for very personal reasons. In my case, it was the family, the sporting project ... I don't know what Mbappé has in mind. I want him to stay here because he is young and he makes the difference. There is a very good team here. My winning spirit is what I can contribute to the group and if that can infect a teammate, all the better."
Nevertheless, Ramos added that he would definitely advise Mbappé to play for Madrid at some point in his career: "Madrid is one of the best clubs in the world. At a historical level, the best. For me, great players have to go through there. But now I want him on my team. I want to win and for that I want the best to be by my side."
Ramos: Neymar convinced me to join
As the announcement that Ramos would leave Madrid after 16 seasons was confirmed in mid-June, a number of top clubs were reportedly vying to sign the veteran defender, including Manchester City, Arsenal, Bayern Munich, Manchester United and PSG. But several factors convinced Ramos that PSG was the right option, including family considerations, the PSG project, the lifestyle offered in Paris and the city's close proximity to Madrid.
In the interview with L'Equipe, Ramos also revealed that he has long shared a friendship with Neymar and that the Brazilian played his part in convincing him to sign for PSG.
"Neymar and I have been talking for six or seven years. Despite the fact that he played for Barça and I played for Madrid, we have always had an extraordinary friendship," he explained.
"It's the same with [Angel] Di María or Keylor [Navas]; I remained friends with them after they left Madrid. Neymar convinced me before signing for PSG. Before signing for a new club, it is always helpful to talk with several players, or with Leonardo (PSG Sporting Director) or [Nasser] Al Khelaïfi (PSG president). They all convinced me in their own way."
A new challenge for Ramos at PSG
Having won four Champions League titles with Real Madrid, Ramos now hopes that his long-standing experience at the top can help in PSG's quest to achieve European glory for the first time.
Asked if he saw leaving Madrid as a setback in his career, he replied: "For me it is a change of life, a new stage, a new cycle that is opening. I have a lot of affection for Madrid, which is probably the biggest club in history. I am a man of challenges.I have had wonderful moments at Real, but I look to the future.
"PSG has not been very far from winning the Champions League. But we must not compare PSG and Madrid. There were a series of circumstances that made me make a decision at Madrid. I spoke about it at my press conference, and I think it is a mistake to anchor myself in the past. Now I just want to talk about my goals at PSG."