NFL: Eagles' DeVonta Smith pleased to be reunited with Jalen Hurts
The wide receiver, recruited by the Philadelphia Eagles in the first round of the 2021 NFL Draft, shared a locker room with Hurts at Alabama in 2017.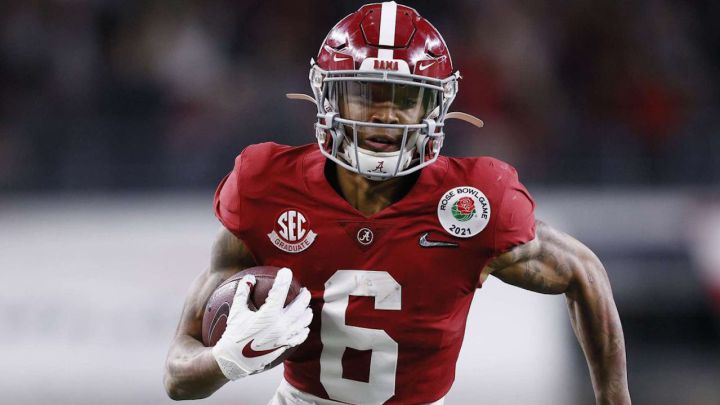 Ahead of the first season since the departures of Doug Pederson and Carson Wentz from Lincoln Financial Field, the Philadelphia Eagles used their first pick in the 2021 NFL Draft to recruit DeVonta Smith. So far, the choice is looking like a good one.
"It just feels like old times" - Smith pleased at Hurts reunion
In an interview with NBC Sports, the wide receiver spoke of his delight at reuniting with Jalen Hurts at the Eagles. During the 2017 season, the pair shared a locker room at Alabama, under head coach Nick Saban, before Hurts moved to Oklahoma for the last two years of his college career.
"It's great to have that connection come back," Smith, the current Heisman Trophy holder, said. "It just feels like old times. Like back in college."
In the 2017 season, Hurts led the way for Alabama as they won the national championship, finishing up with 2,081 passing yards, 17 passing touchdowns and just one interception. Meanwhile, in his freshman year, Smith had eight receptions for 160 yards and three touchdowns.
Smith determined to be Eagles' go-to wide receiver
Asked whether he's ready to be the Eagles' principal wide receiver, Smith responded that that's why Philadelphia selected him with the 10th overall pick in the draft. "That's the plan," he concluded.
There do not appear to be many players capable of eclipsing Smith at the Eagles. The franchise's other two major receivers are Jalen Reagor and Trevis Fulgham, who had 69 receptions for 935 yards and five touchdowns between them last season.