Lillard shoots down reports he plans Blazers trade request
Lillard assured that he has still not made a decision about his future despite speculation, adding that he "expects to be" at Portland next season.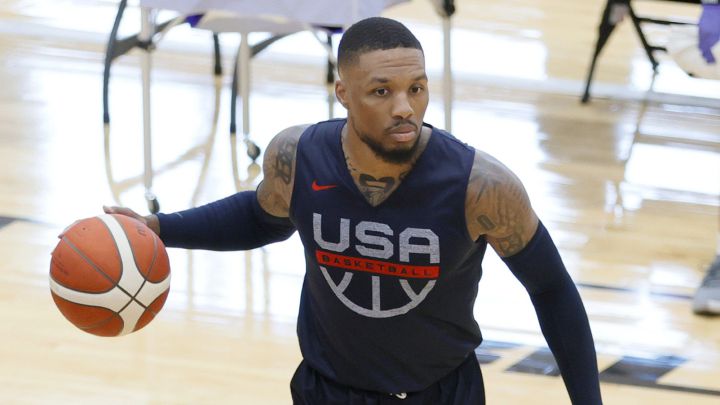 Damian Lillard has denied reports that he intends to put in a trade request with the Portland Trail Blazers ahead of the 2021-22 season.
On Friday several journalists reported on the point guard star's plan to leave the Trail Blazers, where has been since his draft selection in 2012.
"A source close to the player assures that in the next few days he plans to request an exchange," wrote True Hoop's Damian Lillard, who broke the story.
But speaking to reporters from the Team USA camp ahead of the Olympics, Lillard assured that he has still not made a decision about his future despite speculation.
Trailblazer's Lillard on future
"I woke up to those reports, a lot of people reaching out to me," said Lillard. "But it's not true. I'll start off the rip and say it's not true.
"A lot of things are being said. It hasn't come from me. I haven't made any firm decision on what my future will be."
While he repeated his concerns about the Trail Blazers' title-winning credentials, the six-time All Star said he "expects to be" at Portland next season. But his comments will not have left Blazers' fans confident that he intends the be the "one club man" as he has previously been labeled.

"I think if you look at our team as it is, I don't see how you say this is a championship team," Lillard added.
"My intention and my heart is set on being in a Trail Blazers uniform for my entire career. But over time … you want to win it all. And we have to make strides to do that."
The 31-year-old, who has a contract with Portland for the next four seasons valued at $176.3 million, averaged a league-best 34.3 points and 10.2 assists in the postseason, after averaging 28.8 points and 7.5 assists during the regular season.
Lillard focusing on Olympics with Team USA
But for now, the Trail Blazers star will be focusing on the job at hand at the Olympics in Tokyo, where both the USA men's and women's teams are favorites to win gold.
The men's team have faced several setbacks in the run up to the Games. They suffered two surprising back-to-back defeats against Nigeria and Argentina before a redemptive victory over Argentina.
On Thursday their tune-up game against Australia scheduled for Friday was cancelled due to concerns about a coronavirus outbreak within the US team, following confirmation that Washington Wizards player Bradley Beal would miss the Olympics after testing positive for coronavirus.
Lillard and Co. have one more warm-up match scheduled on Sunday against Spain in Las Vegas, where coach Gregg Popovic hopes to record a second consecutive victory before the team flies out to Tokyo on Monday.