Giannis Antetokounmpo focused on Game 5 after 'viral' dunk block
The Milwaukee Bucks star was, like the rest of us, impressed about what his body could do as he took care of Phoenix Suns' Deandre Ayton on the backboard.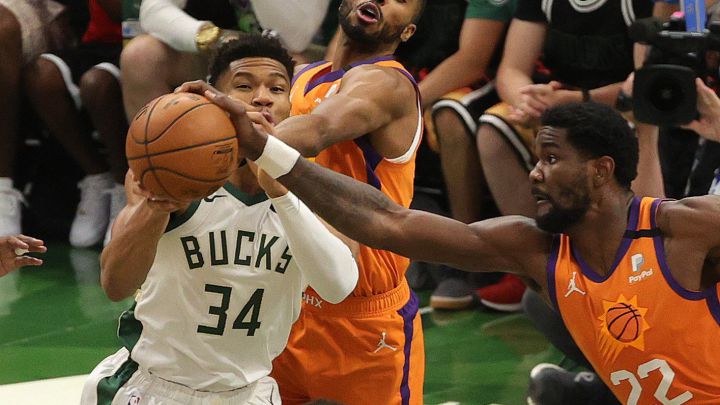 In Giannis Antetokounmpo the Milwaukee Bucks know they have a real chance of overcoming the Phoenix Suns and lift only the second NBA title in their history.
That stunning block in Game 4 as Deandre Ayton went for the dunk - a video clip that instantly went viral - had most of us watching in awe, but it seems that even the Greek machine struggles to find an explanation for some of the things he can do out there on court.
Giannis moving on from Ayton block
"It's incredible what your body is [able] to do," Antetokounmpo said on the eve of a crucial Game 5. "When you think about winning, you go to the extreme. I cannot explain the play.
"But, at the end of the day, that's in the past. When you talk about the past, that's your ego talking. It's in the past. It's over with.
"I've got to move on. I've got to keep making winning plays. I've got to keep competing. I've got to keep finding ways to help my team be great.
"Great moment. I appreciate the moment. Great moment… we've got to move on."
How Antetokounmpo stays focused
That moment will no doubt make it into the highlights reel come the end of these finals, just as that of LeBron James in 2016 caught the imagination. But moving on is all that matters to Antetokounmpo, who will need to be at his best as the Bucks are back on the road.
When asked about where his focus on the next objective, rather than soaking up the praise, came from, his answer was clear.
"I think I would say life," the 26-year-old said before throwing in some of his usual softly-delivered humor. "Usually, from my experience, when I think about like, 'Oh, yeah, I did this, I'm so great, I had 30, I had 25-10-10,' whatever the case might be. Usually, the next day, you're going to suck, you know?
"Simple as that. The next few days you're going to be terrible.
Humility, humble...not ego: the Giannis mindset
"I figured out a mindset to have that when you focus on the past, that's your ego. 'I did this. We were able to beat this team 4-0. I did this in the past. I won that in the past.'
"When I focus on the future, it's my pride. 'Yeah, next game, Game 5, I do this and this and this. I'm going to dominate.' That's your pride talking. It doesn't happen. You're right here.
"I kind of try to focus on the moment, in the present. That's humility. That's being humble. That's not setting no expectation. That's going out there, enjoying the game, competing at a high level.
"I think I've had people throughout my life that helped me with that. But that is a skill that I've tried to, like, kind of ... master it. It's been working so far, so I'm not going to stop."
Milwaukee Bucks @ Phoenix Suns: live
You can follow all the action from Game 5 live with Dane Arlauckas right here on AS English. The experience doesn't get much better unless you're courtside.