Holiday explains the Giannis alley-oop pass in Game 5 win
The Milwaukee Bucks held on to beat the Phoenix Suns and take a 3-2 back home, with a certain Giannis Antetokounmpo stealing the show again.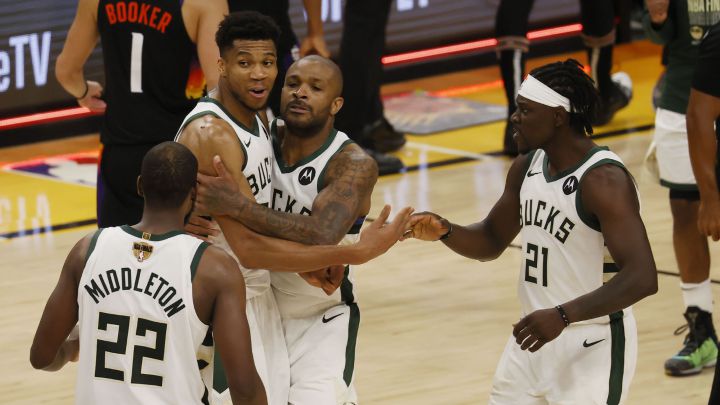 A stunning second quarter from the Milwaukee Bucks brought them back into contention against the Phoenix Suns and was the platform for their 123-119 victory in Game 5 of the 2021 NBA Finals. They held on and now sit one win away from their first NBA title in a half-century.
Holiday on that Giannis alley-oop
After a third straight win, the Bucks now look to ride that momentum back to Milwaukee for Game 6 on Tuesday (which we'll bring you live on AS English). A victory there and the Bucks would clinch their second NBA title in franchise history and first since 1971.
Giannis Antetokounmpo collected 32 points and nine rebounds, Khris Middleton had 29 and seven boards, and Jrue Holiday added 27 points and 13 assists for Milwaukee. Holiday also had a key steal of Devin Booker in the waning moments of the fourth quarter to thwart a late Phoenix comeback bid.
The Suns had trimmed a 10-point deficit to begin the fourth quarter down to three after Booker drained a 3-pointer. Antetokounmpo missed both free-throw attempts on the next possession and Paul made a driving layup to trim Milwaukee's lead to 120-119 with 56.6 seconds remaining.
That's when Holiday stole the ball from Booker and set up Antetokounmpo for an alley-oop with 13.5 seconds to play, one that will make every highlights reel of the series, and here's what he had to say about it.
"Chris, I think, played in between, but Giannis took off, and he was calling for the ball," Holiday explained nonchalantly.
"At that point I just threw it as high as I could - only where Giannis could get it and he went up there and got it."
Giannnis the Freak
Asked whether or not there was a moment when he thought he may have thrown it too high, Holiday was clear.
"Naa, he's a… I mean, they don't call him the Freak for nothing, so… I threw it as high as I could."