Giannis Antetokounmpo has a Game 6 message for Bucks fans
It was another star performance from the Greek Freak, ably supported by the likes of Middleton and Holiday, and now victory is one home game away.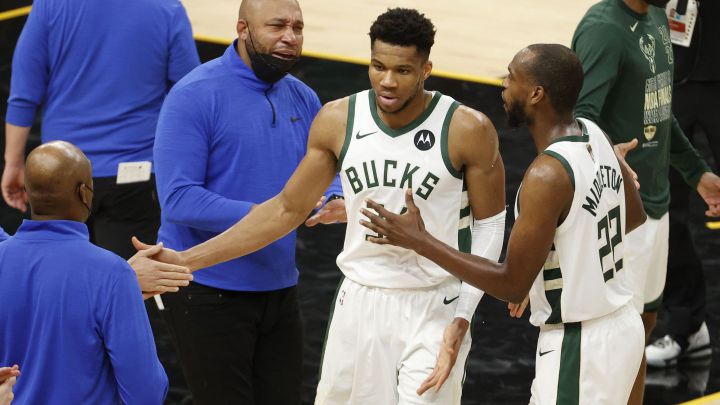 The Milwaukee Bucks took a giant leap towards just their second ever NBA title and their Greek star Giannis Antetokounmpo again had his part to play. Leaving the court after a 123-119 win at the Phoenix Suns with 32 points and nine rebounds, he admitted he'd left it all out there, something that was also seen from Khris Middleton, with 29 and seven, and Jrue Holiday, with 27 and 13.
Giannis gave it everything for the Bucks
"We kept our composure, we kept fighting," Antetokounmpo said during a post-game interview. "This is the NBA Finals, so you got to give everything you got. And that's what the team did tonight."
"It makes everything more balanced," teammate Middleton said of the three-pronged attack. "It makes life easier on everybody knowing that when we play together and when we're playing on all cylinders, we're tough to guard.
"When we're all playing well, we're one of the best teams for sure," he added
Giannis' message: "Be loud!"
And as the dust settled in the Arizona arena, and the Milwaukee players readied themselves for their trip home, one camera managed to get in front of Giannis for some important words for the fans.
"I don't usually do this," the big man said as he walked towards the team coach. "I'm trying to stay away from social media… but we're going back home, and we're one game away."
Then came the message directed straight at all the excited Bucks fans watching the clip.
"Be loud! We need you guys to do this. Be loud!"
And with that he disappeared onto the awaiting vehicle, surely with time to smile about the performance that had just gone down. That said, as we know, he'll quickly block those emotions out like an attempted Deandre Ayton slam, and get his focus right for Game 6.
Bucking the trend
It's worth noting that in this win the Bucks overcame an early 16-point deficit by erupting for 43 points in the second quarter.
Milwaukee became the second team in NBA Finals history to lead at halftime after trailing by as many as 15 points after the first quarter. The Boston Celtics previously accomplished the feat in the 1957 Finals against the St. Louis Hawks.