NFL
New York Giants uncertain about the injury status of their prospect running back
The former offensive rookie of the year RB has struggled with a knee injury since September, and there are no indications he's getting back in the game.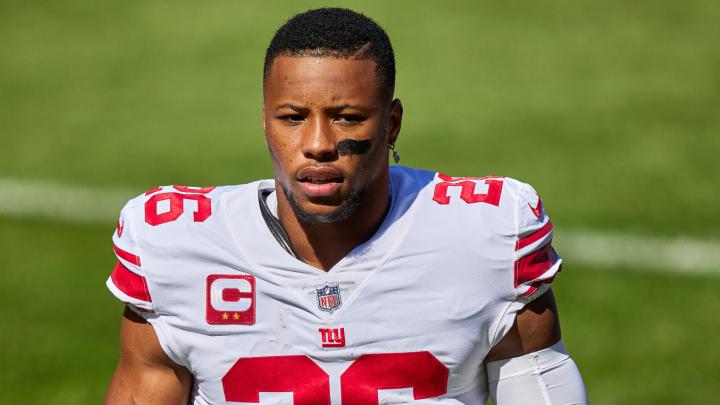 New York Giants running back Saquon Barkley does not know if he will be ready for Week 1 of the NFL season, though he is "feeling good".
The progress of the 24-year-old's injury recovery remains uncertain ahead of the start of training camp next week.
Barkley suffered a torn ACL in Week 2 of the 2020 season, a blow that contributed to a miserable 1-7 start for the Giants.
Optimism is high for New York in 2021, though, with reinforcements arriving in free agency after the team rallied to win five of their last eight games and finish 6-10.
The expected return of Barkley – who took the league by storm as the Offensive Rookie of the Year in 2018 – is part of that feel-good factor, but he is still unsure as to when he will make his comeback.
"I don't know," Barkley said, per SNY and the New York Post, when asked if he would be ready for Week 1 when the Giants play the Denver Broncos on September 12.
Asked if he was trying to keep his status a mystery, he replied: "I've been asked a lot - I guess that's the theme of the summer, going to be when I'll be back.
"But no, I don't have that answer, to be honest. I'm not trying to lead it up to it or something like that or put something up.
"It's a fun process, but it's a tough process at the same time. Just have to continue to listen to my body, listen to my trainers, listen to the coaches and take it day by day."
Barkley ended on a positive note, adding: "I'm feeling good. I'm doing good, taking it day by day, trying to get one percent better every single day.
"I'm enjoying my time. Obviously, camp is approaching soon, so I'm enjoying time with my family and still trying to get the work in that I can before things ramp up."
In his first two seasons in the league, there were only five running backs who rushed for more yards than Barkley (2,310), while his yards per carry average of 4.83 was ninth during that span.
A huge part of former number two overall pick Barkley's value comes from his receiving ability out of the backfield.
His 143 receptions and 1,159 yards through the air in his first two seasons put him in the top six among running backs for both categories.
Barkley was third behind only Christian McCaffrey and Ezekiel Elliott with 3,469 scrimmage yards over the two-year period, with quarterback Daniel Jones eager to have him back in the offense for a pivotal year.
The pressure is on for the Giants, who have not won a playoff game since their 2011 Super Bowl success.