NBA
NBA's Durant to clean out marijuana ahead of Olympic Games
Actor Matthew Sullivan told The Dan Le Batard Show podcast about his Brooklyn Nets star friend's love of the drug, but Tokyo 2021 is close.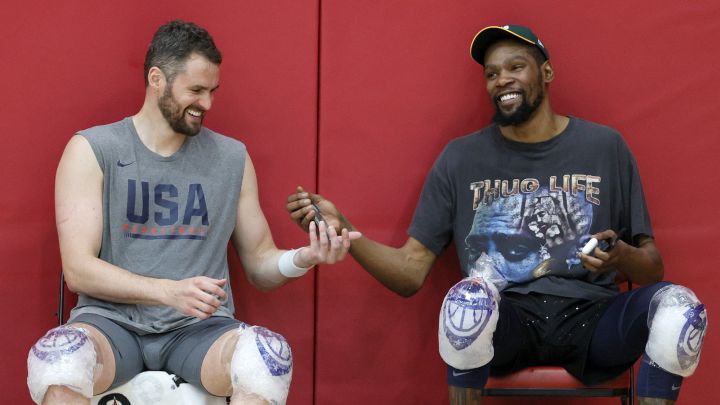 Kevin Durant has not had the season he'd dreamed of.
After returning from a tough Achilles injury that kept him out of the 2019-20 season, physical niggles continued to punish him during the regular season just passed, with him playing just 35 of 72 games. It was resolved in time for the playoffs (he featured in 12 out of 12) but he never sparked enough to get close to his third championship ring, his Brooklyn Nets being eliminated by the Milwaukee Bucks in the Eastern Conference semi-finals.
This was a setback for the Nets, whose project was to take the title with their 'big three': Durant, Kyrie Irving and James Harden.
Durant: no NBA ring, but still marijuana
It may have been a sporting stumble for the 32-year-old but it will give him more time to spend on what we're told is one of his main hobbies: marijuana.
He smokes even more weed than you would think," his friend Matthew Sullivan said on The Dan Le Batard Show podcast. "I was at his house at one o'clock in the morning. The entire place just reeks."
The actor opened up further on Durant, who will be playing for the US at the Tokyo Olympic Games.
"He doesn't have a girlfriend. He doesn't go on crazy vacations. He doesn't do anything other than hoop. Like nothing. He's boring as hell. So going out to him is just blazing."
Defending marijuana
Durant's 'love' for marijuana is not new. He has always been a strong advocate of its use.
"It's one of those plants that has an acquired taste. If you love it, you love it. If you don't, you're not even going to take it. It shouldn't even be a discussion these days," he said in February 2020 on an episode of Showtime's All The Smoke.
"Marijuana is marijuana. It's not harmful to anybody. It can only help, enhance and do good things. I feel like it shouldn't even be a big topic of discussion anymore."
The player argued his statements and compared marijuana use like that seen in day-to-day substances like caffeine.
"Everyone on my team drinks coffee every day. The guys go out for wine after games or have a drink every now and then. Marijuana should be on the same level," the star defended.
Durant, marijuana and the Olympics
Durant smoking cannabis is not a major problem, in principle, at least. It's legal in New York City for recreational purposes, but he will have to have it out of his system well before the Olympics.
He's already stated that he's committed to this so that he can represent the Stars and Stripes as they attempt to bring back the gold.